Diaz
My Five: Top Jack Nicklaus Moments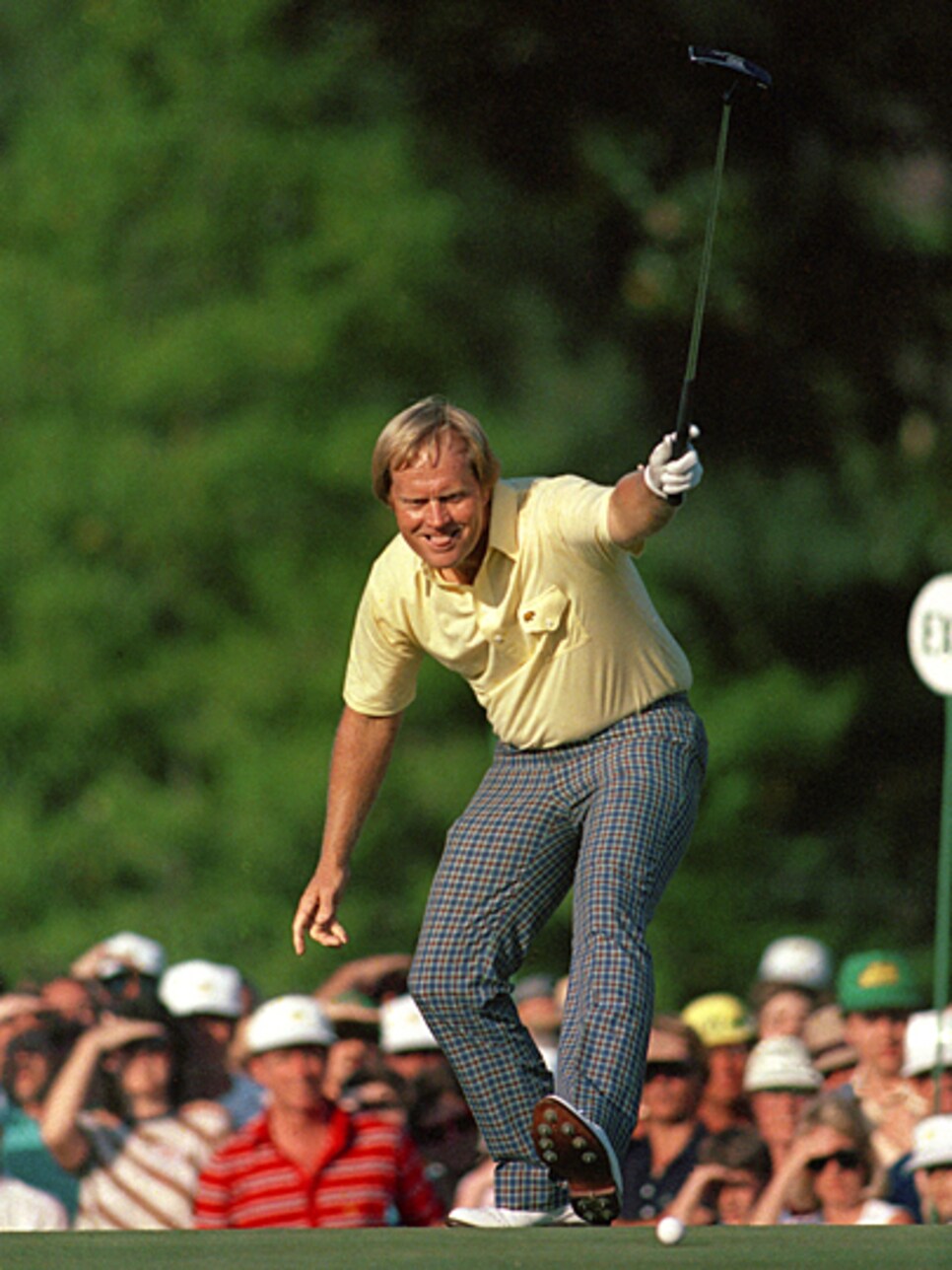 Photo By: Phil Sandlin/AP Photo
Photo By: Paul Vathis/AP Photo
1986 MastersThe biggest fish of all. Nicklaus winning his 18th professional major and record sixth green jacket at age 46, and doing it by coming from behind with a final-nine 30 to defeat the two best players in the game at the time -- Greg Norman and Seve Ballesteros -- makes this Masters the best tournament in history. It was Nicklaus' most satisfying tournament for many reasons, some of them personal. His eldest son, Jackie, was on the bag. His mother, Helen, was attending her first Masters, as was his sister Marilyn. But the biggest reason was that Nicklaus, at an age in which it was presumed both the nerves and the body rebels, marshaled everything he had to produce his very best at the very biggest moment, one more time.
Photo By: Phil Sandlin/AP Photo
1962 U.S. OpenThe changing of the guard. Arnold Palmer was the king -- certainly as a player, but even more as a a dashing and beloved figure, when the 22-year-old Nicklaus had the temerity to invade the Pennsylvanian's home turf at Oakmont by tying Palmer after 72 holes. The problem was that even the most rabid fan could not deny how unholy good Nicklaus was. Not only did he outdrive the powerful Palmer by quite a bit, but he was better all the way through the bag and seemed steadier under pressure. It was sad to see the universally beloved Palmer's reign end, but after Nicklaus won the playoff 71-74, there was obviously a new sheriff in town.
Photo By: AP Photo
1965 MastersNicklaus at his dominating best. Because he favored a conservative playing style designed to avoid mistakes and produce consistency, Nicklaus rarely went on the kind of tears that would distinguish Johnny Miller, Greg Norman or Tiger Woods. But during a benign weather week at Augusta, Nicklaus got into a swing groove that allowed him to unleash scary power and distance with his driver and pepper the flags with the shockingly short approaches remaining. Nicklaus putted well, but not exceptionally, or his 72-hole record of 271 -- which broke the tournament record by three shots -- would have been a few strokes lower. The takeaway was that Nicklaus was capable of playing a version of the game no one had ever seen before, and his peers were lucky he didn't have a more aggressive style.
Photo By: AP Photo
1970 Bristish OpenNicklaus hadn't won a major since the 1967 U.S. Open, and at age 30 was beginning to have trouble motivating himself. But the death in February 1970 of his father Charlie -- with whom he was extremely close and who loved to watch his son's golf -- renewed his dedication. "I recovered the will to do everything in my power to live up to his dream," Nicklaus wrote. At St. Andrews, he played with steely purpose, but thought he had blown his chance when he three putted through the Valley of Sin for par. But Doug Sanders missed his tragic tiddler, and Nicklaus won the playoff the next day, reflexively throwing his putter high in the air with the final putt. "They've all been for Dad in a way," Nicklaus told his wife, Barbara. "But never quite like this one."
Photo By: AP Photo
1980 U.S. OpenAt age 40, Nickalus was coming off his worst season. Tom Watson had clearly supplanted him as the game's best player. But Nicklaus, knowing he had fallen into bad habits with his golf swing, called on longtime teacher Jack Grout to reinstill some forgotten fundamentals. He also enlisted old rival and friend Phil Rodgers to refurbish his long-neglected short game, to the point that he turned a chronic weakness into a strength. When he got to Baltusrol, the site of his 1967 U.S. Open victory, the supposedly washed up Nicklaus was feeling good. He opened with a 63, missing a three-footer on the final green. By Sunday, Nicklaus' superb ballstriking was enough to survive the uncanny putting of his playing partner for four days, Isao Aoki. Jack was back, and he proved it by winning his 17th major at the PGA two months later.
Photo By: Paul Vathis/AP Photo