News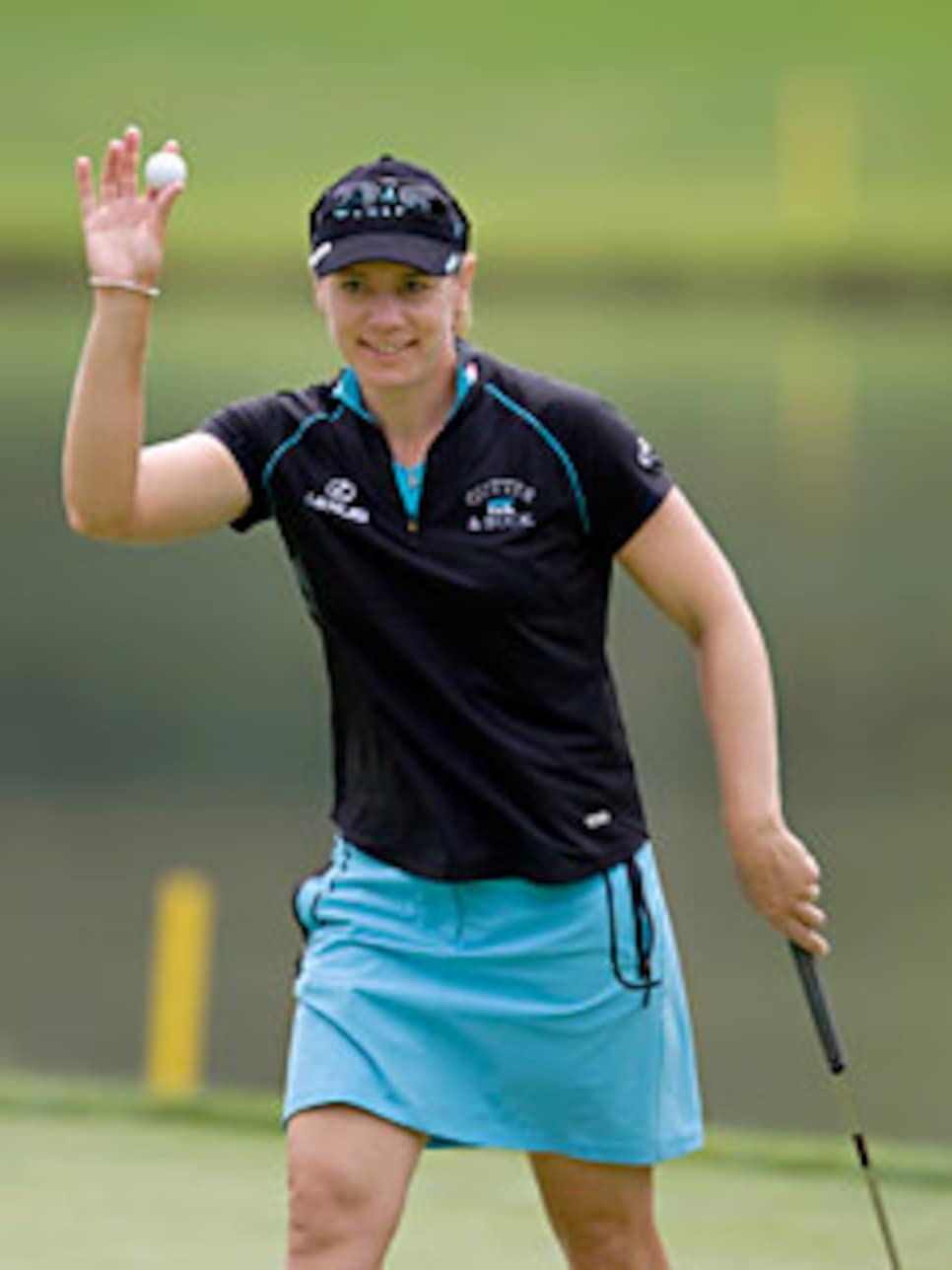 I have been on hand for 33 victories by Annika Sorenstam, which ties me with Beth Daniel for 15th place on the tour's all-time victory list. While there are way more than 10 memorable moments that come to mind, here are the ones that have left the greatest impression on me, many because of what they say about her as a person.
This is a truly under-appreciated year. With her marriage falling apart and many evenings ending in tears, Sorenstam showed her competitive resolve by somehow winning eight LPGA events, taking two more titles in Europe and compiling the lowest scoring average in LPGA history -- 68.6970, edging out her 68.6974 in 2002. The record still stands.
9. The 2001 Kraft Nabisco Championship
After winning back-to-back U.S. Women Open titles in 1995-96, Sorenstam went winless in 17 consecutive majors and had some players whispering that she couldn't win the big ones. This victory at Mission Hills started a run during which she would win eight majors in six years, silencing those whispers.
8. The 2006 U.S. Women's Open
No tournament means as much to Sorenstam as the U.S. Open, mostly because it is played under the most-demanding course set-up. When she began her career with consecutive Open titles it seemed as if she would win a half-dozen. When she ended her 10-year drought at Newport CC, needing an 18-hole playoff to do it, she was overcome by tears of joy. It was her last of 10 LPGA major titles.
Played before her homefolks in Sweden, Sorenstam led Europe to victory. Saturday afternoon, she and Suzann Pettersen played Kelly Robbins and Laura Diaz in a memorable better-ball match. The four combined to make 15 birdies and, with the match all-square through 15, halved 16 and 17 with birdies before Pettersen won the crucial point with a birdie on the final hole. In a rare emotional outburst, Sorenstam tossed her putter high in the air when she rolled in a 16-footer for birdie on No. 17, with the U.S. side already in the hole with a birdie, to keep the match all square.
When Sorenstam won the 1995 U.S Open she snuck up on everyone. But by the time they reconvened at the U.S. national championship at Pine Needles a year later the 25-year-old Swede had three LPGA wins and was one of the favorites. She played near-perfect golf, hitting 51 of 56 fairways and defeated runner-up Kris Tschetter by six strokes.
5. The 2008 Michelob ULTRA Open
This was one of the more remarkable things I have seen in tournament golf. On Thursday, Sorenstam told me she would announce her retirement from competition the following Tuesday. Virtually no one knew about her decision. I watched in amazement as she played to perfection, winning by seven strokes, breaking the tournament record by five and closing Sunday with a 66 in which she hit every fairway and chipped or putted for birdie on every hole. It was a signature performance by someone who knew she was walking away from competition.
4. The Career Grand Slam in 2003
But for two puzzling swings -- a 4-wood on the 72nd hole at the U.S. Open and a wedge on the 68th hole at the Kraft Nabisco Championship -- Sorenstam would have pulled off the single-season Grand Slam in 2003. Instead, she completed the career Grand Slam by holding off Se Ri Pak by one stroke and Karrie Webb and Grace Park by two at Royal Lytham & St. Annes GC. The evening ended sipping Guinness in the top row of the 18th green bleachers as the shadows stretched across Royal Lytham.
3. The Hall of Fame in 2003
A memorable 2003 season, in which Sorenstam played in a PGA Tour event, won two majors, completed the career Grand Slam and helped Europe win the Solheim Cup in Sweden, was capped that autumn with induction into the World Golf Hall of Fame. She closed her speech by saying: "After I played at Colonial, Ron Sirak, a golf writer and a friend wrote: 'Annika Sorenstam is no longer a female golfer, she is a golfer.'" Then she added: "Truly, that is all I ever wanted to be." That's as close to the Hall of Fame as I'll ever get -- and I'll take it. And that's as classy as a great athlete gets.
2. The 59 at Moon Valley in 2001
When Sorenstam played on the Swedish National Team as a teenager she learned the peak-performance philosophy Vision 54 -- the belief you can birdie every hole and shoot a 54 on a par-72 course. She began the second round at the 2001 Standard Register Ping at Moon Valley CC in Phoenix with eight consecutive birdies and ended with a 13-under-par 59 -- a score unmatched and unsurpassed in LPGA history.
1. The Bank of America Colonial in 2003
When Sorenstam teed it up at the Bank of American Invitational at Colonial Country Club she became the first women in nearly 50 years to play in a PGA Tour event. The four-month build-up after announcing her intention to play created a media frenzy. Dan Jenkins, who has seen more golf than anyone who pushes typewriter keys for a living, says no single shot in history was struck with so much pressure on the player as her first drive at Colonoial. And she nailed it. In her 71 that day, in which she made no putts, Sorenstam won hearts for her courage and class and earned respect for her skill. She elevated not only her own reputation but also that of women's golf. That opening drive is the single most exciting moment in sports I have witnessed.