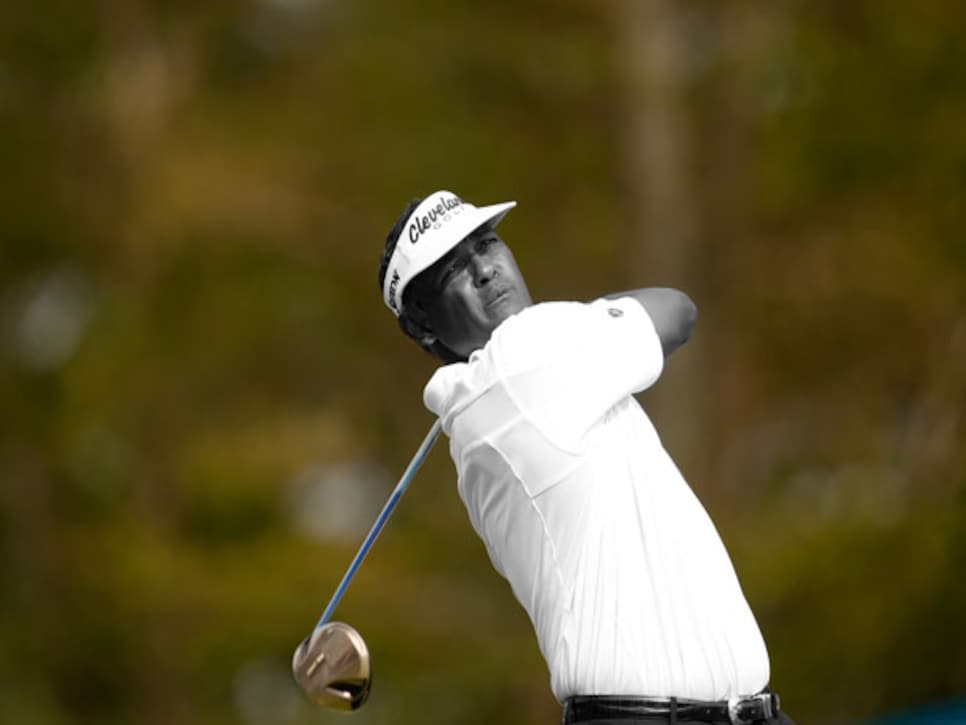 Vijay Singh
He's badass because . . . he once took on Phil Mickelson over the size of his metal spikes at the Masters, leading to near-fisticuffs -- in the Champions Locker Room! . . . As Vijay approaches 50, he's still content to beat balls until his hands are calloused.
Bubba Watson
He's badass because . . . he never bothered with expensive lessons, and he's comfortable enough with his manhood to weep openly AND swing a pink driver. . . . Ripped tour veteran Steve Elkington -- no teddy bear himself -- for moving around too much during a pairing together in 2008.
Rory Sabbatini
He's badass because . . . he has little interest in endearing himself to other players. Said Tiger Woods was "as beatable as ever" -- back when Woods was still cranking out majors. . . . Famously marched ahead of playing partner Ben Crane to protest Crane's slow play.
Angel Cabrera
He's badass because . . . he's nicknamed The Duck but built like a bull, with a powerful swing to match. . . . Modest upbringing in Argentina led him to drop out of school at age 10, then learn golf as a caddie playing in money games.
Dustin Johnson
He's badass because . . . he walks after his prodigious tee shots with a pronounced swagger. . . . His youthful brushes with law might defy the tour's squeaky image, but they do enhance his bad-boy reputation.
John Daly
He's badass because . . . he introduced Grip It and Rip It into the sporting lexicon. . . . Pays no mind to golf's fitness push, appearing to subsist on cigarettes and Diet Coke. . . . Has run afoul of the tour for countless violations, including hitting a ball off a beer can in a pro-am.
Frank Lickliter
He's badass because . . . he once shot a bear, which he turned into a rug. . . . Got fined $500 by the tour for kicking a hole in a garbage can after three-putting. . . . TV once picked up his, uh, colorful language during the Shark Shootout.
Pat Perez
He's badass because . . . he has a notoriously-short fuse, best embodied by his choice of a boxing glove as a headcover. . . . First major moment in the spotlight on tour was when he had the lead through 54 holes at Pebble Beach, imploded on the back nine, then started helicoptering clubs.
Happy Gilmore
He's badass because . . . he's a converted hockey player with a slap shot swing. . . . Once went toe-to-toe with both Bob Barker and an alligator. . . . Remarked to a fellow golfer about his attire, "If I saw myself in clothes like that, I'd have to kick my own ass."
Roy (Tin Cup) McAvoy
He's badass because . . . he would rather lose the U.S. Open going for the green in two than lay up and win. . . . Loves exotic golf bets: Once beat another golf playing him head-to-head with just a 7-iron. Also won a bet hitting a shot through a bar and knocking a pelican off a post.
VETERANS DivisionLloyd Mangrum
He's badass because . . . he suffered a badly broken arm in two places after a jeep accident in WWII, then went back into battle and was shot in both the knee and left shoulder in the Battle of the Bulge. . . . Returned home to win the 1946 U.S. Open
Ben Hogan
He's badass because . . . well, there was the whole bus thing. His memorable win in the 1950 U.S. Open at Merion and his three major wins in 1953 were all AFTER he narrowly averted death in a head-on collision with a Greyhound bus.
Babe Didrikson Zaharias
She's badass because . . . she won two gold medals in track and field in the 1932 Olympics, won 82 golf tournaments (including amateur) and is the only woman to make a cut on the PGA Tour. . . . Won the 1953 U.S. Women's Open a month after colon-cancer surgery.
Jackie Burke Jr.
He's badass because . . . he fought as a Marine in WWII, then came back to win two majors in 1956. . . . Co-founder of Champions Golf Club in Houston, where golfers with handicaps higher than 15 are not considered for membership.
Seve Ballesteros
He's badass because . . . He was once called "the king of gamesmanship." . . . Proved fearless when attempting a bold shot. . . . He learned the game on the beach of his hometown playing only one club -- a 3-iron -- and went on to become golf's most feared match-play opponent.
Charlie Sifford
He's badass because . . . as the first African-American member of the PGA Tour, in 1961, he was subjected to hostile galleries but went on to win three career tour events. "Nothing bothered me, nothing stopped me," Sifford said.
Raymond Floyd
He's badass because . . . while winning tour events in four decades, he flashed The Stare. "You could never tell if he was nervous," said Joakim Haggeman, who faced Floyd in the Ryder Cup. "Someone like me, you can tell. But not him. He shows nothing."
Lanny Wadkins
He's badass because . . . in the 1983 Ryder Cup, with the U.S. needing a halve and Wadkins 1 down, Wadkins knocked a wedge from 72 yards to a foot. Jack Nicklaus said Lanny had "brass ones" and needed "a wheelbarrow to carry them around."
Dave Hill/Mike Hill (brothers division)
They're badass because . . . After finishing second in the 1970 U.S. Open at Hazeltine, Dave said it needed "only 80 acres of corn and a few cows to be a good farm." . . . . Avid hunter Mike won three times on PGA Tour, but 18 times as a senior.
Hootie Johnson
He's badass because . . . he wouldn't be persuaded at the "point of a bayonet." The former Augusta National chairman not only refused to budge on the club's all-male membership stance, he went on the offensive.