News
Golf's Most Enigmatic Player?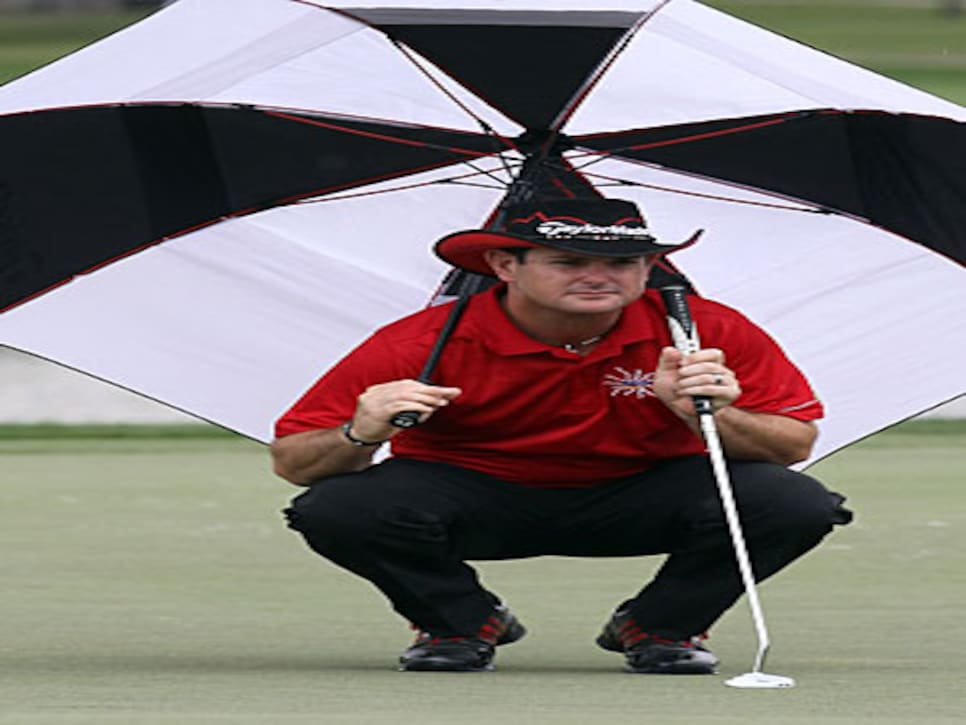 Sabbatini survived tough conditions for win No. 6.
Rory Sabbatini is a puzzle -- with a few pieces missing, the cynical might argue. A South African expatriate, he alternately is a boor and benevolent, running afoul of his peers while generously supporting American troops.
There was the final round of the 2005 Booz Allen Classic, when he, one of the game's quickest on the draw, was paired with Ben Crane, one of its slowest. Angered at the pace of play, Sabbatini controversially putted out at 17 before Crane even reached the green, then walked straight to the 18th tee box.
There was the 2007 Target Challenge, as Tiger Woods' year-end tournament was known then, when Sabbatini withdrew without explanation following the third round, still collecting $170,000 just for showing.
Sabbatini, incidentally, donated the money from the Target Challenge to United Through Reading, a program in which a deployed military parent reads a bedtime story that is taped and played for their child or children at home. He also actively supports the Intrepid Fallen Heroes Fund that provides financial assistance to the families of military personnel that have been killed or severely injured in combat.
The point is that he is not easily defined, which brings us to his golf. Once ranked as high as No. 8 in the World Ranking, he was 102nd entering the Honda Classic. Against a quality field on a difficult course in windy conditions, he won by one
, his sixth PGA Tour victory contributing to the puzzle.
Is he an elite player who has underachieved or a mediocre player who has overachieved? We may never know.
Sabbatini, incidentally, was quick with an apology for his behavior in the 2005 Booz Allen Classic. Here it is in part:
"In an effort to clear the air and begin my preparation for the 2005 U.S. Open, I would like to apologize for the unfortunate incident that took place at the Booz Allen Classic," he said in a statement. "I was quite frustrated with the pace of play, something that has become an all too frequent occurrence on golf courses around the world, and reacted inappropriately."
Given the tour's continuing problem with pace of play six years later, maybe others owe him an apology.
The number of tee shots hit in the water on the Bear Trap, a three-hole stretch starting at the 15th hole, was 150 last week, 14 more than were rinsed there in 2010.
"The water level has gone up about a half inch," NBC's Johnny Miller said.
The holes ranked first (No. 17), third (15) and fourth (16) in difficulty. Only one of the top five finishes played them in over-par for the week (Tommy Gainey, four-over), which generally helps explain their success. Sabbatini played them in one-under par.
...Letting sleeping dogs lie.
That was Lee Westwood's message last week in response to Rory McIlroy having written, among other things, that Woods is "playing like an ordinary golfer."
"There's an old saying that class is permanent and form is fickle," Westwood said. "He's the classiest player I've ever played with and I'd be wise enough to know not to write him off.
"I'll have a word with Rory later."
FYI: The saying is, "form is temporary, class is permanent." It can be traced to soccer in the U.K., possibly to the Liverpool FC.
Ian Poulter is colorful and outspoken and a gift to a game that needs more of those qualities. But he does seem to be rather sensitive to criticism, of himself or his friends.
On Twitter on Saturday, Poulter wrote: "@WestwoodLee getting some criticism on the coverage today. Not sure why that is. Oh Johnny's doing the coverage. I get it now"
He was referring to Johnny Miller, with whom he took issue last summer when Miller suggested he was not a good ball-striker.
Here's what Miller said about Westwood: "When he was No. 1 in the world, I wouldn't call his game, once he got to one, too sparkling. Seems like he's struggled."
Maybe there was more, but if that was the extent of it, well, Miller is right.
Westwood did finish second in the WGC-HSBC Champions and third in the Dubai World Championship after moving to No. 1 last fall, but in five starts in 2011, he has finished no better than 15th and missed the cut in the Qatar Masters, finished 64th at the Abu Dhabi HSBC Golf Championship, and bowed out in the second round of the WGC-Accenture Match Play Championship. He also has fallen to No. 2 in the World Ranking.
It stood for class on Saturday, when NBC paid homage to Frank Chirkinian, an icon at rival CBS who died on Friday
. In the midst of its telecast of the Honda Classic, NBC's Dan Hicks interviewed CBS' Jim Nantz, who was in Chapel Hill, N.C., to work the North Carolina-Duke basketball game that night.
"I can speak for him on this one occasion, OK?" Nantz said in closing. "There are two things he would want to say. One is how much he would appreciate the fact that you guys at NBC would take the time out of your broadcast to praise and remember his career. This would mean a lot to him, what you're doing, what the whole team is doing, Tommy [Roy], Dick [Ebersol], everybody. This would mean a lot. The second thing, I can feel him right now, barking in my ear, as only he could with that rough voice, 'Are you guys nuts? Get back to the golf.'"
An old fight manager, Joe Jacobs, reportedly uttered for posterity this phrase, one to which Camilo Villegas probably can relate. He should have stood in bed on Jan. 1, given how his year has gone.
When Villegas was disqualified from the Hyundai Tournament of Champions, it set the tone. He then missed the cut in the Sony Open in Hawaii, tied for 44th in the Farmers Insurance Open, withdrew from the Waste Management Phoenix Open after opening with a 78 and citing a back injury, lost in the first round of the WGC-Accenture Match Play Championship, and shot 79-78 and missed the cut as the defending champion of the Honda Classic.
Brandel Chamblee curiously seemed to have identified a need to explain his on-air criticism of Tiger Woods and did so for two paragraphs on the Golf Channel's Shag Bag blog. The two paragraphs served a purpose, at least, setting up a third, a part of which is particularly insightful and worth noting:
"What if he is ultimately successful in his endeavors to change his swing and win majors? He would end up right where he started, at the cost of time, which is every athlete's most valuable commodity. Furthermore, it would have cost him considerable wear on a body that has not aged well. All of this makes me question whether it is one of the most confusing things we have seen in golf."
Has Canada's favorite son, Mike Weir, hit bottom? This was the question posed last week by Canada's most respected golf writer, Lorne Rubenstein of the Globe and Mail.
A former Masters champion, Weir had officially surrendered his PGA Tour exemption, when he missed the cut in the Honda Classic, shooting 85 in the second round. He had been playing on a medical exemption (the result of a partial tear in his right elbow last year) and had five events to earn $225,000 to retain a full exemption for 2011. He has missed the cut in four of five starts.
"It's reasonable to wonder about the toll Weir's play must be taking on his self-confidence," Rubenstein wrote. "The severe conditions at the Honda ruthlessly exposed his frailties...He'll have to dig deep to get himself out of where he is."
He will still get a good number of starts. The question is whether they'll be productive ones, "before the damage to his psyche is irreversible," Rubenstein wrote.
Richard Meissner, 65, was once an aspiring PGA Tour player, whose resume tells his sorry story:
In 1962, defeated John Diesing Jr., 9 and 8, in the second round of the U.S. Junior Amateur, still the record for largest margin of victory in the Junior Am.
In 1970 and '74, played in the U.S. Open, missing the cut each time.
In 1977, played the PGA Tour, tying for the lead after one round of the Tallahassee Open.
In 1978, confessed to robbing 19 banks to support his PGA Tour career and was sentenced to 25 years in prison (he served five).
In 1997, robbed a Kansas City golf store at gunpoint, according to court testimony, a crime for which he was found guilty and served time in a maximum security prison in Cameron, Mo.
In February, 2011, was arrested for felony theft, charged with stealing golf equipment from Woodforest Golf Club in Montgomery, Texas.
Graeme McDowell closed with a 64 at the Honda Classic on Sunday to finish sixth. McDowell's scoring average in the final round of PGA Tour events this year: 63. He closed with a 62 at the Hyundai Tournament of Champions...Heath Slocum shot 80-80 to miss a cut for the fourth straight tournament. In a fifth, the WGC-Accenture Match Play Championship, he was a first-round victim...Rickie Fowler missed a cut for the first time since the John Deere Classic last July. He also missed the cut in the Honda Classic last year...Tommy Gainey, aka Tommy "Two Gloves," had one top-10 finish in 40 career starts prior to this year. He now has two in eight starts in 2011. Gainey finished fifth at the Honda Classic...Spencer Levin played his eighth consecutive tournament at the Honda, tying for 14th. There won't be a ninth straight; he did not qualify for the WGC-Cadillac Championship and is not entered in the Puerto Rico Open.
From John Daly: "@charliesheen HEY Bub, Love ya! I say let's do a spin off movie like Major League but do a PGA movie-me & u! Keep in the WINNER'S circle!"
PGA Tour: WGC-Cadillac Championship at the TPC Blue Monster, Doral Golf Resort & Spa, Miami. Defending champion Ernie Els; Puerto Rico Open at Trump International Golf Club, Rio Grande, P.R. Defending champion Derek Lamely. Champions Tour: Toshiba Classic at Newport Beach Country Club, Newport Beach, Calif. Defending champion Fred Couples.
The WGC-Cadillac Championship is yet another test for Tiger Woods, who won the Ford Championship at Doral in 2005 and 2006 and won the WGC-CA Championship there in 2007.
Ian Baker-Finch, 50, has entered the Toshiba Classic, marking his Champions Tour debut. Baker-Finch, the 1991 British Open champion, last played a tournament in 2008, the Crowne Plaza Invitational, and missed the cut. A member of CBS's golf crew, he said he has no intention of playing golf full time. The last time he played anything resembling a full schedule was 1996, when he missed the cut in all 11 of his PGA Tour starts.
Nick Price last week called the possible demise of the Heritage Classic "a tragedy," and seemed to be blaming Tiger Woods and Phil Mickelson (though not by name), who combined have played the tournament once since 1999 (Mickelson in 2003).
Maybe it's easier than blaming Tim Finchem, who gave the PGA Tour the FedEx Cup playoffs and the World Golf Championship events that now help fill an elite player's schedule at the expense of the Heritage Classic, the Zurich Classic, the HP Byron Nelson Championship, the Valero Texas Open, et al.