U.S. Open
10 Killer Pics From 10 U.S. Opens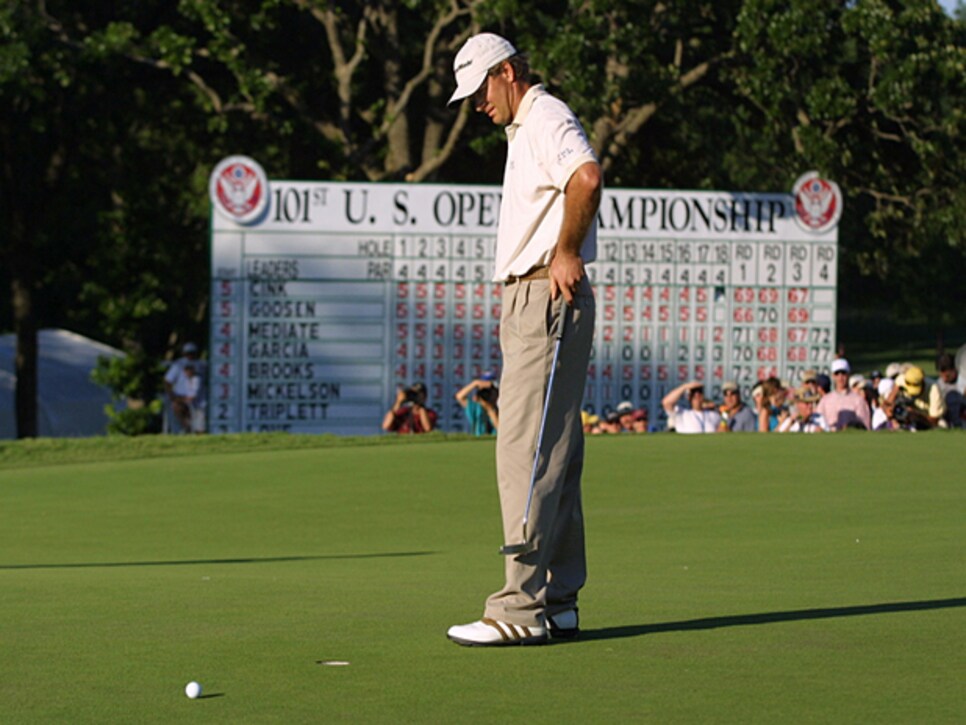 2001: Southern Hills CC, Tulsa, Okla.
Retief Goosen of South Africa misses his second putt on the 18th green during the final round of the 101st U.S. Open at Southern Hills.
2002: Bethpage Black, Farmingdale, N.Y.
Seeing the action during Thursday's first round of the 102nd U.S. Open at Bethpage was a tall order, but thanks to an assist, one child received an unobstructed view.
2003 : Olympia Fields CC, Olympa Fields, Ill.
Olympia Fields was the scene for Tom Watson's opening 65 with Bruce Edwards, who was diagnosed with Lou Gehrig's disease, on the bag.
2004: Shinnecock Hills GC, Southampton, N.Y.
While eventual winner Retief Goosen played Shinnecock Hills' No. 16 (bottom left), Phil Mickelson walked to the 17th green (bottom right) and Jeff Maggert finished on No. 18 (center).
2005: Pinehurst No. 2, Pinehurst, N.C.
Tiger Woods hits his second shot on the 10th hole (his first hole of the day).
2006: Winged Foot GC, Mamaroneck, N.Y.
Heartbreak at Winged Foot: Phil Mickelson reacts to a double bogey on the 72nd hole that cost him the championship.
2007: Oakmont GC, Oakmont, Pa.
Lee Janzen plays the third hole from the famed Church Pews bunker during the second round.
2008: Torrey Pines GC, La Jolla, Calif.
Tiger Woods holes a birdie putt that forces an 18-hole Monday playoff with Rocco Mediate.
2009: Bethpage Black, Farmingdale, N.Y.
Lucas Glover plays his tee shot on the 18th hole during the continuation of the final round on the Black Course.
2010: Pebble Beach GL, Pebble Beach, Calif.
Pebble Beach tableau: Ryo Ishikawa takes takes a shot in the third round.