What Might Have Been
You might not remember how (painfully) close these 10 golfers came to winning the U.S. Open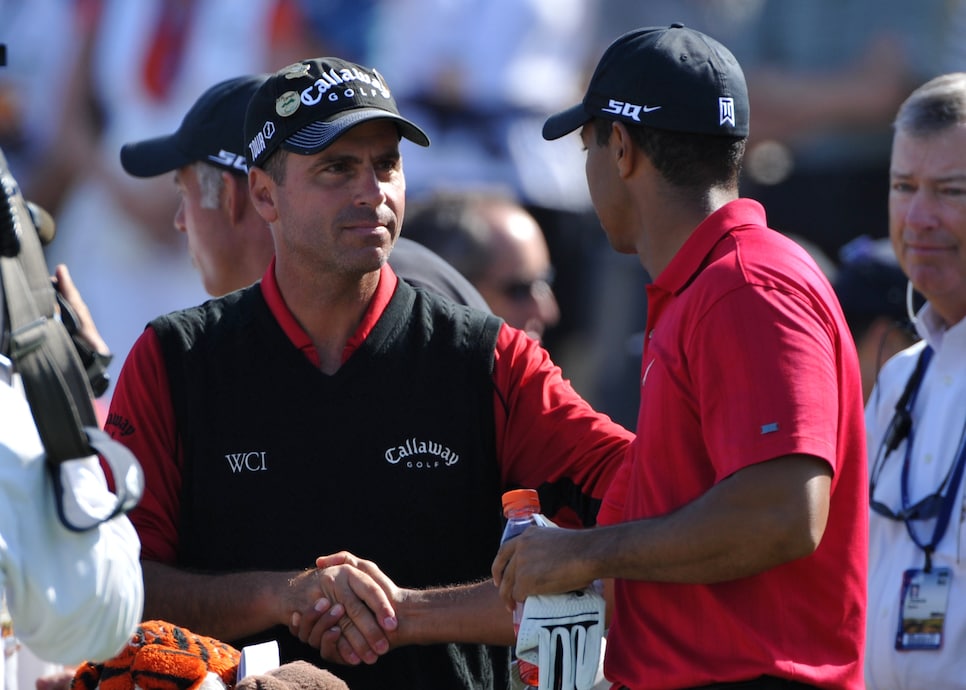 Rocco Mediate shakes Tiger Woods' hand at the start of the playoff during the 2008 U.S. Open at Torrey Pines.
Icon Sportswire
Winning a national championship, or any major for that matter, inherently raises a player's profile, providing an objective accomplishment that will forever define his legacy. Names such as Charles Coody, Lou Graham, Ben Curtis and Shaun Micheel are ones most golf fans recognize, not for their excellence over a lengthy career, but rather for capturing one of the four biggest treasures in the men's game. Conversely, those who come close but fall short on golf's grandest stages—sometimes just one measly stroke short—risk being slighted despite potentially having more robust overall careers.
Among that group, you might include Rocco Mediate. With the U.S. Open returning to Torrey Pines this week, Mediate's oh-so-close moment on the South Course in 2008—a playoff loss to Tiger Woods—will be discussed ad nauseum. Mediate will be remembered even in defeat given the thrilling nature of Woods' victory.
But others who had similar fates to Mediate, watching a legitimate shot at a life-changing U.S. Open win slip away, aren't quite so lucky. Consider what's happened to the legacies of these 10 tour pros, each of whom had a U.S. Open within their grasp. For the purposes of this exercise, the players mentioned either lost by one or in a playoff, or were very much in the mix over the closing holes and never won a major in their career. And before anyone takes umbrage that we passed on Al Espinosa (1929) and George Von Elm (1931), we felt the former losing to Bobby Jones and the latter falling in a 72-hole playoff provided a certain lasting impression, even if it wasn't the one they wanted.
OK, anyone who shoots 80 in the final round of the U.S. Open probably doesn't deserve to win. Brady, playing a full two hours ahead of Walter Hagen, however, posted that number and hoped his five-shot lead at the start of the day at Brae Burn Country Club would be enough. Hagen had a 10-footer to win at the final hole but it lipped out. In the playoff, Hagen got out to a lead, but Brady trimmed it to one with one to play before both parred the 18th. You might not have heard of Brady, but he had nine PGA Tour wins from 1916 through 1926 and had nine top-10s in the U.S. Open in 17 starts.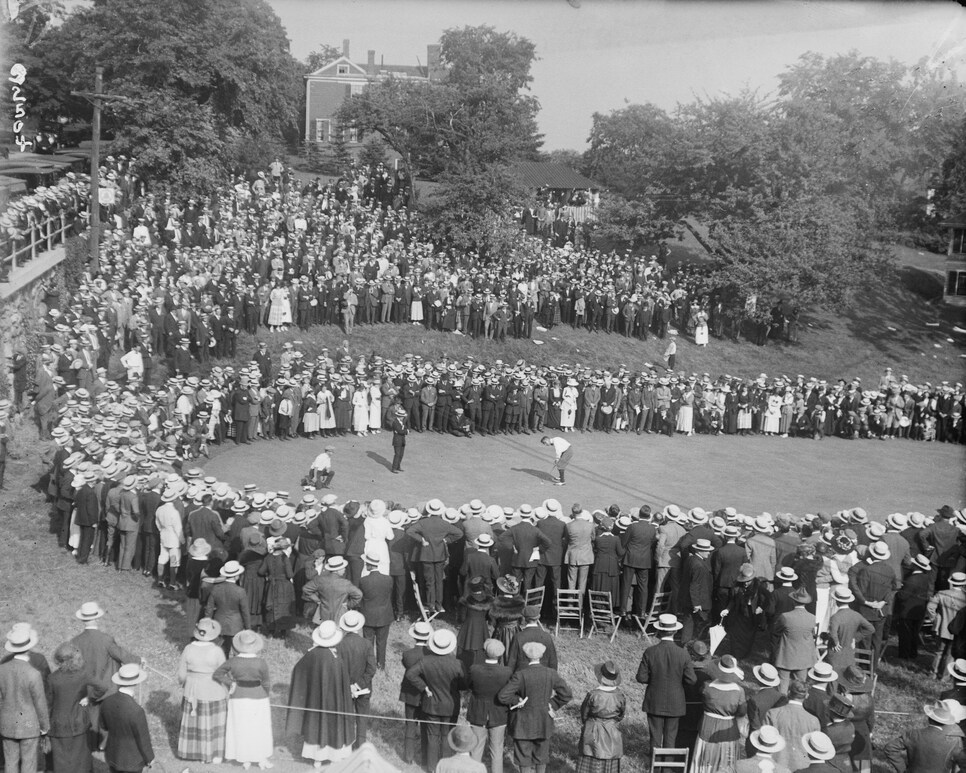 Mike Brady and Walter Hagen in 1919 U.S. Open at Brae Burn Country Club.
Bettmann
The man known as "Lighthorse" is not exactly an unknown in golf, but with no majors, he carries the dubious distinction of being the winningest PGA Tour pro (30 career tour titles) without one. At the 1927 U.S. Open, Cooper shot a final-round 77 at Oakmont but looked like he'd emerge the winner. That is until Tommy Armour finished one under for his final six holes to tie him at 13-over 301. In the 18-hole playoff, Cooper led by two with six to play, but Armour tied things at the 15th. Cooper then double bogeyed the par-3 16th, en route to one of his four career runners-up in majors.
Sanders started the second 18 of a 36-hole final day at Oakland Hills with a three-shot lead despite his putting being awfully shaky. In the afternoon, Gene Littler caught Sanders, then on the 13th took a two-shot edge with a birdie-bogey swing. Sanders birdied 16 to close within one but failed to convert a birdie try at 17 and just missed holing out a chip at the last that would have tied things up. Sanders went on to win 20 PGA Tour events, but the lack of a major was a tag that stayed with him. And this wouldn't be his worse near-miss. That would come with a playoff loss to Jack Nicklaus at St. Andrews in the 1970 Open Championship.
Jacky who? You're forgiven for asking. Not many remember pros that had four PGA wins from 1961 to 1966. At the 1963 U.S. Open, however, it appeared Cupit was going win a big one. Although Julius Boros closed fast with two birdies in his final three holes at The Country Club, Cupit still held a two-shot lead as he played the par-4 17th. But just like Harry Vardon in 1913, the 17th proved Cupit's undoing as he made an ugly double bogey on the 365-yard hole. Cupit did have a 12-footer for the win at 18, but his putt nicked the edge of the hole and stayed out. That led to a three-way playoff with Boros and Arnold Palmer that Boros won easily, leaving Cupit relegated to golf anonymity.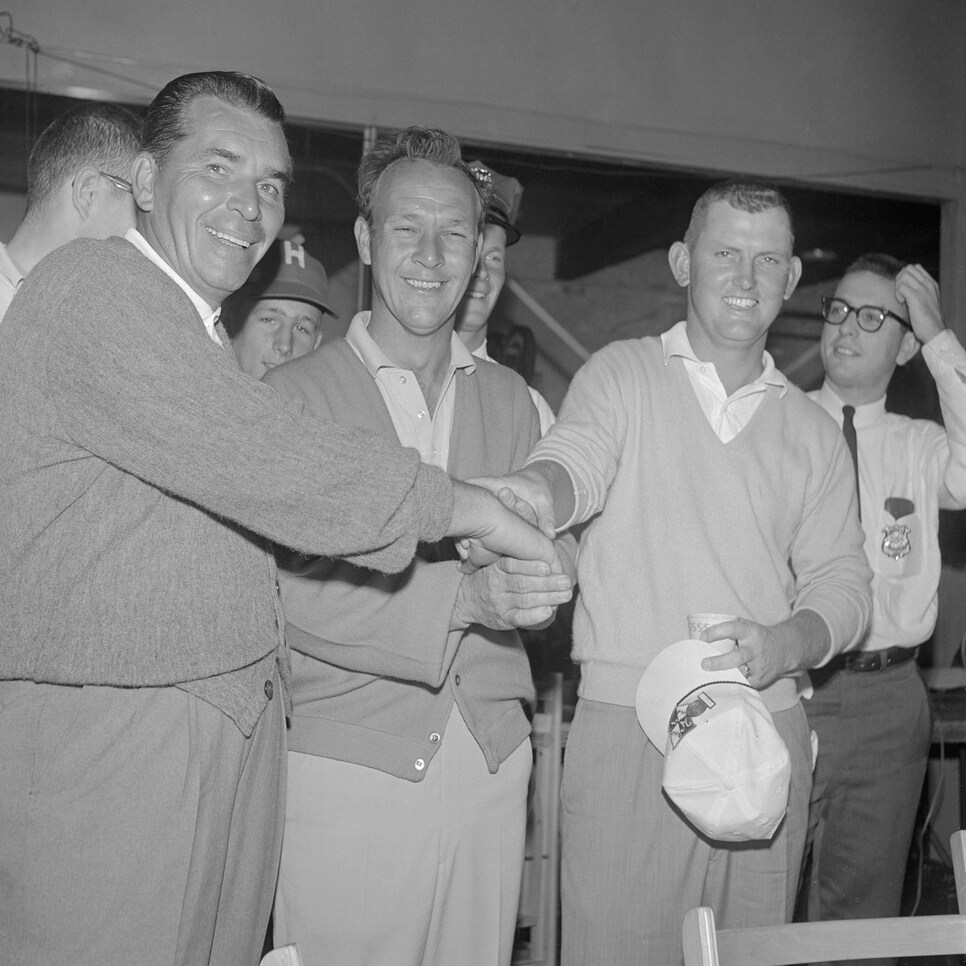 Julius Boros, Arnold Palmer and Jacky Cupit squared off in a playoff at the 1963 U.S. Open at The Country Club.
Bettmann
Dave Barr/T.C. Chen, 1985
Golf aficionados are aware of Chen's double-hit on Oakland Hills' fifth hole that led to a quadruple-bogey 8 and the nickname "Two-Chip." Perhaps forgotten is that despite the setback and the three consecutive bogeys that followed, Chen was only one back of Andy North and Canada's Dave Barr through 16 holes of the final round. That's when things went south for Chen and Barr. Playing ahead of North and Chen, Barr tried a lob shot from rough on the par-3 17th but came up woefully short, leading to bogey. Chen found the green on 17 while North found sand, but North nearly holed his bunker shot and Chen made a bad three-putt bogey. Up ahead on 18, Barr found the fairway bunker and also bogeyed, allowing North to win with a bogey on 18. Although Chen has his place in golf infamy due to his miscue, Barr remains a mostly forgotten player from that Open.
In the rare U.S. Open where par was not a good score, Donald was nine under on the 16th hole at Medinah, holding a one-shot lead over Hale Irwin, whose dramatic 45-foot birdie putt at the last put him just a stroke back. On 16, Donald flared his second but a serviceable bunker shot left him with a 12-footer for par. The putt, however, came up a revolution short, resulting in Donald's first bogey of the day. Tied now with Irwin, Donald left a 15-foot birdie try on 17 well short and a par on 18 forced an 18-hole playoff the following day. Donald jumped ahead by two in the playoff heading to the 14th and rolled in a 10-footer for birdie on the par 5 to go three up before Irwin made a five-footer for birdie. Irwin hit his approach on 16 to six feet and birdied to get within one with two to play. On the par-3 17th, Donald hit to 10 feet but narrowly missed when a make would have effectively ended things. On 18, Donald hit a pull hook off the tee and put his recovery into a greenside bunker. He came up short on the bunker shot and missed a 15-footer to win, leading to sudden death for the first time in a U.S. Open. On the first hole Irwin hit his approach to 10 feet and made the birdie to become, at 45, the oldest winner in the championship's history. As for Donald, he would have the 1989 Anheuser-Busch Golf Classic as his lone PGA Tour victory.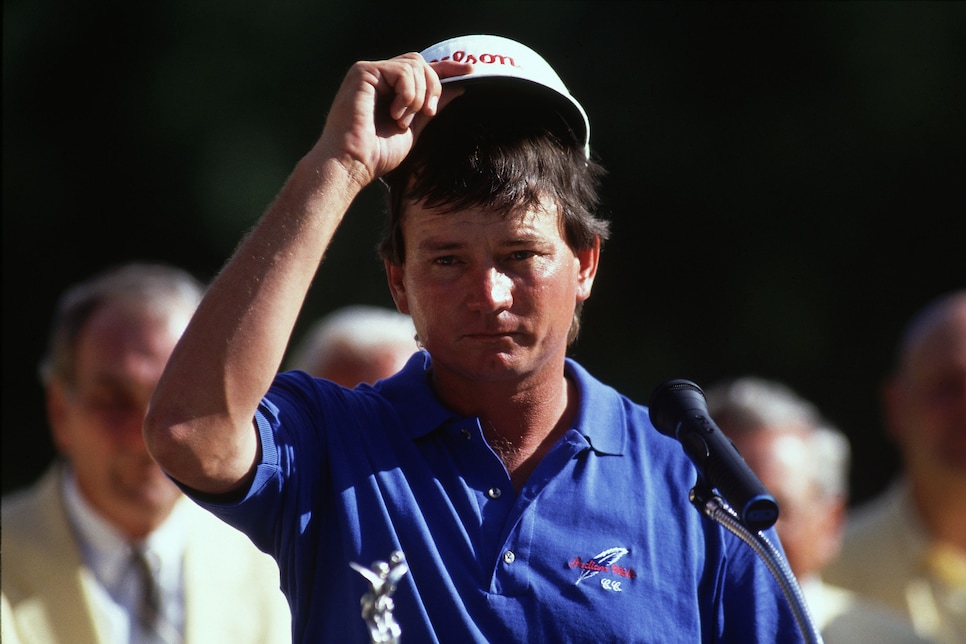 A disappointed Mike Donald at the prize ceremony after his playoff loss to Hale Irwin at the 1990 U.S. Open.
Getty Images
Yes, we know Colin Montgomerie was in the playoff, but he was never really that close to winning. (Besides, we'll get to Monty in a bit.) Playing ahead of Ernie Els, Roberts was tied with the South African and smoked his tee shot on 18. On the short par-4 17th, Els badly pulled his tee shot into trees and behind a grandstand but got the mother of all drops, being allowed to go to a drop area that remarkably was closer to the green and free of trees, allowing him to easily save par. Roberts approach took a big bounce and after a chip to four feet, the "Boss of the Moss" missed, but Els also bogeyed 18 after an errant tee shot, setting up a three-way playoff with Montgomerie. Monty faltered early, and Roberts held a one-shot lead over Els with three to play before a bogey on the long par-3 16th. On 18, Roberts made a 12-footer for par and Els had a nervy four-footer to tie, which he made. On the first hole of sudden death (Oakmont's 10th) Els missed an eight-footer to end it, followed by Roberts putting a five-foot par putt center cut for his third clutch putt in a row. Roberts sliced his tee shot on the 11th into heavy rough, gouged it into the greenside bunker where he hit a poor shot from a squirrely sidehill lie and couldn't make one more putt, watching his 30-footer for par slam into the back of the cup and spin out, making Els the champ and leaving Roberts—whose career included eight PGA Tour wins and 13 more on the PGA Tour Champions—one of the best players never to bag a major.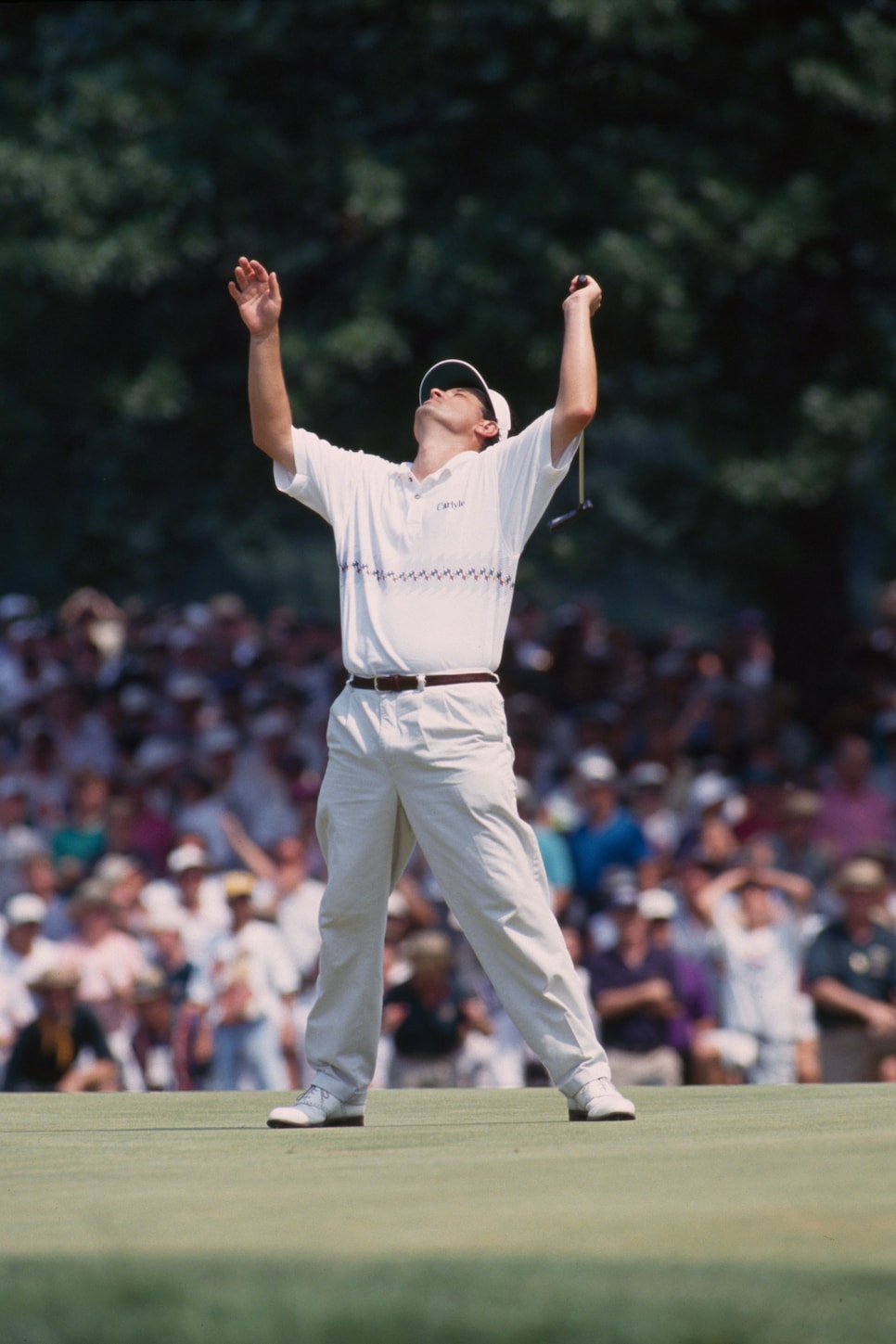 Loren Roberts reacts to a missed putt in the playoff at the 1994 U.S. Open.
PGA TOUR Archive
We said we'd get to Monty. The burly Scot was tied with Els yet again three years later at Congressional as well as Tom Lehman as he stood on the 17th tee. Both Montgomerie and Els hit good tee shots, but while Els stuck a 5-iron from 212 yards to 15 feet, Monty flared a 6-iron from 203 yards wide right. As they approached the green, Lehman bogeyed 16 to fall one back and Montgomerie joined him moments later after failing to get up and down from the greenside rough, missing a six-footer for par that Montgomerie waited several minutes to strike due to commotion from the nearby par-3 18th hole. Montgomerie then missed one last lengthy birdie try on 18 to be victimized again by Els. A Hall of Famer with 54 wins worldwide, Montgomerie is missing a major (we could also go into detail about 2006 at Winged Foot but that would be piling on) as well as any PGA Tour win, notable omissions on an otherwise impeccable résumé.
It's easy to forget how close Gregory Havret came to winning the U.S. Open in 2010, or at least getting in a playoff. After all, Havret was paired with Tiger Woods and all eyes were on the man in red-and-black, who, as it turned out, did not have his best day. The Frenchman, however, was just one back of Graeme McDowell as he played the par-3 17th at Pebble Beach. Havret made bogey after hitting into a bunker and missing a 12-footer, but McDowell, playing in the group behind, also bogeyed, giving Havret life on the par-5 finisher. A perfect tee shot on 18 left Havret with an iron to the green, but he came up short in the front greenside bunker. Still, the shot was not difficult—analyst Johnny Miller, in fact, commented the shot could easily be holed. Instead, Havret hit to seven feet and pulled the putt, affording McDowell the luxury of laying up on the final hole and walking off with a winning par. As for Havret, his career included just three wins on the European Tour, the last in 2008.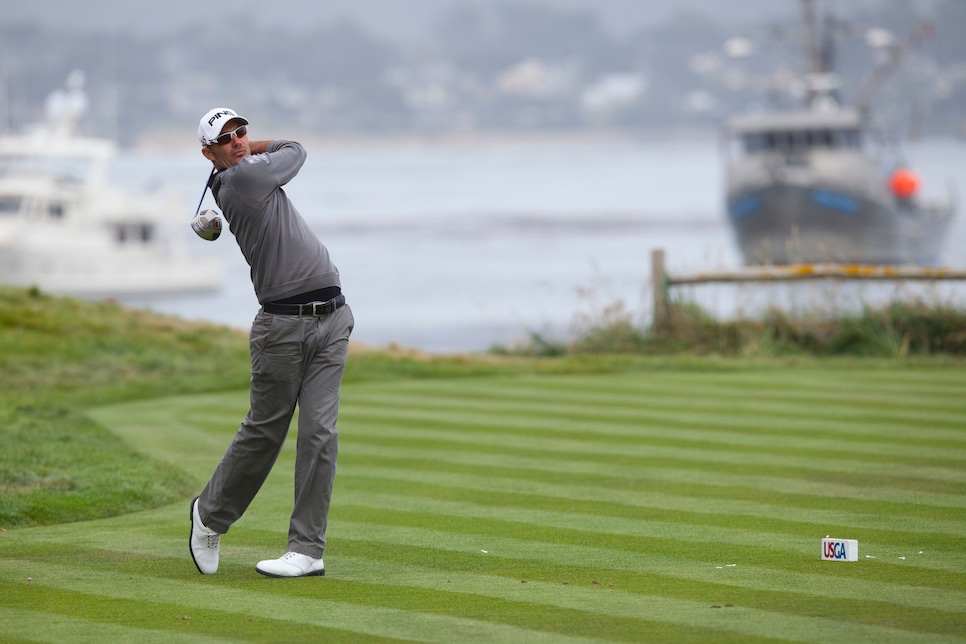 A good drive on the 18th at Pebble gave Gregory Havret a potential chance at birdie to tie Graeme McDowell, but he'd walk off with a par to finish one-shot back.
Rob Tringali