19 Fall Golf Looks That Work
There's a beautiful simplicity to fall golf fashion. It combines subtle colors with a back-to-the-core look, enhanced by technical materials that are both stylish and practical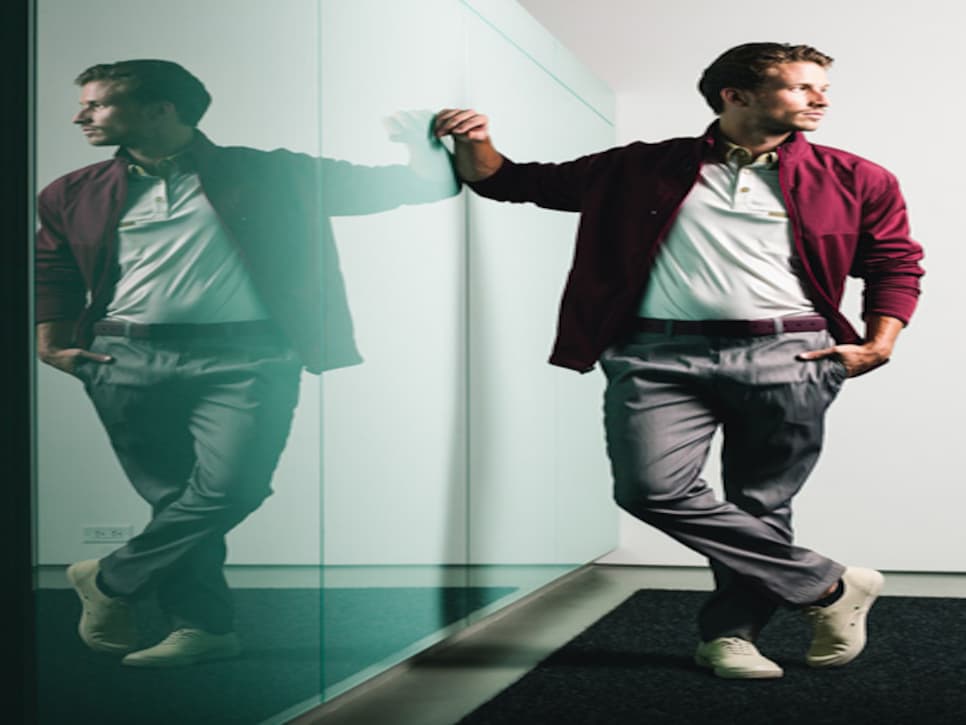 The deep crimson in this jacket is a directional color trend. Another big plus is that it can be worn both on and off the course.Callaway Cirrus golf jacket, $125, Kepler trousers, $75, Forge polo, $70, Chev belt, $19.99. Volley International sneakers, $60.
Its all California baby, from the Oakley shirt and trousers, to the Vans kicks.Oakley blue Ellis polo, $70, Haverford trousers, $85, Radar Pitch sunglasses, $185. Vans authentic sneakers, $45.
The beauty of Uniqlo is it's simplicity and classic motif. If it's good enough for Adam Scott, it's probably good enough for you and me.Uniqlo zip-up parka, $29.90, khaki vintage chino pants, $50.
John Ashworth's Linksoul collection has a mantra: Pure, real, and natural. Just like this all cotton t-shirt.Linksoul blue tee, $35. Oakley Haverford trousers, $85.
There's a reason Dry is in the name, because that is in fact how you feel. Particularly with the new TourXP collection. P.S.: As you can see, our model Adam had too much free time at Penn State.FootJoy DryJoys TourXP short sleeve, $190, rain pants, $195.
Today's fall wardrobe choices, regardless of the company, all have some clean, clear color. Adam's windshirt, Anna's pants, Dan's shoes, Julia's laces, and Ned's shirt all make a statement.Peter Millar shirt, $198, trousers, $125, Element 4 windshirt, $165. Allen Edmonds shoes, $249. Baume & Mercier Clifton watch, $2,700.Nike polo, $70, pants, $90, Lunar Duet Classic shoes, $110.Greg Norman for Tasso Elba sweater, $75, polo, $49. Uniqlo trousers, $30. GFORE shoes, $225. Autodromo Monoposto watch, $875.Birdy & Grace cardigan, $94. L'Etoile Sport polo, $195, shorts, $135. Nike shoes, $110.Under Armour polo, $70, trousers, $85. FootJoy M Project shoes, $145.__ Baume & Mercier__Capeland watch, $4,350.
Ned's sitting on part of the old Bridgehampton racetrack guard rail. Isn't that cool?! His Nautica outfit is all about comfort and style. And the new shoes from GFORE make a statement in and of themselves.Nautica vest, $89.50, shirt, $55, Beacon trousers, $55. GFORE Gallivanter shoes, $225.
Expect to see this thoroughly modern Izod outfit on Scott Piercy or Webb Simpson this fall. We think it's got the perfect amount of zip to go with the Ferrari.Izod polo, $58, PerformX trousers, $64, belt, $40. Nike TW '14 shoes, $180. Ferrari FF, as shown, $365,230.
Ned (right) is wearing the inaugural collection from Billy Draddy and those GFORE shoes will be just as cool casually in town as they will on the golf course.Dunning Bar Stripe polo, $95, Players Fit pants, $99. adidas adiZero shoes, $180. Baume & Mercier Capeland watch, $4,350.Boss Green Pierick Pro polo, $135, sweater, $135, trousers, $155. Volley International shoes, $30. Ralph Lauren socks, $14. Baume & Mercier Capeland watch, $7,500.B.Draddy polo, $90, shorts, $94. GFORE Gallivanter shoes, $225. Montblanc Voyager watch, $3,600.
Birdy & Grace's fall offering is filled with great options, great color and great style.Birdy & Grace Amy polo. $76, Natalie skort, $86.
Everyone should have a longsleeve polo in their fall collection. Not only does it keep you a little warmer, it protects you from the harmful rays of the sun. And yes, the right pair of Levi's can sometimes work on the golf course.Victorinox Infantry polo, $115. Levi's Vintage Clothing Jeans, $239. Nike TW '14 shoes, $180. Greg Norman belt, $20. GFORE glove, $35.
Seems to me the Nike outfit and GFORE glove fit perfectly with this Ferrari. That seat looks pretty comfortable, doesn't it?Nike longsleeve, $80, outerwear vest, $120, pants, $90. GFORE glove, $35.
It's a fitting setting for an Ian Poulter (IJP Designs) outfit since Ian has a white Ferrari in his garage!IJP Designs polo shirt, $90, pants, $160, belt, $105.
That's correct, that's a grass tennis court. Would you expect anything less?RLX Ralph Lauren top, $98, skirt, $85.L'Etoile Sport Poppy Medea Jaguard dress, $295. adidas adiZero tour shoes, $120. Nixon Vault watch, $125.
If you're looking for a reasonably-priced watch with tons of style, Nixon is an excellent option.L'Etoile Sport Poppy Medea Jaguard dress, $295. Nixon The Vait watch, $125.
No, Eddie Haskell did not design those shoes for Allen Edmonds. Expect to see a lot of quilting treatments in the fall collections, and this one from Polo Golf is a beauty, perfect both on and off the course.Polo Golf Diamond Quilt jacket, $295, Vintage lisle polo, $90, socks, $23. RLX Ralph Lauren Cypress pants, $98. Allen Edmonds Haskell shoes, $295.
Proving again you don't have to leave your bright shirts at home in the fall, this Lacoste L!VE "Black Jack" is a special collection from the noted Japanese illustrator Osama Tezuka. So if you're going to buy a collectible shirt, this is it.J.Lindeberg polo, $105, sweater, $140, pants, $185, belt, $95, shoes, $185. Montblanc TimeWalker Voyager UTC, $3,985.Lacoste polo, $140. Uniqlo trousers, $20. Bills Khakis belt, $85. Bell & Ross Vintage 126 Blackbird watch, $6,700.
And don't forget you can have some fun. The world famous artist David Hockney never wore two socks of the same color, so taking a page from his book, we've adapted that for these cool J. Lindberg shoes.J. Lindberg Chris jacket, $375, Trojan trousers, $135, Bridge shoes, $185. GFORE glove, $35.
Which looks better, Anna Rawson's swing or this great outfit from RLX? We think it's a toss up.RLX Ralph Lauren top, $98, skirt, $85.