The Loop
After falling well short at Augusta, Woods looks ahead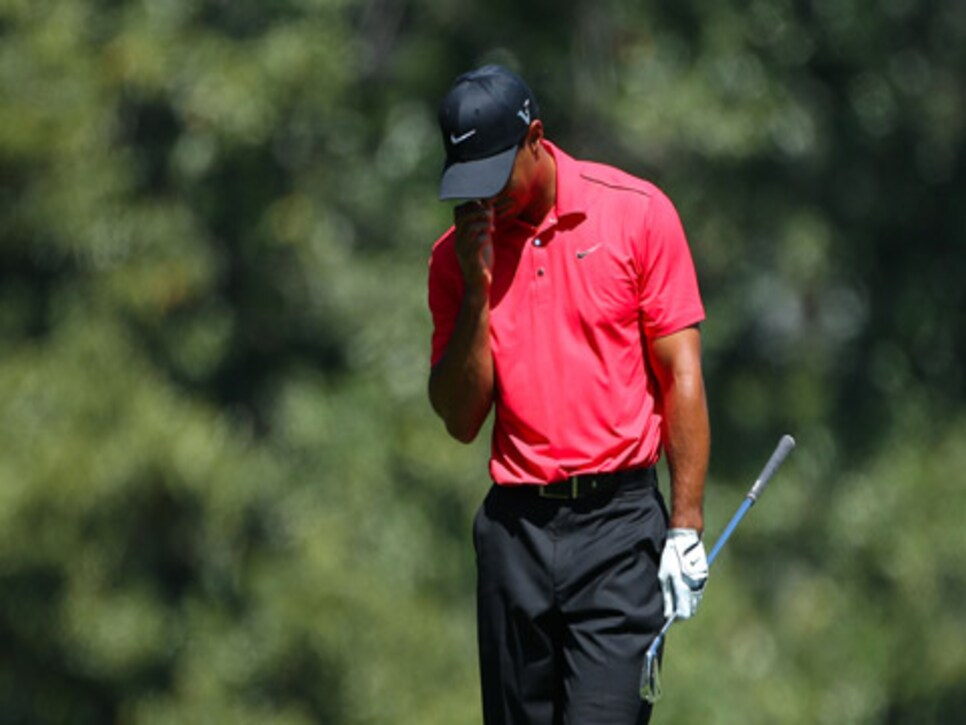 (Photo by Andrew Redington/Getty Images)
AUGUSTA, Ga. -- He needs "more reps" to "keep progressing" because he still fights the "old motor patterns."
Even if his performance in his 18th Masters appearance was surprising, the manner in which Tiger Woods explained was predictable.
The four-time champion birdied his final hole early Sunday afternoon as a consolation prize in a round of two-over-par 74, but his performance in the 76th Masters was by all accounts one of his poorest as he ended up T-41 with a 5-over 293 aggregate total. Both tied his career worst showing at Augusta National GC; he finished T-41 at 293 in his Masters debut as an amateur in 1995. As a professional, Woods previously had not finished worse than T-22 in 2004.
Woods did not break par in any of his four rounds, only the third time he had done that. The others were '95 and 2007, the latter when he finished T-2 amid brutally tough conditions.
"I didn't hit the ball very good this week, and what's frustrating is I know what to do, and I just don't do it," Woods, 36, said after his second-highest score in the final round. "I get out there and I just don't trust it at all. I fall back into the same old patterns again, and I just need to do more reps. Thank God my short game was good this week and my putting was really good. Unfortunately, they were all for pars, not for birdies. If I look back on the week, I played the parâ¿¿5s atrociously. This is a golf course you just have to dominate the par 5s, and I did not do that at all this week."
Woods played the par 5s in one-under par. He was 13 under on them in his record-breaking first Masters victory in 1997. He failed to birdie either par 5 on the back nine all week, and with an inward 37 Sunday, he extended to five his rounds in which he hasn't broken par on the second nine.
After winning impressively two weeks ago at the Arnold Palmer Invitational, Woods was the betting favorite to win a fifth Masters title. His swing appeared grooved after months of recalibrating under the direction of swing coach Sean Foley. It appeared he was past the hard part of the adjustments. No so.
"You're never past it," he said. "With all the different changes I've made in my game over the years, you're never past it. You're still always working on little things. I know the big things that we're working on are done, but it's the little things, too, now. The details sometimes can be magnified. Especially on a golf course like this, it doesn't take much."
Woods said he didn't think he tried too hard to win. Others weren't so sure.
"I am shocked. I thought he was on his way ... and he could be," said Steve Stricker, one of Woods' closest friends on the PGA Tour. "He maybe had a lot of expectations coming in here and put a little bit of extra pressure on himself. Who knows? But it was surprising. But you never know what he'll do next time out."
Woods said he does not know when he next will compete, but his traditional schedule has included in the coming stretch appearances at the Wells Fargo Championship, the Players, and the Memorial Tournament before the year's second major, the U.S. Open.
The 112th U.S. Open is June 12-15 at Olympic Club in San Francisco. Woods was a second-year pro when he competed in the 1998 championship at Olympic, finishing T-18.
"Feeling good," Woods said. "Unfortunately I hit more shots than most guys did today, or this week. Unfortunately I just need to get back at it and practice."
He needs more reps to get rid of those old motor patterns