The Year Ahead
16 brazen predictions for the 2017 golf season
Technically, the "new" golf season started in October at the Safeway Open. But with the calendar turning 2017 -- along with the game's best congregating in Hawaii for the SBS Tournament of Champions -- this serves as the perfect opportunity to look into the crystal ball and see what lies ahead. Here are 16 brazen predictions for the 2017 golf season.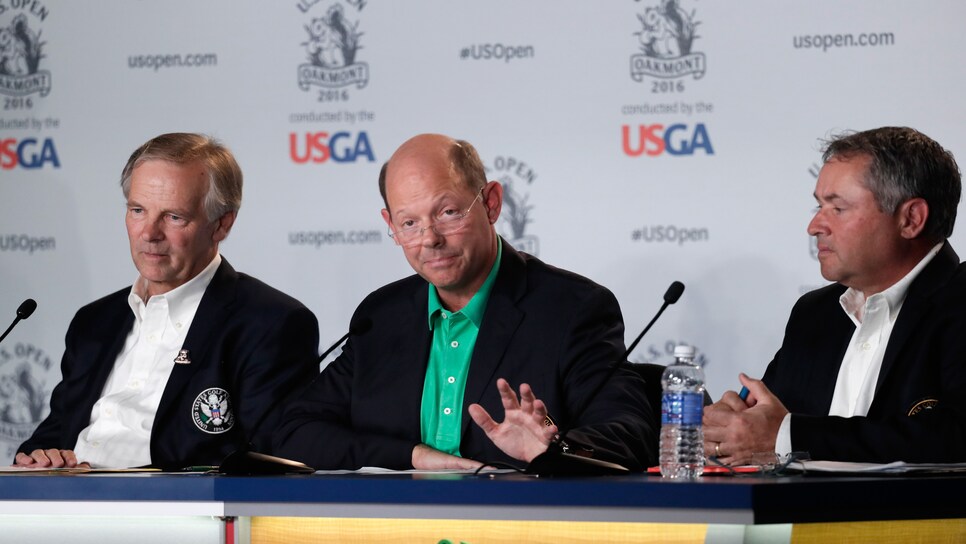 Photo By: AFP/Getty Images
Photo By: AFP/Getty Images
Photo By: PGA of America via Getty Images
Photo By: 2015 Getty Images
Photo By: ©2013 John Loomis Photography LLC
The USGA renews its pursuit of curbing distance
Some in the equipment realm viewed the USGA's recent proposal to shorten the maximum shaft length as a
curious
development. Combined with the USGA's notion that longer driving distances are rendering older courses obsolete -- thus, in its mind, correlating to increases in redesign and maintenance expenditures -- as well as its particularly
harsh
ruling in Wilson's Triton driver case, we could see the first legitimate steps to curtailing driving distance in decades.
Photo By: Getty Images
The No. 1 player in the world will not have an equipment contract
Though Rory McIlroy is
reportedly
switching to Callaway/Odyssey and Titleist products, it doesn't sound like he will ink deals with those companies, desiring for freedom to tinker with his bag. To put this in perspective, it's believed the last time a World No. 1 played without an equipment contract was Nick Price in 1995. And yes, that means McIlroy will overtake Day as the No. 1 player in the world. With the PGA Championship at Quail Hollow -- a course where McIlroy has won two Wells Fargo Championships -- and his putting seemingly under control, I like McIlroy to log three wins this season to overtake the top spot. However...
Photo By: Getty Images
Rory McIlroy will not win the Masters/career Grand Slam
Thanks to his
fall finish
and flashes of brilliance at Augusta National, many golf pundits are picking McIlroy to capture the green jacket this spring. Conversely, we tend to think the Northern Irishman does better at the Masters than his scorecard illustrates: his closest finish to a tournament's winning score is
six shots
. While the course suits his style of play, it can be devastatingly cruel to inconsistency in the short game, an attribute that has plagued McIlroy the past two years. I think he'll ultimately win multiple Masters titles, but 2017 will not be one of them.
Photo By: AFP/Getty Images
The U.S. Women's Open and men's PGA Championship will go off without a hitch
Make no mistake, both tournaments will draw their share of controversy. The Women's Open will be held at President-Elect Donald Trump's Bedminster course. Trump's inflammatory comments, combined with his belief that golf should be an aspirational pastime, are at odds with the USGA's "Grow the Game" ethos. Meanwhile, the PGA Championship will be conducted in North Carolina. The state's controversial bathroom bill has led to the
removal
of sporting events from the NBA, NCAA and ESPN.Conversely, golf's fan base is an older, conservative market. It's not a protesting demographic, and a sizable amount of this group supports Trump and the bathroom bill. Don't anticipate any stands or political statements from players, either. There will be a scattering of articles and maybe a small demonstration or two, but it's hard to see any large, noteworthy rallies disturbing these tournaments.
Photo By: AFP/Getty Images
The International Team will win the Presidents Cup
In 11 prior events the Internationals have a lone victory (1998 in Australia). With the Americans coming off a dominating
performance
at the Ryder Cup, the forecast should call for another red, white and blue win. Yet, the Internationals came
this
close to victory in 2015, and may boast a loaded frontline featuring Jason Day, Hideki Matsuyama, Adam Scott, Branden Grace, Charl Schwartzel, Louis Oosthuizen and Emiliano Grillo. Depth will continue to be an issue for the Internationals -- and a raucous environment at Liberty National in Jersey City won't help matters -- but 2017 could deliver the Americans their second Presidents Cup defeat.
Photo By: US PGA TOUR
Patrick Reed will win the Open Championship
"But he doesn't even have a top-10 major finish!" you exclaim. True, although Reed hasn't been in the wilderness at golf's premier stages, evidenced by a T-12 at Troon and T-13 at Baltusrol last year. Plus, he's only 26; it's expected that a fledgling star will have his bumps and bruises along the way. The last two Opens at Royal Birkdale produced winning scores hovering around par, a grind-it-out atmosphere that suits Reed's demeanor and style of play. With one of the better up-and-down games in golf and an unwavering confidence, look for Reed to raise the claret jug this summer.
Photo By: PGA of America via Getty Images
The Solheim Cup will be must-see TV
Normally the Solheim Cup is only watched by golf's diehards. But following Suzann Pettersen's non-concession to Allison Lee in the 2015 event, the Solheim Cup is on more radars this season. Throw in the fact that it's on U.S. soil -- and, if Hazeltine is any indicator, American fans are not the most gracious of hosts -- the Solheim could provide a Ryder Cup-esque scene.
Photo By: 2015 Getty Images
Adidas will finally sell TaylorMade
Sale talks of Adidas golf brands were formally announced in August 2015. With relatively positive trends for public golf companies Acushnet and Callaway, one can assume TaylorMade's eventual and much-rumored private equity buyer will emerge in the coming year.
Photo By: Getty Images
Golfers will find their swings through their soles
Two technologies should become prevalent in 2017 for golfers looking for help. FootJoy's fitting system has classified golfers into three categories: mobile, structured and duel. Knowing which shoe goes with your swing can add stability and distance to your game, two of the more sought-after traits in the amateur ranks. Then there's the IOFIT, a smart-shoe spinoff from Samsung. Using sensors, the IOFIT delivers information on your swing directly to your phone for instant analysis. The IOFIT app can compare you swing to the pros, keeps stats and can be sent to your personal coach or instructor.
Jon Rahm will take the world by storm
In just nine events last year, Rahm finished inside the top 25 six times (twice as an amateur). His 2016-17 campaign is off to an auspicious start as well, with three top-15 finishes in four starts. The Spaniard's eye-popping distance mesmerizes fans, yet his approach game is not too shabby, either. Rahm's work around the green needs to improve, but with an uncanny ability to go low (he ranks eighth in the early season in birdie average) look for Rahm's name to be a common sight on leader boards this season.
Photo By: Getty Images
Golf will get 2024 Olympic invite, but not a long-term commitment
Despite a disastrous buildup to the event and low buy-in from the sport's top talent, golf's return to the Summer Games was a successful venture. This fall, a source at the International Olympic Committee told the Guardian it would be "very surprising" if golf isn't on the list of sports for the 2024 Olympics. But, it wouldn't be shocking if the IOC fails to totally commit to golf. The organization is notoriously fickle, and the no-shows from golf's best could still be on their minds. The IOC will announce golf's 2024 fate this year, but the sport will need another good showing in 2020 to cement permanent Olympic status.
Photo By: Getty Images
Jumping becomes integral to your golf workouts
According to Golf Digest fitness editor Ron Kaspriske, jumping is the trend you need in your golf-related workouts, with a focus on lateral and rotational movements. There's a symmetry between how high you can jump and how fast you can swing a golf club, as some power can be generated by pushing off the ground. Mix in as many jump-centric exercises as you can. Warning: Box jumps can help, but they are also dangerous, so use caution.
Photo By: ©2013 John Loomis Photography LLC
Tiger Woods won't win in 2017
Woods had a promising return at the Hero World Challenge. He also has plenty of obstacles in his path, including health, consistency and a super-formidable PGA Tour landscape. Don't view this as an indictment on the 41 year old; it's just really, really hard to win in today's game. I think he'll be competitive, but don't bet on Woods grabbing his 80th tour win this season. But...
Photo By: Getty Images
Tiger Woods will start his own equipment company
This may seem like a swing-for-the-fences prediction, although it's not
that
farfetched. Woods' name was floating around as a possible TaylorMade investor this fall, and owns a deep, nuanced education on golf equipment. Woods recently announced a new business venture, further fueling the possibility that an equipment company becomes part of his portfolio. As Mike Stachura
pointed
out, fellow legends like Jack Nicklaus and Arnold Palmer were not successful in this arena. In that same breath, creating his own equipment brand may be Woods' only chance to get the type of equipment money he commanded from Nike.If he does go this route, don't picture Woods trying to compete with the likes of Callaway, TaylorMade, Ping or Titleist. Rather, imagine something along the lines of a PXG start-up.
Bryson DeChambeau will start a sidesaddle revolution
DeChambeau withered on tour after promising showings at the Masters and RBC Heritage, but the SMU product does have his card for 2017. And the U.S. Amateur and NCAA champion could be in for big things thanks to an offseason switch to the side-saddle putting stroke. A dramatic change was needed for DeChambeau: he posted a -.302 figure in strokes gained putting last year, and ranks 160th in the category in the early returns from the '16-17 season. Golf is a copycat game. If DeChambeau enjoys sustained success, those afflicted with putting woes -- pros and amateurs alike -- will turn to the sidesaddle stroke.
Jordan Spieth will bounce back from his "down" season
The biggest
snag
for Spieth in 2016 was his iron play. The two-time major winner put new sticks in the bag in November and promptly
won
the Australian Open, his third win of the year. Predicting Spieth to avenge his Masters meltdown would produce an absurd Woodsian line -- a theoretical 2-1-2-1 finish in his last four trips to Augusta. Yet Spieth is undoubtedly on the short list of favorites for the green jacket; he may be a Texan, but Spieth is in his element strolling through the Georgia pines. The 23 year old is cutting down on travel this winter, hoping to stay fresh for the upcoming spring and summer. Expect the rest to pay dividends.
Photo By: Getty Images