PGA Championship
PGA Championship 2022: How bad golf provided an answer to Xander Schauffele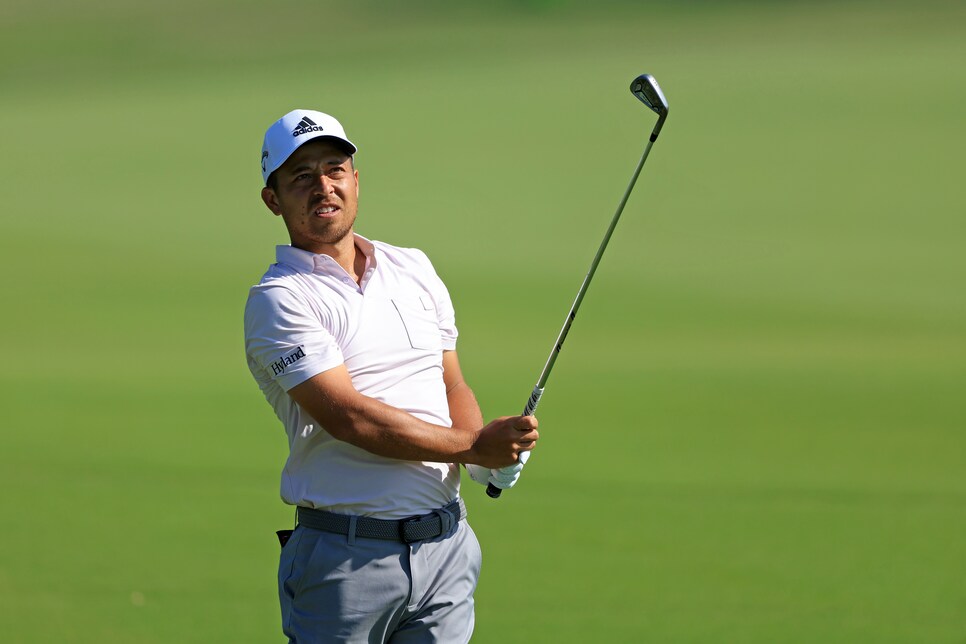 TULSA — If you're looking for parallels between Southern Hills and Craig Ranch, well, that's an exploration so doomed we won't bother sending out a search party. However, should Xander Schauffele lift the Wanamaker come Sunday evening, that salvation may be spurred by providence found last Friday at the aforementioned TPC venue.
Playing in the AT&T Byron Nelson, Schauffele was heading for a quick out in Dallas, three over through 21 holes as the rest of the Nelson field painted Craig Ranch red. Not the ideal display for a PGA tune-up, yet on the surface no biggie; after all, Schauffele teamed up with Patrick Cantlay to win the Zurich Classic just weeks before. Conversely, Schauffele's performance outside the New Orleans event had been disappointing. He missed the cut at both the Masters and Players Championship and failed to advance out of the round-robin stage at the WGC-Dell Match Play.
His Nelson play continued that sluggish showing, and Schauffele suddenly found himself in a crisis of confidence days before the world descended on Tulsa for the year's second major.
"Some terrible things. Not going to lie," Schauffele said about his headspace last Friday morning. "It's so weird when you're playing so poorly, or scoring so poorly, I should say, felt like I was playing okay.
"Scoring really poorly, kind of frees you up. I had nothing to lose."
Turns out "what the hell" can be cathartic.
Schauffele began to chase without abandon. He played his final 13 holes that Friday in eight under, giving him a 67 on the day and granting passage to the weekend. With this newfound freedom Schauffele said he "woke up" and the results support that sentiment, turning in a 65 on Saturday and lights-out 61 on Sunday, at one point grabbing the Nelson lead and ultimately finishing T-5. For those scoring at home, that is 27 under for his final 49 holes.
Now, Schauffele has reached the echelon where he's not judged by top 5s but Ws.To say a Friday round at the Nelson could prove a catalyst at the PGA Championship may seem like a stretch. Only, by the sounds of it, Schauffele needed to feel that pain to give himself a chance at Southern Hills.
"Big for me," Schauffele says of last week's turnaround. "How my year was going, very kind of stale, for me, in my feelings and how my team sort of view how I'm supposed to play."
So now he's arrived as a PGA dark horse, and you don't have to squint too hard to see how Schauffele's game would excel at this course that calls for subservience and demands precision. He is a certified big game hunter, owning nine major top 10s in the last five years.
In that same breath, all those close calls have raised and amplified the question of when Schauffele will convert one into a trophy. Schauffele was asked why he thinks this week will be different from his past misses.
"I feel like I just have kind of been seeing both sides of it. I haven't had the best of years up to this point, for the most part, I'd say, in terms of consistency," Schauffele said. "So I think me just getting back to sort of my process and being patient and not really trying to do too much. Just sort of when I do really well in majors and I'm not worried throughout the week.
"I kind of have that feeling now. I think mentally I'm in a good spot."
Schauffele had to fight a minor drought to rediscover that feeling, and that should scare the rest of the sport. For there is little that can withstand a player who plays with nothing to lose.
MORE PGA CHAMPIONSHIP COVERAGE FROM GOLF DIGEST