Savvy Moves
Viktor Hovland's AT&T Pebble Beach playing partner is a match made in (fast food) heaven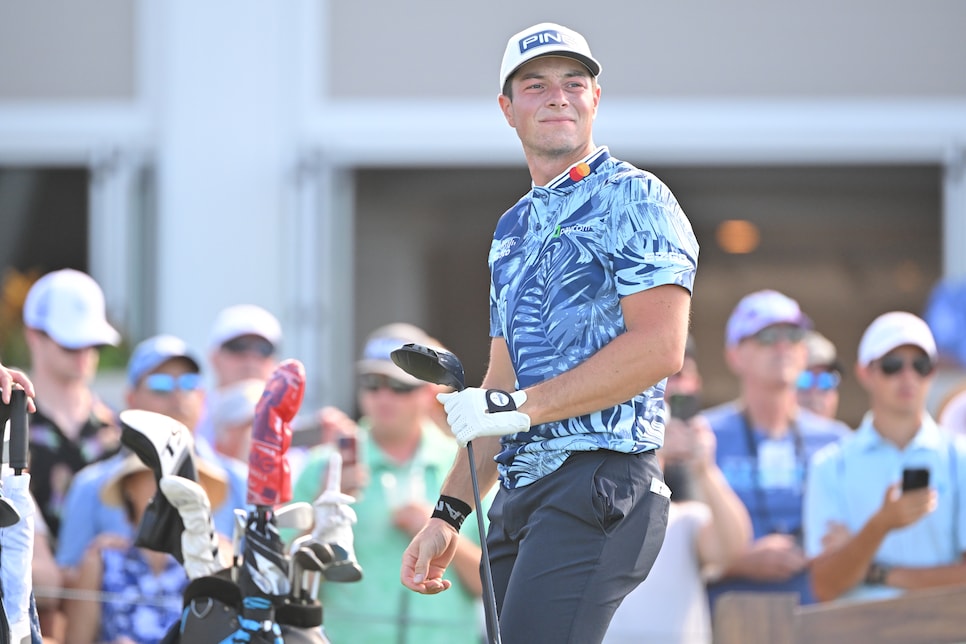 It was less than a year ago when Viktor Hovland charmed golf fans and media with an answer about turning pro and having some real money in his pocket for the first time. He wasn't thinking about buying flashy cars or flying private planes, but rather being able to splurge on . . . Chipotle. Yep, Chipotle.
"I didn't have to count every single dollar that I spend on air travel and food," Hovland said at Riviera. "That was like a big thing. Instead of not getting guac at Chipolte, I could get double meat and some extra Chipotle and I don't have to worry about it."
And we could all relate. Getting double meat or guac at Chipotle is a luxury—especially during times of avocado shortages! But Hovland, who has already earned more than $13.5 million in a short PGA Tour career, isn't worried about expenditures like that these days. And after this week, he might really be set when it comes to his favorite chain restaurant.
That's because Hovland isn't just playing for a trophy at Pebble Beach this year, he's also angling for a Chipotle Gold Card (and yes, that's a real thing). Hovland's playing partner in the AT&T Pro-Am is Chipotle CEO Brian Niccol. Talk about a match made in (fast food) heaven.
"Obviously playing with the man himself," Hovland told reporters at Pebble Beach on Thursday. "So trying to get that gold card by the end of the week. That's the goal. So, no, we're having a blast."
Sounds like they're getting along like two beans in a burrito. So how did this pairing come to be?
"It was just completely random," Hovland said. "I didn't have a really a plan to play this week. So when I just looked on the list and saw Brian's name on there I figured that, yeah, that would be kind of funny. So that, yeah, that's the story."
Hovland and Niccol got off to a bit of a slow start by shooting a 70 at Spyglass Hill in the opening round. But the 25-year-old has a couple more days to ramp up his play—and his play for that coveted Gold Card.
"We'll see about that," Hovland said of being treated to Chipotle. "I'm trying to lobby my way in there."
Good work, Viktor. That's a savvy young man right there. A real go-getter.