The Grind
Joaquin Niemann's Tiger moment, Viktor Hovland's Chipotle life lesson and Phil Mickelson gets roasted by his peers
Welcome to another edition of The Grind where we might be able to tell the future. In May 2013, I wrote a post predicting David Feherty would introduce Tiger Woods when he got into the World Golf Hall of Fame. And in February 2022, it was announced that the popular TV analyst would host next month's WGHOF induction ceremony for a class that includes, yep, Tiger Woods.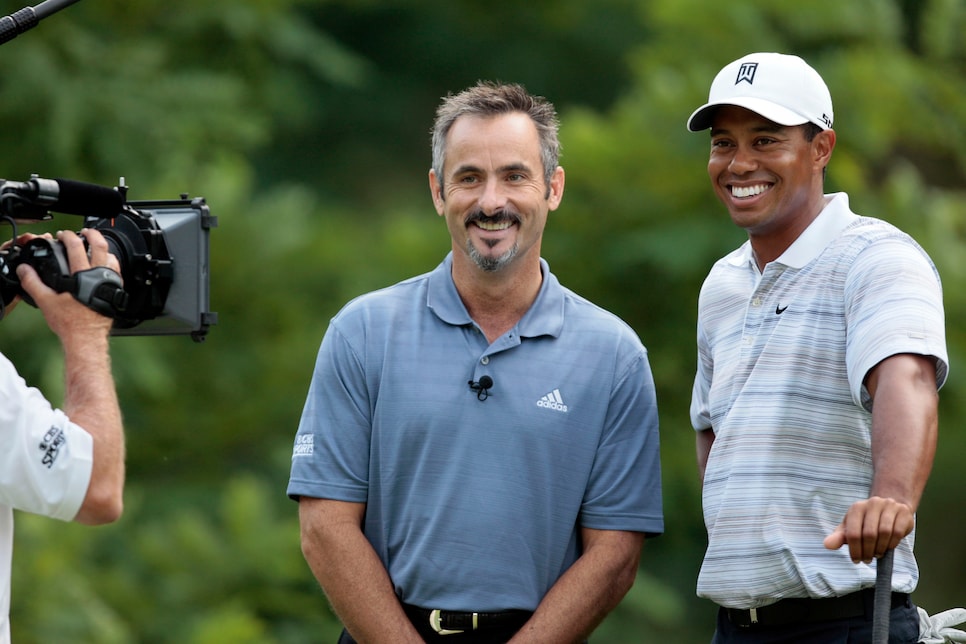 OK, so Feherty will be kind of introducing everyone this year, but c'mon, that's pretty good. And if he makes a fart joke, well, just call me Alexstradamus. Anyway, there's a lot of other stuff to talk about, including Tiger's tournament. Let's get to it.
Joaquin Niemann: How impressive was this 23-year-old Chilean's performance at Riviera? He went 16 holes without making a birdie during the Genesis Invitational—and still shot 19 under. Niemann's wire-to-wire win gives him two career PGA Tour titles, but this is the one against a loaded field that included the top 10 in the World Ranking has him on the precipice of stardom:
Oh, man. It's got to feel so good to get an embrace like that. No, no, not from his girlfriend, but from the GOAT himself!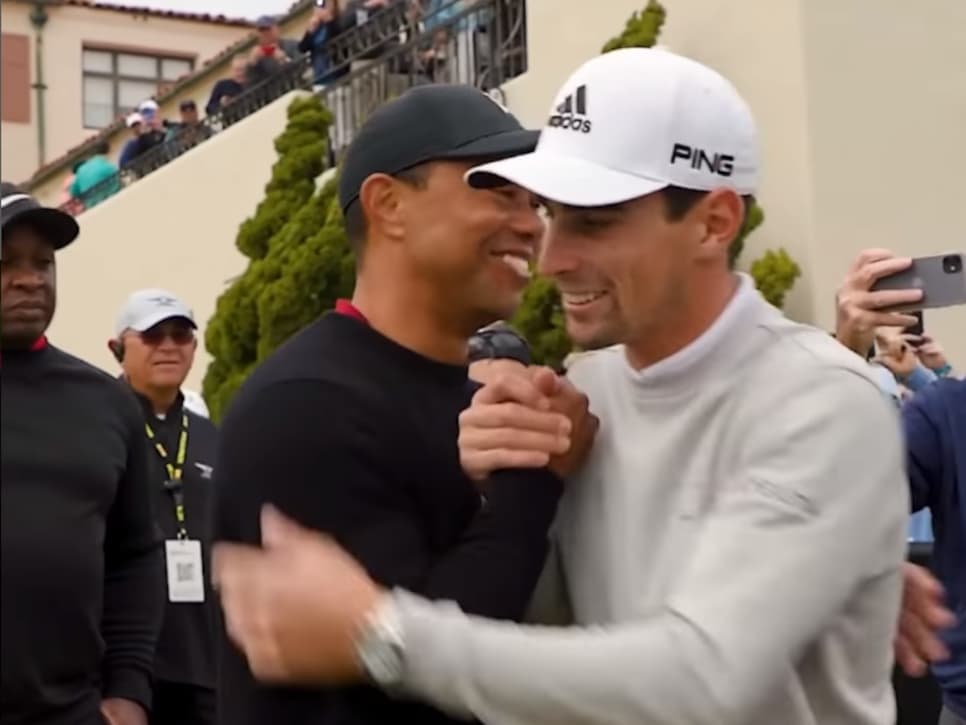 That's a moment Niemann will never forget. Also, special shout-out to Joaco because I plunked a few bucks on him (emphasis on a few) at 60-to-1 odds giving me back-to-back nice HITS. Maybe I really can see the future …
Bernhard Langer: Only in golf could we be celebrating statement wins by both a 23-year-old and a 64-year-old. But Bernhard continues to amaze, winning the Chubb Classic for his 43rd career PGA Tour Champions title. This ageless wonder is now just two behind Hale Irwin's win record: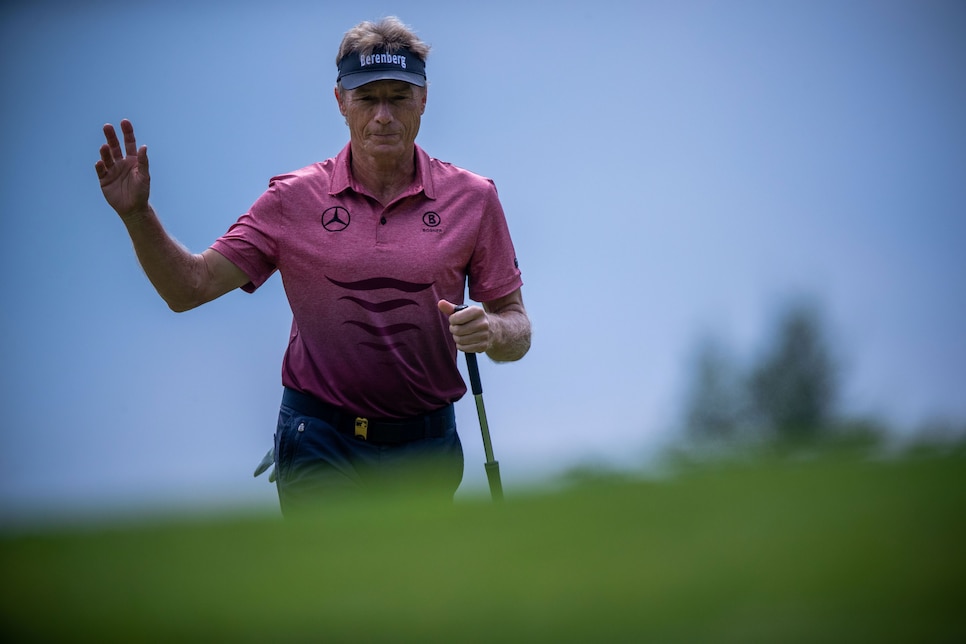 Langer turned pro 50 years ago. FIFTY! And yet he's shown little sign of slowing down. Sorry, Hale, but Bernhard is breaking that record. Even if he has to play until he's 80.
Hannah Green: Another week, another "shoey" for this Australian:
And this time she made history by becoming the first woman to win a 72-hole co-ed golf tournament on a major tour at the TPS Murray River event. Impressive stuff. And although the idea of a "shoey" still disgusts me, I would drink exclusively from my shoe if it meant I could play golf like Hannah.
Byeong-Hun An: After losing his PGA Tour card, the 2009 U.S. Amateur champ appears headed back to the big leagues next season after winning for the first time on the Korn Ferry Tour. The self-deprecating tour pro is one of the best social-media follows out there, so we're happy for him. Not that he was doing too badly for himself. Check out his ride!
Yeah, that's a Lamborghini. A freaking LAMBO. Very nice. We're guessing that's a first on the PGA Tour's developmental circuit.
Phil Mickelson: In a span of nine months, this guy went from the feel-good story of the year in sports to a total villain. Quite a turn of events! These quotes from Alan Shipnuck's upcoming book on Phil are just shocking:
By the way, shout-out to Shipnuck for possibly saving the PGA Tour. Because shortly after those comments got out, Dustin Johnson said he's not going to the Super Golf League. Then shortly after that, Bryson DeChambeau, seemingly a lock to follow Phil, said the same thing. And others, including Brooks Koepka, Justin Thomas and Rory McIlroy chimed in with some not-so-nice things to say about the six-time major champ.
Mickelson might end up taking more shots than Sonny Corleone in "The Godfather" and Denzel at the end of "Training Day" combined. Phil has bounced back from a few things including an insider-trading scandal and hitting a moving ball at the 2018 U.S. Open, but this is by far the biggest hole he's dug himself. I'm sure he'll try to spin the situation like a 60-degree wedge off a tight lie, but it's going to be tough to regain his popularity after tarnishing his legacy like this.
Crushing four-putts: Speaking of dramatic turn of events, how about what happened to Michael Gellerman on the 72nd hole of this week's Korn Ferry Tour event? The 29-year-old had a putt to win the tournament, but wound up finishing in a tie for sixth after needing four putts to finish the hole. Yikes. The whole thing is a bit ironic since the four-putt gave An, a notoriously bad putter, the win. Anyway, Gellerman seemed to handle it well:
We'd show the video that the Korn Ferry Tour posted on both on Twitter and Instagram, but it has since been scrubbed. Imagine the NBA doing that if someone missed a three for the win, got a couple offensive rebounds and missed the putbacks at the buzzer as well? Yeah, I can't imagine that either …
Adam Scott's tan sweater: I also couldn't have imagined a PGA Tour star wearing the same exact sweater for four tournament days in a row, but that's exactly what the Aussie did. And then he wore it again for a clinic the following day! Look, it's a nice-looking sweater—I love my navy Uniqlo one—but you gotta mix it up when millions of people are watching you on TV!
Then again, if this was all part of a plan to get people to talk about an otherwise boring sweater, it's genius. And, of course, when you possess Adam's looks, it doesn't really matter much what you wear.
The PGA Tour heads to Palm Beach for the start of the Florida Swing at the Honda Classic, AKA that one with THE BEAR TRAP. Unfortunately, it's not quite the star-studded affair we just saw in Hollywood, but it usually provides great drama with that closing stretch of watery holes.
Random tournament fact: Not so much a random tournament fact, but how about this random fact that Russell Knox arrives having finished T-33 in his past three PGA Tour starts?
Mr. T-33. That's just bizarre.
RANDOM PROP BETS OF THE WEEK
—Russell Knox will win this week: 65-to-1 odds
—Russell Knox will finish T-33 this week: 10-to-1 odds
—Adam Scott will look better than me no matter what he wears: LOCK
Let's just say it was a pretty bloody Sunday for The Shark.
What a catch this guy is, huh?
Justin Thomas was about to tee off on Riviera's iconic 10th hole when Collin Morikawa walked onto the tee box and almost got himself killed:
The PGA Tour was worried about losing some of its stars last week, but not in this fashion!
THIS WEEK IN PUBLIC DISPLAYS OF AFFECTION
On a much more positive note, this mix of shock/wonderment/excitement from J.R. Smith after playing 36 holes with his idol, Michael Jordan, was awesome:
I've said it before, but J.R. Smith may love the game of golf more than anyone on this planet.
"I had some security when I first turned pro, I didn't have to count every single dollar that I spend on air travel and food. That was like a big thing. Instead of not getting guac at Chipolte, I could get double meat and some extra Chipotle and I don't have to worry about it. It's just stuff like that on a daily basis, like you don't have to think about it." —Viktor Hovland.
Dig this guy's style. As someone who refuses to pay extra for the guac at Chipotle (and who cringes every time my wife does), this might be my favorite quote ever.
Congrats to Cameron Young for nearly jumping just outside the top 50 of the Official World Golf Ranking following his T-2 at Riviera. Love seeing a fellow MET area/Wake Forest grad succeeding. … Rick Lamb won a 16(!)-for-1 playoff at the Honda Classic Monday qualifier (on Tuesday morning) to get into this event over a group that included Chase Seiffert, who finished T-3 at the Honda last year. Being a pro golfer is tough. … Jon Rahm had his streak of 34 consecutive rounds of even par or better snapped with a Friday 73 at Riviera. Tiger's record of 52 in a row is probably safe for a long time. … And, finally, shout-out to co-worker Chris Powers for nailing Scottie Scheffler and Joaquin Niemman on our weekly Be Right podcast:
On second thought, maybe it's Chris who can see the future.
RANDOM QUESTIONS TO PONDER
How much did MJ and JR play for?
How many tan sweaters does Adam Scott own?
Will I ever get to a point where I splurge on guac?