Genesis Invitational
Joaquin Niemann's game isn't just the secret of golf geeks anymore after an impressive win at Riviera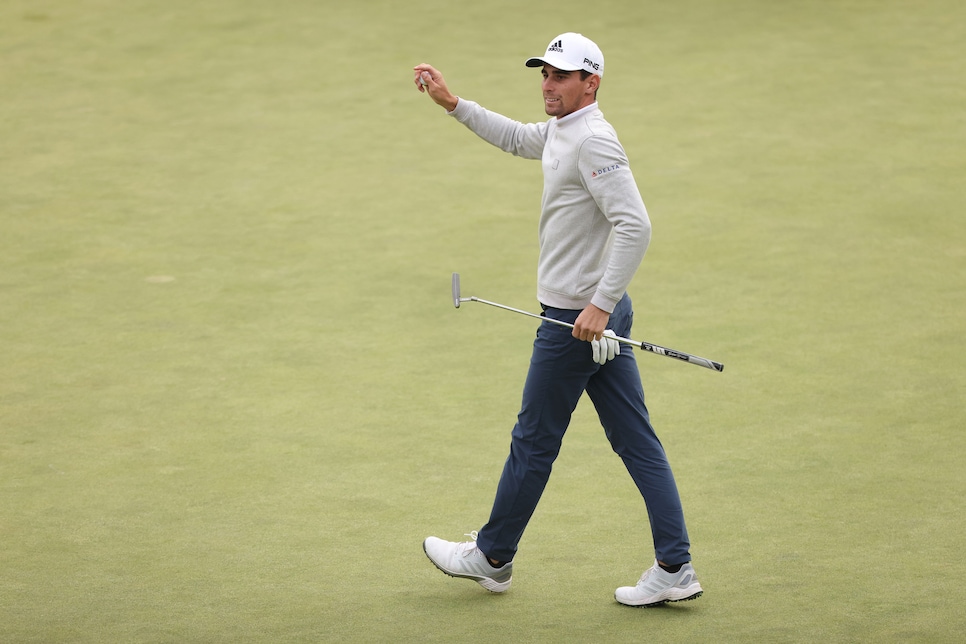 Photo By: Katharine Lotze
PACIFIC PALISADES, Calif. — As the sun went into hiding and the sweaters emerged at Riviera Country Club, Joaquin Niemann experience a brief moment of heat. His chaser for the previous three days, Cameron Young, had just holed out from 53 yards for birdie on 15, the type of shot that flips momentum. Meanwhile, Niemann's right hand had been a little too eager on a six-footer for par; a power lip out left a good 3½ feet for bogey to maintain a two-shot lead while Young stood on the 16th tee—a not-so-subtle display of gamesmanship.
Niemann collected himself, took his time, poured his bogey putt in the heart and regained control of a tournament that had been the 23-year-old Chilean's since Thursday afternoon. In a goosebump-inducing coincidence, Niemann is the first wire-to-wire winner of Genesis Invitational since Charlie Sifford, the first Black man to play on the PGA Tour and the namesake for a yearly exemption into the Genesis Invitational, did it in 1969.
"I played my best golf on Thursday and Friday, and I knew the weekend was going to be hard, it was going to be a battle," Niemann said. "I knew I'd be fighting myself a lot during those two days.
"It was amazing to [win wire to wire] because this would have been [Sifford's] 100th birthday year. … I'm just happy to be a winner here at Riviera."
Niemann polished off the victory with a workmanlike even-par 71 on Sunday, more than good enough after he ran off from a field that included all 10 of the top 10 players in the World Ranking by opening with back-to-back rounds of 63. At Riviera! He reached 21 under through 46 holes with an eagle at the tricky par-4 10th on Saturday but played his final holes in two over. Niemann did nearly the exact same thing on Sunday, hooping an eagle chip at the par-4 11th to get to 21 under before playing his final holes in two over.
The margin of victory—two, over Young and hometown boy Collin Morikawa, who ate Japanese food on Sawtelle Boulevard all week and closed with 65 to get to T-2—doesn't properly reflect Niemann's grasp on this tournament. But margins of victory do not matter in golf, and Niemann's second PGA Tour win, at an iconic course, hosted by Tiger Woods, against a hyper-elite field, is the type of win that boosts careers.
Young, a 25-year-old rookie who looks and acts like a grizzled veteran, hung with Niemann step for step on the weekend. He trailed by two after two rounds and trailed by two after four. It is the Wake Forest grad's second runner-up finish this season after a T-2 at the Sanderson Farms Classic last fall. This, though—this silver was different. After the round, Young was asked if he planned to play the Arnold Palmer Invitational in two weeks. "If they let me in," he said, not yet aware that he jumped from No. 113 in the World Ranking to somewhere inside top 55.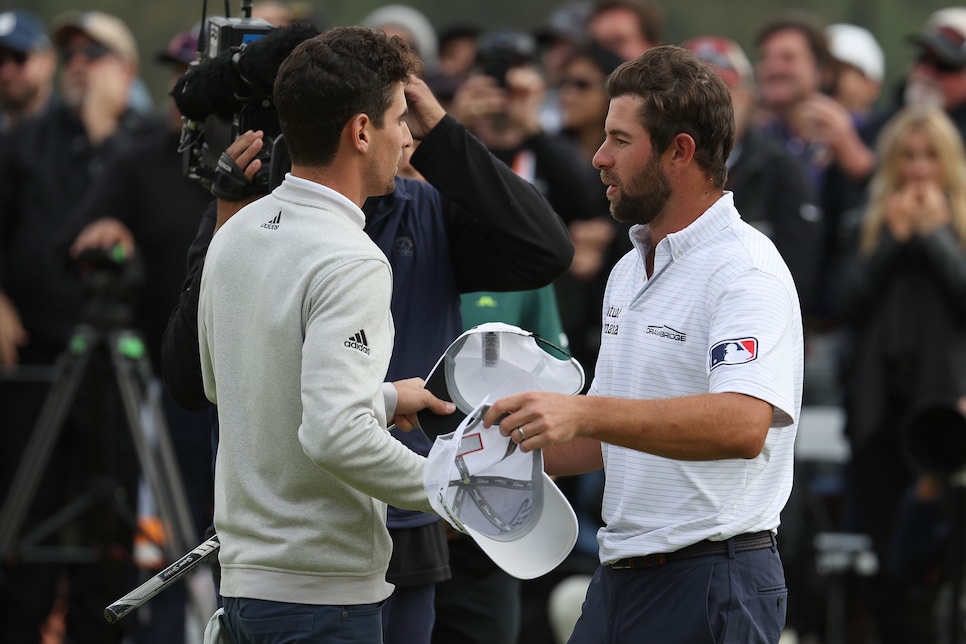 Cameron Young (right) finished two shots back of Niemann, but the rookie's T-2 showing left an impression of its own.
Rob Carr
"I think kind of once the iron shot on 18 didn't go in, you're kind of like accepting what's going on," Young said. "I mean, Joaquin wasn't going to three-putt that realistically, his speed's been so good all week. Overall, you finish tied for second at Riviera, I can't complain. I mean, I'm lucky just to be here, and I know it does some good things for me going forward. So I am happy with the week, for sure."
Niemann's putting may have been good, but it was his iron play that was outstanding. He picked up more than seven shots on the field with his approaches, easily the best of anyone in the field. Niemann's swing is distinctly modern: There's a tremendous amount of side-bend on the downswing, his head drops significantly and his right arm is bent and noticeably under his left at impact. It's not dissimilar, if you slow it down, from Young's move, and it's a type of move Woods said on Sunday he "simply can't do."
It's a swing that has seen Niemann excel at every level—he submitted the World Amateur Golf Rankings as an 18-year-old and achieved the ultra-rare feat of securing a PGA Tour card through seven sponsor's exemptions shortly after turning professional in 2018. He's part of a growing contingent of Latin Americans on the PGA Tour, all of whom seem to stick together. They try to rent houses close to one another on the road, share a chef, have lively dinners and create a home-away-from-home feel. Carlos Ortiz, Jhonattan Vegas, Sebastian Munoz and Mito Pereira all stuck around after their rounds to watch Niemann receive the trophy from Woods.
"Having them here on 18, it was something really special for me," Niemann said. "Obviously, we got the tournament, but knowing that they're there for me, waiting for me to see me receiving the trophy was something really special. I'm really thankful and happy because of the friends that I have."
Niemann's victory put a bow on a week dominated by talk of the rumored Saudi golf league. On Monday, tour player Kramer Hickok told the Stripe Show Podcast that 17 players had already signed up to play on the rival circuit, despite players knowing that would result in a suspension or ban from the PGA Tour. Three days later, revelations of comments Phil Mickelson had made in November to the Fire Pit Collective's Alan Shipnuck for an upcoming biography on the six-time major winner surfaced, changing the conversation from nervous resignation about the league to frustration and resentment. On Sunday, Dustin Johnson and Bryson DeChambeau dealt the upstart circuit a serious blow by joining a number of other top players in committing their futures to the PGA Tour.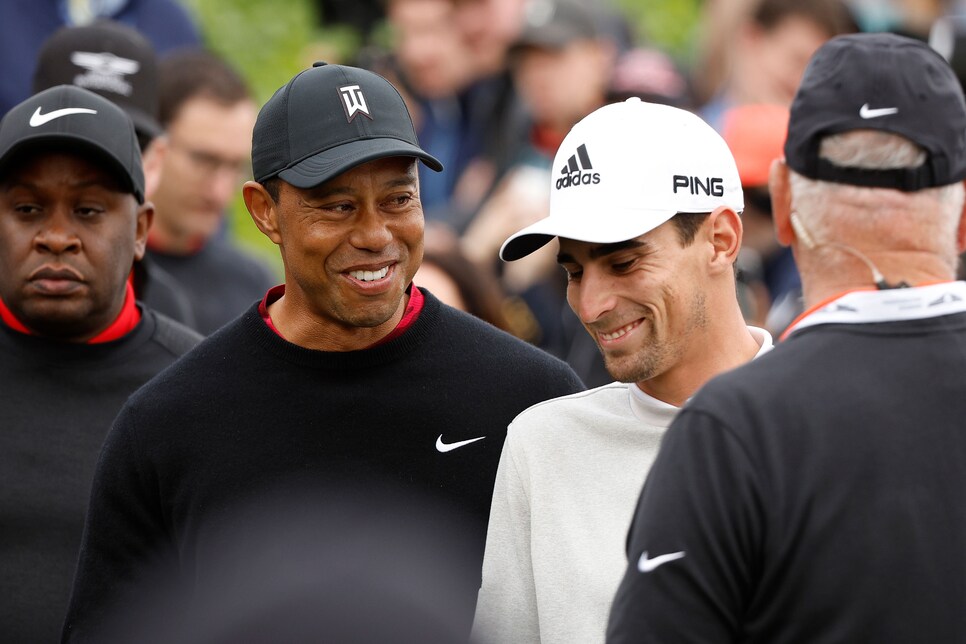 Niemann was appreciative of winning a tournament hosted by Tiger Woods and with such storied history.
Cliff Hawkins
Niemann, on the other hand, remained mum on the topic throughout the week. His tone changed slightly as he basked in the glory of a special victory.
"Obviously everyone's here to compete against the best players in the world. I'm here to do the same. I want to compete with the best players in the world, I want to be No. 1 one day.
"I think there's nothing better like what I'm feeling right now. Winning a PGA Tour event, getting a trophy, having Tiger there, all the history behind, there's nothing that can compete with this."