PGA Tour
Cameron Young is soaring at Riviera, but his dad still might have the cooler job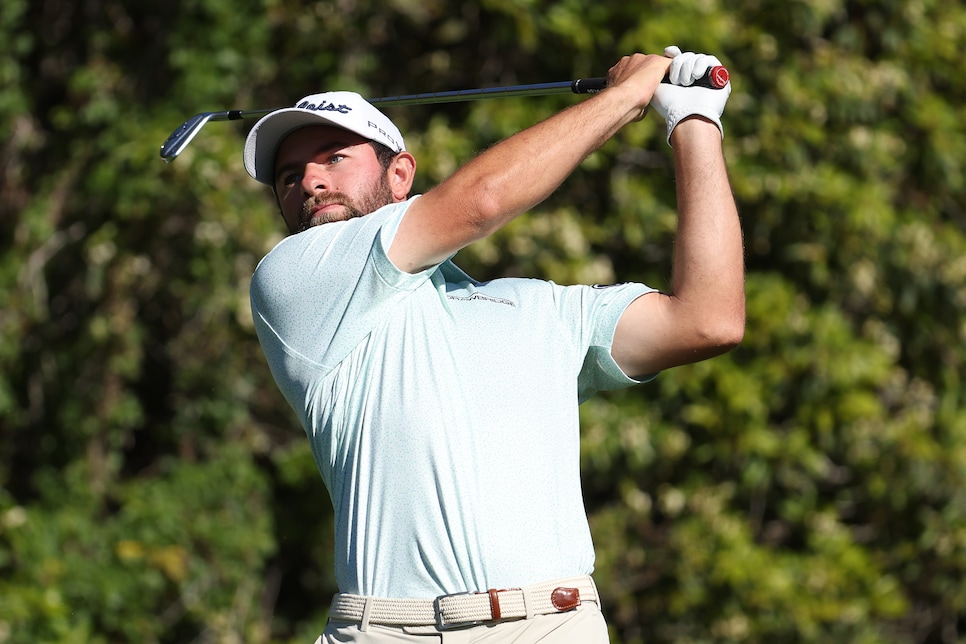 Cameron Young plays his shot from the fourth tee during the second round of the Genesis Invitational.
Rob Carr
PACIFIC PALISADES. Calif. — It's the ultra-rare case: a PGA Tour player who might not even have the coolest job in his own family.
Cameron Young, a rookie making his first Genesis Invitational, played Friday like a man blissfully unaware of Riviera's reputation as one of the trickier venues on the PGA Tour. He bashed driver, as the youngin's do. He picked up more than three shots with his approach play and nearly four with his putting. He birdied his last four holes. It all added up to a nine-under 62 that has him at 14 under par through two rounds, a blistering stretch that you'd think would have him well clear of most of the field. Coming into this week, the lowest 36-hole score at Riviera was 11 under par, and he beat that by three.
Young has put some daylight between himself and the pack—he was five clear of third after he signed his card with the afternoon wave on the course (and three after the second round ended on Friday—but remains two back of one man: Joaquin Niemann, who followed up his opening-round 63 with another. The field features each of the top-10 players in the world, and they're all looking up at World No. 32 and No. 113.
"I think we played it very conservatively for the most part, which is just going to limit how many mistakes we make, and I think that's kind of the name of the game out here," said Young, who is 25 but looks a decade older. Maybe it's because he's already married with a child.
"Not all the time you're going to make a bunch of birdies. A lot of rounds you're going to play out here with two, three and four birdies probably, so I think the name of the game out here is whenever you're in a mediocre spot, you just have to get it on the green, two-putt and move on. Pars are never bad out here. Chasing Joaquin it felt like it a little bit today, but pars are never bad.
But yes, back to the job part. Young is the son of David Young, the longtime head professional at Sleepy Hollow Country Club in Scarborough-on-Hudson, N.Y., just north of New York City. Ranked No. 62 in Golf Digest's latest 100 Greatest list, the course features 11 holes designed by C.B. McDonald and seven added by A.W. Tillinghast. Gil Hanse oversaw a significant and highly praised renovation in 2011, and the par-3 16th that overlooks the Hudson River is one of the more photogenic spots in world golf.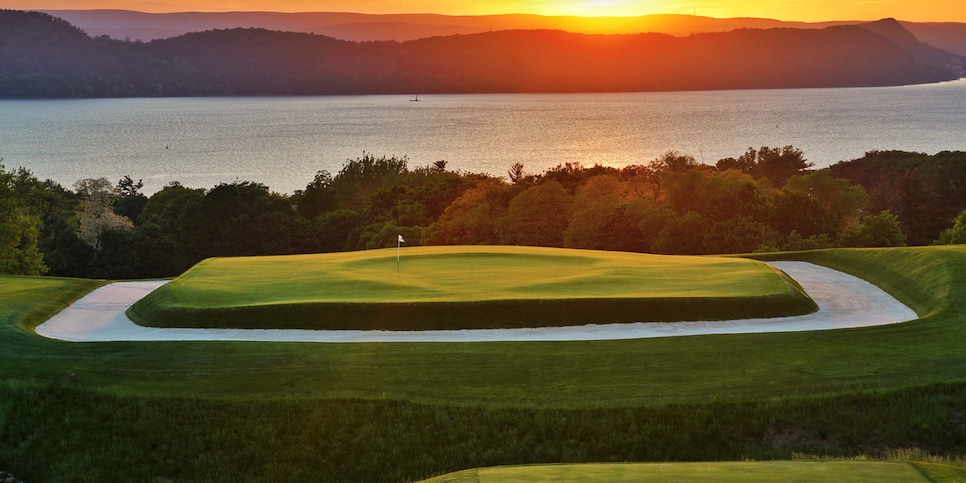 The famed par-3 16th hole at Sleepy Hollow.
Jon Cavalier
The older Young has been the younger Young's coach since he began playing, and Cameron showed promise almost immediately, becoming the youngest-ever competitor in the Carter Cup junior event as a 15-year-old. Two years later, he won the Met Junior. At 18, he became the youngest winner of the prestigious Ike MGA Stroke Play Championship and successfully defended his title the following year. A bit of a New York-area golf legend, Cameron Young is.
He marticulated to Wake Forest and made three All-ACC teams. After graduation, he needed just one year on the Korn Ferry Tour to get his PGA Tour card—in the non-Morikawa and non-Spieth division, that's about as fast as one can get out here. A second-place finish at the Sanderson Farms Championship last fall all but assured he'll stay out here, and he arrived at Riviera off a T-26 finish at the Farmers Insurance Open and a T-20 at the WM Phoenix Open, which he only got into when Harris English withdrew with a hip injury. He's got a bit of that watch-how-good-I-am swagger to him, which the best seem to have, and was asked after the round if he saw a round like this coming.
"Yeah, we have. I feel like I've been playing really well the last few weeks, my last few starts," he said. "Hasn't turned into anything great, a bunch of made cuts, finished kind of middle of the pack, but every week it's just felt like I should be right there. It's either been I had one bass day where I just didn't hit it well or just didn't quite make anything. Today finally felt kind of like I got a lot out of it, which hasn't been happening as much."
In distinctly modern fashion, Young speaks about his play as though it's a team game. We. Perhaps it's because his relationship with his caddie differs from most. Scott McKean didn't play on the golf team at Wake but he hung around the squad plenty. He and Young grew close, and he decided to bring his pal with him on the journey of a lifetime. McKean lives in the L.A. beach town of Venice, just a few miles down the road from Riviera.
The young Wake duo have positioned themselves perfectly for a run at the title this weekend—you have to think Dad approves.