News
Tiger Woods is honoring his father through a transformative scholarship program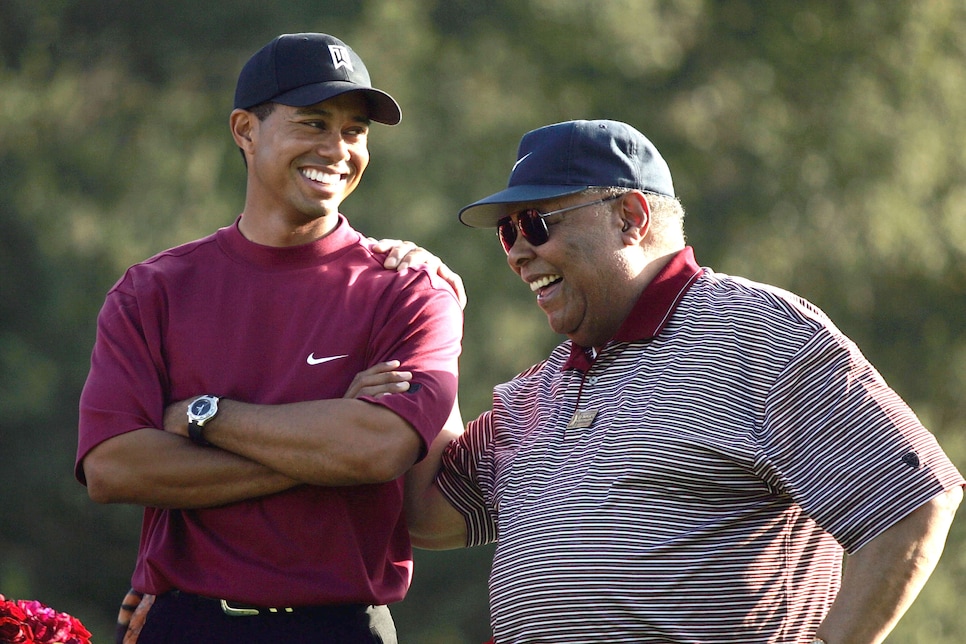 PACIFIC PALISADES, Calif. — What does a man who has poured every fiber of his being into pursuing golf excellence fill his time when his body makes regimented practice impossible? He redoubles his commitment to his foundation, which Tiger Woods has said multiple times is as important to him as the hardware that fills his trophy cabinet.
At last year's Genesis Invitational, Woods' TGR Foundation celebrated the milestone of reaching two million kids through its in-person and online offerings. It's an extraordinary number, but Woods and Gordon McNeill, president and CEO of the foundation, are unified in the belief that simply reaching kids isn't enough.
"The words Tiger used were 'growth with impact,' and I immediately wrote it down," McNeill says. "The goal isn't just to reach millions for millions sake—it's to go deep and be truly transformative in these kids' lives, so they want to continue the cycle of giving back and make a difference in their communities."
Toward that end, and as the world slowly emerges from the pandemic, TGR is doubling down on in-person connections. In addition to the Learning Lab in Anaheim, TGR has partnered with the United States Tennis Association and the Los Angeles Galaxy in developing the Carol Kimmelman Athletic and Academic Campus, an 80-acre recreational facility that will house tennis courts, soccer fields and a youth-focused learning center. The foundation has similar plans in different markets around the country, guided by Neale and Woods' belief that "something is lost when everything is virtual."
The Earl Woods Scholar program serves as a model for the type of difference TGR hopes to make in lives—not just in children, but throughout their professional journey. It began after Earl passed away in 2006 to honor the memory and spirit of Tiger's father and mentor. Scholars accepted into the program are high-achieving high school students who demonstrate financial need, show a commitment to community service and have plans to pursue higher education. But this is the furthest thing form a here's-some-money scholarship deal; each student is paired with a one-to-one mentor who guides them through the college process and beyond. Ninety percent of the Earl Woods scholars are first-generation college students, and they have a 98 percent graduation rate.
The return of fans to Riviera this week after a spectator-less 2021 Genesis means the return of the Earl Woods scholars, who serve as honorary starters during tournament week. One of those scholars is James "Jimmy" Green, who was born in Cincinnati but moved across military bases on the East Coast after his mom re-married a marine. Green was a student at Quantico Middle High School and looking for a way to fund his tuition at George Mason University when TGR learned of his situation through a partnership they have with a military outreach program. Earl Woods was a green beret in the army, and Woods' reverence for armed forces and law enforcement is well-documented.
Green was paired with Greg Van Ordon, who served in the military and continues to serve in a civilian position focused on logistics. Through his conversations with a George Mason professor and Van Ordon, Green decided to pursue a career in diplomacy rather than combat. He is now a political officer in the foreign service of the U.S. State Department and is learning Turkish in anticipation of moving to Cyprus next year for his first deployment.
"Greg and I aren't just still in touch—I live in his house!" says Green, a vivacious 27-year-old with an enthusiasm for philanthropy. Green is renting (and getting a hell of a deal) from his mentor in Fairfax, Va.
"I'm more grateful than ever to have been a part of this program—and one day I hope to do well enough where I can return to the Midwest and make a difference in kid's lives. I stumbled upon this incredible network and I've been riding the wave since, and it really makes me want to be a mentor to kids. Color, creed, none of that matters. I just want kids who have been in rough environments to succeed so much. To know that there are people out there who want to help."
Woods himself is part of that network. Green had the opportunity to meet the 15-time major champion in a conference room a few years ago. Green had just finished a service trip to Jamaica and was told he'd have roughly 15 minutes to chat with the legend.
"We were in there for an hour," Green says. "I was like, do you have somewhere to go? He couldn't have been nicer or more engaged. We talked about the military, about baseball, about Jamaica, it was just incredible."
Green says some of his best friends are fellow Earl Woods scholars he met through the program, who are pursuing a wide range of professional opportunities—from entrepreneurship, to business, to science and everything in between.
"There are no words to express how much this program has changed my life."