Tiger Watch
'I'm getting better, but …': What we learned from Tiger Woods' Genesis press conference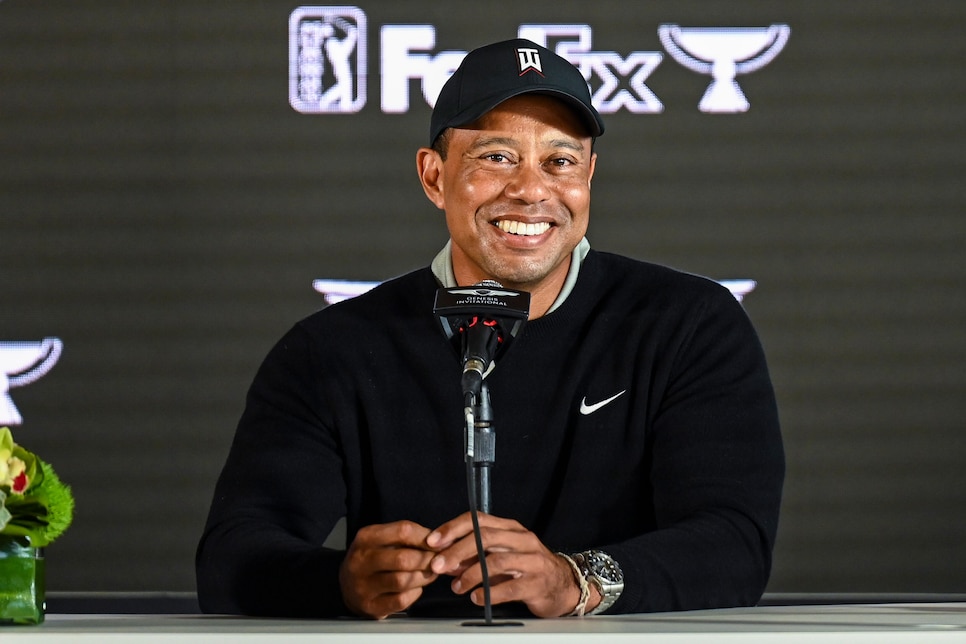 Tiger Woods smiles at a press conference ahead of the 2022 Genesis Invitational, the tournament that benefits his TGR Foundation.
Keyur Khamar
PACIFIC PALISADES, Calif. — Tiger Woods is making progress, just not as quickly as he'd like.
The 15-time major champion said Wednesday that while his health continues to improve, he remains a long way away from returning to competition.
"I wish I could tell you when I'm playing again," Woods, who serves as tournament host for this week's Genesis Invitational at Riviera, said during a press conference ahead of the event. "I want to know, but I don't. My golf activity has been very limited. I can chip and putt really well and hit short irons very well, but I haven't done any long stuff seriously. I'm still working. Like at the PNC, I'm still working on the walking part.
"My foot was a little messed up there about a year ago, so the walking part is something that I'm still working on, working on strength and development in that. It takes time. What's frustrating is it's not at my timetable. I want to be at a certain place, but I'm not. I've just got to continue working. I'm getting better, yes, but as I said, not at the speed and rate that I would like. You add in the age factor, too. You just don't quite heal as fast, which is frustrating."
Woods, who turned 46 in December, looked fit and sounded sharp while addressing the media nearly one year after his single-car accident outside Los Angeles. Two days after handing the trophy to Max Homa's at last year's Genesis, Woods suffered traumatic injuries to his right leg. He has not played a competitive round on the PGA Tour since the Masters in November 2020.
He did partner with his son in December at the PNC Challenge, an exhibition in which his game looked impressive enough to suggest Woods might be closer to playing on tour than previously thought. However, Woods was riding in a cart that week in Orlando, and the scramble format allowed him to only hit the shots he was comfortable with. Playing on tour, of course, is an entirely different animal, and Woods has said he would never petition for a special exemption to use a cart during competition.
"I'm a lot stronger than I was [at the PNC], I'm able to hit more shots," Woods said. "But as I was alluding to at the PNC, I was in a cart. I can play weekend warrior golf, that's easy. But to be able to be out here and play call it six rounds of golf, a practice round, pro-am, four competitive days, it's the cumulative effect of all that. I'm not able to do that yet. I'm still working on getting to that point."
Woods spoke alongside Aaron Beverly, who will make his PGA Tour debut Thursday at the Genesis after receiving the tournament's Charlie Sifford exemption. Woods said he has not been able to ramp up practice on the longer clubs but has been able to increase the length of his short-game sessions.
"Short game-wise, yes, I can. Long game-wise, no, I have not, because that involves more loading, more torquing of the leg, and as I said, walking is something I'm still working on," he said. "I can walk on a treadmill all day, that's easy. That's just straight, there's no bumps in the road. But walking on a golf course where there's undulations, I have a long way to go."
The comments cast doubt on the hopeful speculation that Woods would be far enough along in his recovery to play in the Masters, which begins April 7. Woods said he could walk the Par-3 Course "today," but did not say whether he planned to participate in the competition, which will make its return after a two-year absence due to COVID.
This July's Open Championship, being played at St. Andrews, where Woods has won two of his three claret jugs, is another event that seemed to potentially be a target for return. The R&A is celebrating the 150th playing of golf's oldest event. Whether Woods would be ready by then is also unclear.
Woods did, however, reiterate that he does indeed intend to return to competitive golf on a limited basis.
"Will I come back? Yes. Will I come back and play a full schedule? No," he said. "I said that at Albany, that will never happen again. I can play certain events here and there, but on a full-time level, no, that will never happen again. Pick and choose my events, whether they're majors or other events, I can do something like that, but come back and playing the tour, yes. But not on a full-time basis."