Tiger Watch
Tiger Woods is back on the PGA Tour, but only as host for this week's Genesis Invitational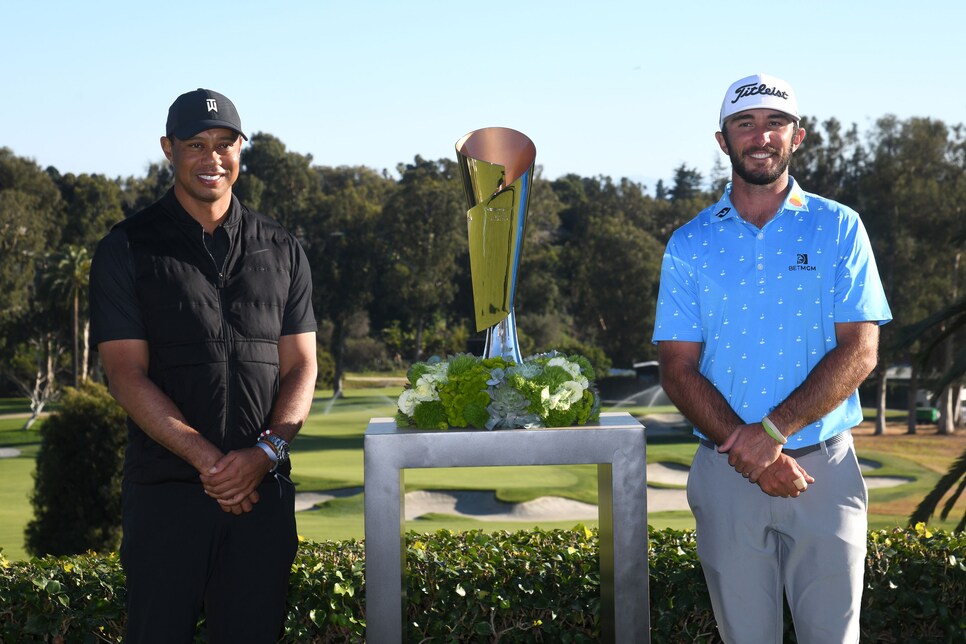 Tiger Woods joins Max Homa at the trophy presentation at Riviera Country Club after Homa's win at last year's Genesis Invitational.
Harry How
PACIFIC PALISADES, Calif. — Tiger Woods will be back on the PGA Tour this week. Just not inside the ropes.
The 46-year-old 15-time major winner returns to Southern California to serve as host for the Genesis Invitational, the elite tour event at Riviera Country Club that benefits his TGF Foundation.
Woods, who suffered traumatic leg injuries in a single-car accident two days after last year's Genesis finished, is expected to arrive on-site Monday to begin hosting duties. Those include welcoming players to Riviera, meeting and greeting sponsors and addressing the media. Woods is likely to give a press conference on Wednesday, when there is sure to be significant interest as to the state of his rehabilitation and a potential return to golf.
It is unclear whether Woods will make use of the practice facilities at Riviera as he did in the Bahamas during Hero week, where he was seen hitting balls multiple times throughout the week. He subsequently played alongside his son, Charlie, in the PNC Challenge two weeks after the Hero and impressed thoroughly with his game, fueling speculation that he could be inching closer toward a return. Woods has not provided an update on his progress since then, so every word and every step he takes at Riviera will surely be dissected in great detail.
Woods will hang around Los Angeles all week and participate in the trophy ceremony come Sunday afternoon. Where we see him next after that—Augusta? St. Andrews?—remains a mystery.