Genesis Invitational
Local boy Collin Morikawa hopes his go-to place to eat in L.A. fuels a victory at Riviera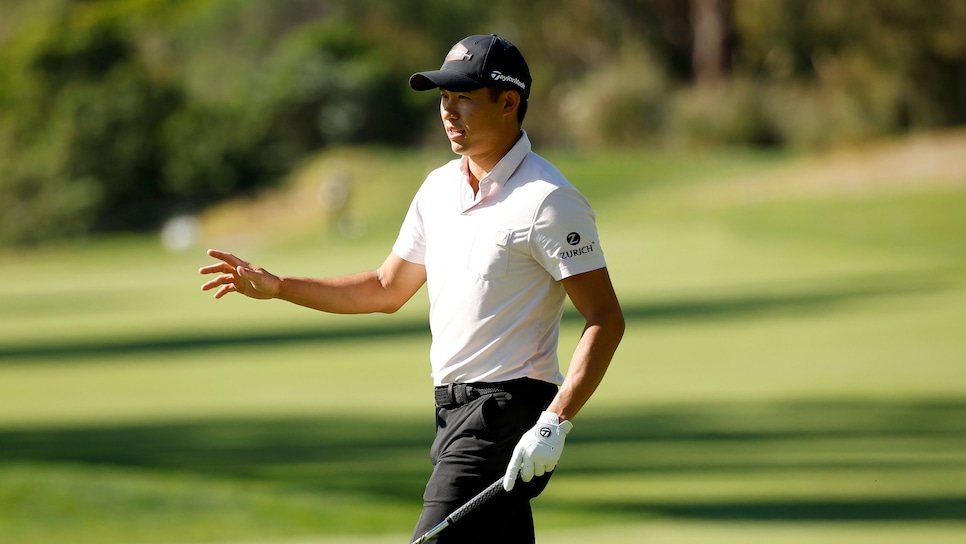 Collin Morikawa shot an opening-round 67 at the Genesis Invitational to sit just off the lead early on Thursday.
Cliff Hawkins
PACIFIC PALISADES, Calif. — If you're looking for Collin Morikawa this week but can't make it to Riviera, Sawtelle Boulevard is a good alternative. The street runs parallel to the dreaded 405 Freeway, and the part of it that runs north of the only slightly less-dreaded I-10 Freeway is home to Los Angeles' historic Japantown. It is the place in Los Angeles to find authentic Japanese food, and Collin Morikawa is obsessed with Japanese food.
To be fair, Morikawa loves all food; he's called it his passion. When deciding where to live after turning professional in 2019, the California native wanted to stay close enough to home without paying state taxes, so Las Vegas and Arizona were the only options. Access to better restaurants gave Vegas the nod. Morikawa's mother is Chinese but his dad has roots in Japan, which helps explain his predilection for noodles. Any time he's back home in L.A.—he grew up in La Canada, a very traffic dependent 40-ish minute drive from Riviera—he makes an effort to head to Sawtelle. And then he goes again the next night. And the following night, too. When asked if he planned to eat noodles every day this week, he smiled: "Maaaybe."
If all this food writing is making you hungry, and you happen to live in L.A., the World No. 2 has some more recommendations that might interest you.
"So on Sawtelle, which is really close to here, there's this place called Tsujita Annex," Morikawa said Tuesday. "There's a Tsujita across the street, don't go to that one. There's a Tsujita Annex, which is kind of hidden in these little bushes. Just be ready to take a nap after. And there's a place called Killer Noodle, which is two places down the road. So if anyone wants to find me this week, I promise you I'll be there. It's amazing."
We try to avoid clichés in this business, but sometimes they're literally too perfect: After opening the Genesis Invitational with a four-under 67 on Thursday, you gotta think Collin is loving the home cooking.
Fixing his golf swing also didn't hurt the cause. Morikawa is making just his fourth start of the 2021-22 PGA Tour wraparound season. He opted to skip the Farmers Insurance Open and the WM Phoenix Open to begin his calendar year on the DP World Tour in the Middle East. It makes sense—he fancies himself a global player, and he became the first American to win the tour's Race to Dubai title last year. He returned to the desert but didn't quite have his game.
"I was just getting really steep over there in Dubai. I couldn't hit my normal cut," Morikawa said. "I come steep when I hit a cut and I swing left. But it doesn't mean I need to come straight over the top, and I just … I could not figure it out. I was on the range in Dubai the second week sitting there for five, six hours just realizing, You know, what am I going to do and how am I going to play golf? Sometimes you figure it out and sometimes you don't, but about a week ago we figured it out and it's been pretty good so far."
Morikawa has an outside chance of surpassing Jon Rahm and becoming World No. 1 for the first time on Sunday—he needs a win and the Spaniard to be outside the top four. If he does, we have a feeling we know where the celebration dinner might be.