The Loop
Who will give Tiger Woods' Hall of Fame induction speech?
Tiger Woods will undoubtedly be inducted into the World Golf Hall of Fame when he's eligible at age 40 in 2016. Less certain is who will give his introduction speech at the ceremony.
The very private Woods doesn't let many people into his inner circle and even among those few, it's tough to pick a surefire candidate. Let's take a quick look at some of the possibilities:
Mark O'Meara: At one time, he would have seemed a lock for the job as Woods' close friend and mentor during the height of Tigermania. But Tiger and "Marko" haven't been seen together as much in recent years.
Chance of happening: Doubtful
Fred Couples: Woods' buddy showed a lot of faith in him at his lowest point as a golfer when he selected Tiger as a captain's pick for the 2011 Presidents Cup. That being said, Woods attended the Met Gala in New York rather than be in St. Augustine for Freddie's big night.
Chance of happening: Decent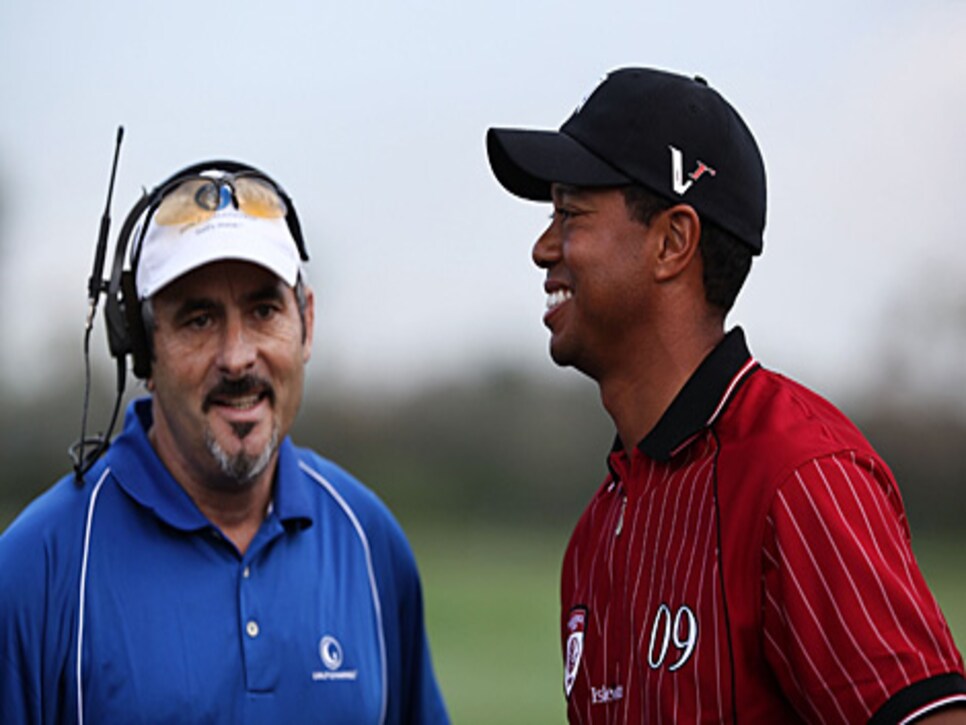 Steve Williams: We're pretty sure saying you'd like "to shove it right up that black ass" when referring to your ex-boss is a permanent bridge burner.
Chance of happening: Not happening
Butch Harmon/Hank Haney: Not that Woods harbors ill will towards them, but he'd view choosing either as a sign of weakness and a slight at his current coach, Sean Foley.
Chance of happening: Not happening
Sean Foley: Woods' latest swing coach would certainly get the nod over his former big-name instructors. But if Tiger still hasn't won his 15th major by the time he's 40, well, let's just say he won't be as high on his current teacher.
Chance of happening: Decent
Joe LaCava: Woods' replacement for Steve Williams is very supportive and keeps to himself more than his two predecessors. The duo needs to share a few major championship victories, though, first.
Chance of happening: Doubtful
Steve Stricker: He's famously assisted Woods on the greens, so why not with his Hall induction? Stricker just better take two boxes of tissues up to the podium with him.
Chance of happening: Good
Jim Nantz: He seems to do it for everyone else (Five times overall, including Fred Couples and Ken Venturi this year), so why not Tiger? On second thought...
Chance of happening: Doubtful
Rory McIlroy: Tiger and Rory have developed a friendly rivalry. What a great gesture of sportsmanship this would be if they agreed to do the honors for each other's induction.
Chance of happening: Give it a few more years
Michael Jordan: It was reported that the two global icons weren't as friendly following Tiger's 2009 scandal, but Woods recently attended Jordan's wedding. That being said, showering praise on someone else, especially another athlete, doesn't seem up MJ's alley.
Chance of happening: Doubtful
David Feherty: Golf's top funnyman also happens to be very tight with Tiger. As long as he hasn't completely gone off the deep end by then, we think he'd be the perfect man for the job.
Chance of happening: Great
So, there you have it. Our money is on David Feherty, a man who always gets Woods to give a good post-round interview and who apparently shares a love of fart jokes with the game's biggest star. There, we've even predicted the topic of his opening joke.