PGA Tour Champions
Bernhard Langer (where have we heard this before?) wins again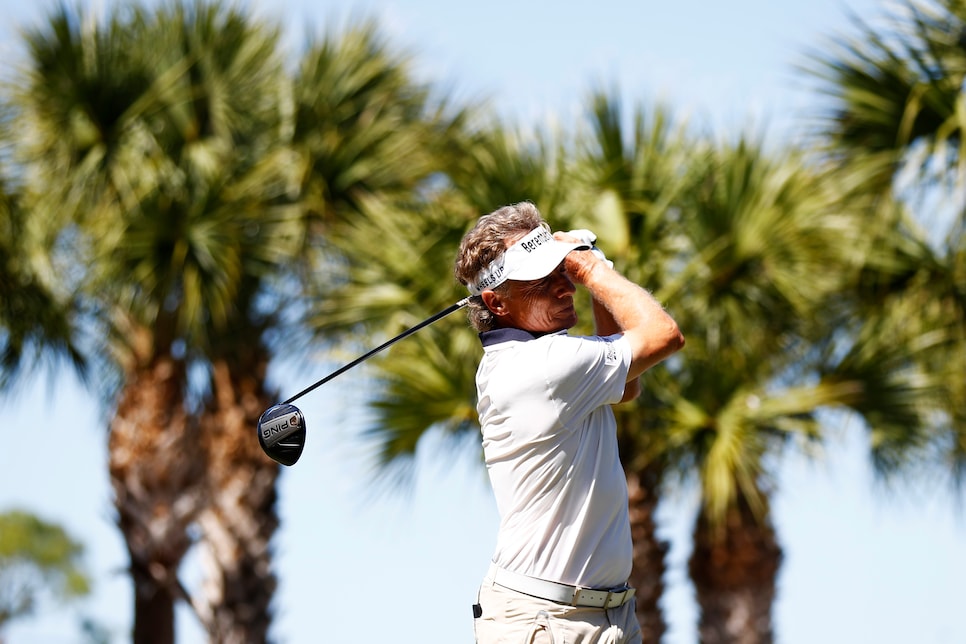 The Bernhard Langer victory parade extended to a 16th straight year on Sunday, when he won the Chubb Classic for the fourth time, his 43rd title on the PGA Tour Champions, which moves him within two of Hale Irwin's tour record.
Langer, 64, opened the tournament at Tiburon Golf Club in Naples, Fla., by shooting his age, and followed with rounds of 68 and 68 to win wire to wire, the third time has done so in this tournament. His 54-hole score of 16-under 200 bettered runner-up Tim Petrovic by three.
For maybe the first time, Langer has acknowledged having Irwin's record squarely in his sights. "More and more so," he said moments after two-putting for birdie on his final hole. "I'm coming after you, Hale."
Langer was smiling when he said it, but when is he not smiling on a golf course these days? His first senior victory came in October 2007, and he has won every year since, 16 straight, or five longer than Irwin's best stretch. Langer now has won 10 times since turning 60, good enough to stand alone as a fantastic senior career.
The World Golf Hall of Famer, though having acknowledged losing some distance off the tee, otherwise shows no signs of aging having affected his golf game. His bogey-free opening round represented the third time Langer has shot his age or better on tour.
"It's just fun shooting your age," he said. "It was really fun doing it the first time on my actual birthday. It's still special because it's not easy to do. Hopefully it gets easier as we get older, but we'll find out. The future will show."
Langer held a two-stroke lead over Petrovic and Retief Goosen to begin the final round and never relinquished it. Goosen finished third, four shots back.
On the back nine on Sunday, Langer never wavered. "It's been good all week, really," he said. "I had a terrible three-putt at one, but gathered myself and had a lot of good ball-striking. I just feel good around this golf course."
Langer hit 39 of 42 fairways in three rounds, one of his all-time best driving performances. "Certainly in the top three," he said. "And that's so important around here."