Legends
Bernhard Langer just reached a ridiculous career earnings milestone on the PGA Tour Champions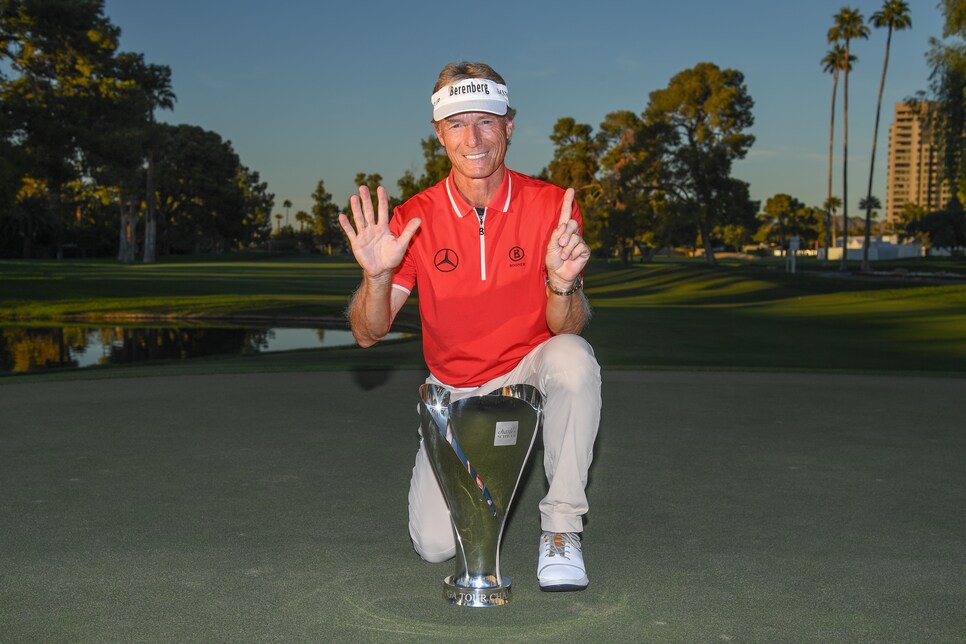 We add the qualifier because, technically, bonuses earned for the senior circuit's season-long race don't officially count toward a player's career earnings. But that doesn't make the mark Langer reached any less impressive—or the absurd amount of money he's earned since turning 50 any less real.
Officially, Langer has now earned $31,908,626 in his incredible PGA Tour Champions career, which started in 2007. That's just about three times what he made ($10,759,526) during his PGA Tour career that includes winning two green jackets. (Yes, he did a lot of damage on the European Tour as well, but he's still made 324 career PGA Tour starts.)
As if that's not amazing enough, Langer's $8.2 million in Schwab Cup bonuses actually puts him over the $40 million mark. Yep, $40 MILLION. Again, as a senior golfer!
To put that in context, Langer's senior career earnings total (again, using the unofficial $40,108,626 figure) would put him No. 25 on the all-time PGA Tour list, ahead of guys like Brooks Koepka, Patrick Reed and Henrik Stenson. And this is from playing on a tour where the average purse is about one quarter of what the young guns play for each week.
"I'm just overwhelmed, you know, at 64 to win this thing six times," Langer told reporters at the Charles Schwab Championship on Sunday. "It will probably be my last one, I'm almost sure of that, but it's very, very special."
Whether it's Langer's last hurrah remains to be seen, but what's already clear is that staying fit has paid off for the German. And it's paid off very (very) well.