Souvenir
Jon Rahm thinks this could be the weirdest autograph he ever signed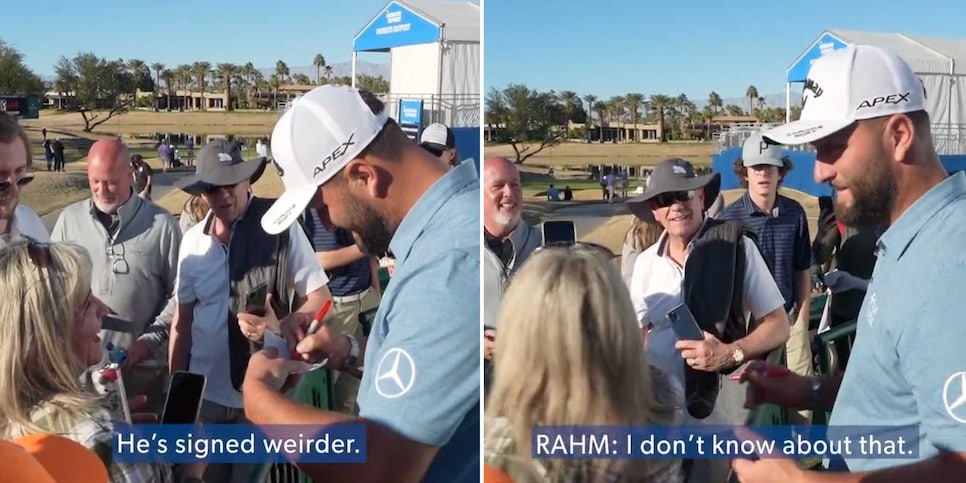 Jon Rahm has a soft spot for autograph seekers. After all, the Spaniard was once on the other side of the ropes, looking up to the top golfers in the world and hoping they might spare a few minutes to make a young boy's day.
Yep, there's a 12-year-old Rahm getting his future European Ryder Cup teammate to sign his shirt back in 2007. All together now … "How cute!"
Needless to say, Stenson making the time made an impression on Rahm, who has become notable for the effort he makes to try to connect with fans when he's at a tournament. Indeed, he has stepped up to put a smile on the faces of fans on several occasions.
Which brings us to Saturday at the American Express. Rahm, winner in the California desert in 2018, has just posted a seven-under 65 on the Stadium Course at PGA West to grab a share of the 54-hole lead with Davis Thompson. As is his custom, he took a few minutes to greet fans afterwards. Only this time, the interaction with the fans turned into a slightly different experience.
We'll give credit to the woman for resourcefulness ... and keeping things from going off the rails by asking him to sign something a little more exotic. And, of course, a hat tip to Rahm. Here's hoping signing never gets old to him.