Viewer's Guide
How to watch The Match between Brooks vs. Bryson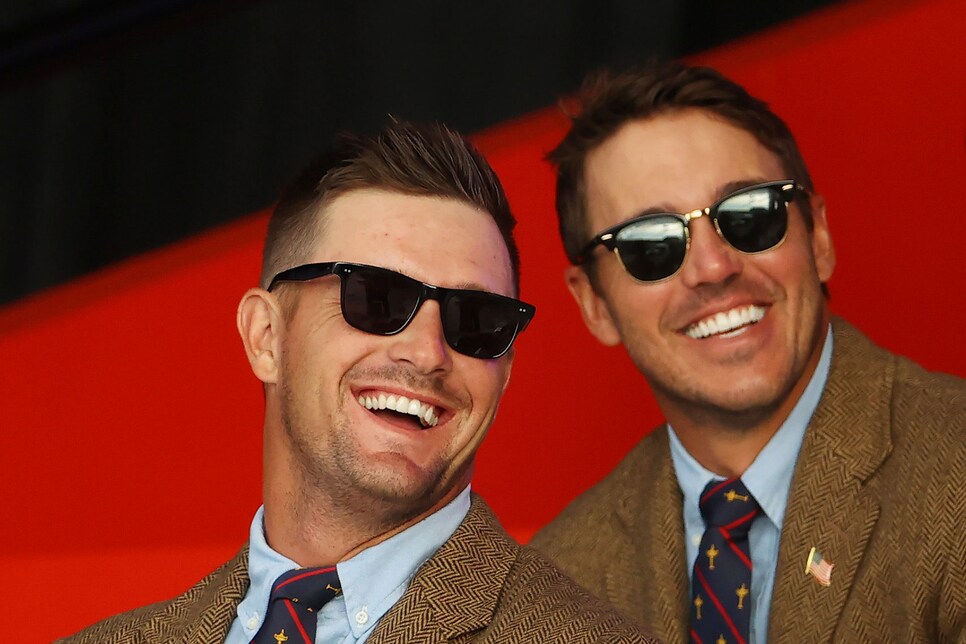 Bryson DeChambeau and Brooks Koepka during the opening ceremony of the Ryder Cup in September at Whistling Straits.
Andrew Redington
Maybe we should have seen this coming all along, that the Brooks Koepka-Bryson DeChambeau tift spat row quarrel argument battle feud would ultimately play itself out in a made-for-TV duel on the golf course. For those with such clairvoyance, you've probably had Friday, Nov. 26 circled on your calendar even before the fifth iteration of Capital One's The Match officially became a thing.
If you're a diehard fan always anxious to see what would happen when the two went head-to-head on the course, or merely a curious onlooker wondering how to tune in when your social-media feed tells you that something heated is underway, we've got a viewer's guide to help you catch any or all of Friday's competition.
It's Brooks vs. Bryson, straight up, one-on-one, which harkens back to the first version of The Match between Phil Mickelson and Tiger Woods in November 2019. Subsequent editions have been two-man team events with a celebrity component, but this goes back to a mano-a-mano showdown.
Wynn Golf Club on the Las Vegas strip will serve as the host venue. The course is a Tom Fazio design that opened in 2005 on the same land as the old Desert Inn Hotel golf course that regularly hosted PGA Tour, LPGA and PGA Tour Champions events. It re-opened in 2019 after a renovation by Fazio and his son, Logan. It's open for public pay with a green fee of $550.
It's a match-play competition between the two, but the most unusual part of the original announcement that the two would be facing each other that it would be a 12-hole competition. Really? 12 holes? Why not 18 … or nine?
The Match will be broadcast live on TNT starting at 4 p.m. EST (1 p.m. local) with a simulcast on TBS, truTV and HLN. Commentators for the event are Brian Anderson (host), Phil Mickelson (analyst), Charles Barkley (analyst) and Amanda Balionis (on-course reporter).
As has been the case in other editions of The Match, there are plenty of good causes that will benefit from the event. Organizers say The Match series will have raised more than $30 million and generated more than 10 million meal donations through Feeding America after this iteration.
Donations made as part of the Brooks-Bryson event will benefit the Advocates Pro Golf Association Tour, which works to mentor and develop minority golfers beginning their professional careers, and Feeding America, a nationwide network of food banks working to help fight hunger, with DeChambeau contributing to Shriner's Hospital and Koepka donating to St. Jude Children's Research Hospital.
WarnerMedia and the golfers will start with a charitable donation of 3.75 million meals to Feeding America.
Additionally, title sponsor Capital One is providing $15 million in community investments and grants to small businesses across the country as part of its commitment to advance socioeconomic mobility in underserved communities. Capital One also will be providing additional grants to help Black business owners stabilize and expand their businesses through an ongoing partnership with Association for Enterprise Opportunity.
Beyond the 12-hole match between Brooks and Bryson, there once again will be a handful of on-course challenges.
On three of the four par 3s (third, ninth and 11th holes of the competition) there will be a closest to the hole challenge with $50,000 donated in the player's name to a charity for the winner. If the winner's ball is within five feet of the hole, the donation jumps to $150,000. And if a player makes a hole-in-one, the increase goes to $2 million.
On the other par 3 (sixth hole in the competition) the player whose ball is closest to the hole will help donate 500,000 meals to Feeding America. If the ball is within five feet, 1.5 million meals will be donated. A hole-in-one will result in 20 million meals being donated.
There will also be as long drive challenge on the seventh hole of the competition with $200,000 donated in the player's name for whoever hits the longest drive that lands in the fairway.
The forecast for Friday calls for sunny skies with little wind and a few afternoon clouds. Temperatures are expected to be in the mid-60s. Sunset is 4:26 p.m. local time.