Betting Advice
The Match 2021 picks: A (near) unanimous bet on Bryson DeChambeau vs. Brooks Koepka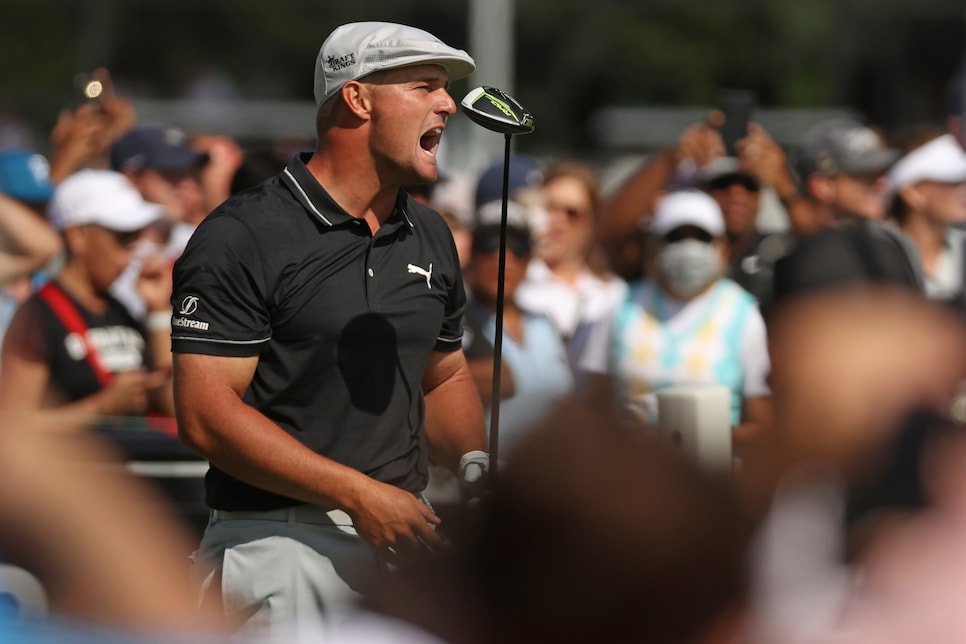 If you're reading this post, you are considering making a bet on the Bryson vs. Brooks match. Which means you are in the right place, as we have picks from some of the best golf handicappers in the industry, who comprise our Golf Digest betting panel (which makes picks every week during the PGA Tour season).
Here's who our experts are betting on with Bryson vs. Brooks.
Pat Mayo, DraftKings/Fantasy National, Mayo Media Network analyst: Bryson DeChambeau (-125, DraftKings) over Brooks Koepka — BRYSON!!!! Unless Brooks has been intentionally playing poorly the last two months to lull Bryson into a false sense of confidence, this is Bryson's to take. There's a chance he's skipped real PGA Tour events in order to practice for this. And at this type of course, it's perfect for BAD in this format. He's going to have a few bad holes because of how aggressive he's going to get off the tee, but that will eventually swing to his favor if he's playing somewhat well. Which, spoiler, is something he usually does.
Brandon Gdula, FanDuel/numberFire managing editor: Bryson DeChambeau (-116, FanDuel Sportsbook) over Brooks Koepka — Normally, I'd let the 12-hole setup and the increased variance that comes with a shorter event push me toward the underdog, but the odds are virtually even (Koepka is -112). So, we don't have to get too cute here. DeChambeau has better data off the tee and in the short game than Koepka across virtually every recent timeframe. Factoring in the motivation factor, I'll be siding with Bryson.
Rick Gehman, data scientist and RickRunGood.com founder: Bryson DeChambeau (-116, FanDuel Sportsbook) over Brooks Koepka — Handicapping Brooks Koepka often starts and ends with motivation. He's been so dominant at majors with 16 top-10 finishes in his 30 starts. His "regular" PGA Tour results leave much more to be desired—and there's little reason to think he will treat The Match with the same mind-set and effort of a major. Bryson DeChambeau, on the other hand, seems to put 100 percent effort into everything he does. In fact he probably cares too much about this event. The Wynn Golf Club, with plenty of holes often running parallel to one another, should allow DeChambeau to unleash his driver. Even if he misses the intended fairway by 10 or 15 yards, he should find a clean lie in an adjacent fairway. Combine all of that with DeChambeau's volatile play and ability to rack up birdies and he becomes very difficult to beat in a match play format.
Gehman's favorite prop bet: Most Par-5 Winners: Bryson DeChambeau (-125) DraftKings — DeChambeau has made a habit of destroying par 5s on the PGA Tour, often hitting much shorter clubs into greens than his playing competitors. Last season, DeChambeau ranked first in Par-5 Birdies or Better Percentage, scoring under-par in 59.16 percent of his opportunities. To his own credit, Koepka's birdie or better rate was 53.77 percent—and while that doesn't seem like a large gap—it is! The gap between DeChambeau (first) and Koepka (sixth) is the same gap from Koepka to Louis Oosthuizen, who ranked 45th for the season. This is arguably the best aspect of DeChambeau's game, and he should continue to thrive at The Wynn.
Stephen Hennessey, deputy managing editor: Bryson DeChambeau (-116, FanDuel Sportsbook) over Brooks Koepka — The only thing I'll add that the guys above me didn't hit on: Koepka's equipment change could be a factor here. This is the first time Koepka is putting the driver, wedges and putter in play in competition. (He's been playing the irons for quite some time.) Yes, Srixon/Cleveland make great stuff—but we often see an adjustment period when these guys make a move (think Jon Rahm at the beginning of the season, until he figured it out to become the best player in the world). I don't think that's priced into these odds—Bryson will have everything dialed in to the nth degree, whereas Koepka might be adjusting on the fly.
Hennessey's favorite prop bet: Bryson DeChambeau to outdrive Koepka — Live betting these made-for-TV matches is a ton of fun. There aren't odds posted yet, but I would take Bryson to outdrive Koepka on pretty much any hole. Like I said, Koepka's using a new driver—and DeChambeau has a distance advantage on him as it is.
Christopher Powers, staff writer: Brooks Koepka (+105, DraftKings) over Bryson DeChambeau — The only reason I'm tuning in to this in the first place is for the potentially painful awkwardness. For a little extra entertainment, though, I'm happy to back the underdog who also happens to be a four-time major champion here.
Powers' favorite prop bet: Bryson DeChambeau to lead after 3 holes -120, DraftKings — This is a bit of a hedge on my Koepka to win bet. If Koepka's leading after three holes, good news for me. But a good middle opportunity is betting on DeChambeau to jump on him early, which might give Koepka the jolt of energy he needs to become fully engaged. This is also a tie no bet wager, so all square after three won't kill ya either.
About our experts

Pat Mayo is an award-winning video host and producer of long and short-form content, owner of the Mayo Media Network and host of The Pat Mayo Experience. (Subscribe for video or audio. Mayo (@ThePME) won the 2020 Fantasy Sports Writing Association Daily Fantasy Writer of the Year and Golf Writer of the Year awards, along with the Fantasy Sports Trade Association Best Sports Betting Analyst award, and was finalist for four FSWA Awards in 2020 (Best Podcast, Best Video, Daily Fantasy Writer of the Year, Golf Writer of the Year). His 21 FSWA nominations lead all writers this decade and are third-most all-time. Mayo is on the board of governors at www.fantasynational.com.

Brandon Gdula, managing editor and analyst for NumberFire, a FanDuel daily-fantasy analysis company, recently won the 2018 fantasy sports-writers association Golf Writer of the Year *(congrats, Brandon!)*. Gdula also co-hosts the DFS Heat Check podcast.

Rick Gehman is the founder of RickRunGood.com and the RickRunGood YouTube Channel, is one of the industry's leading experts on golf DFS and gambling. Gehman is co-host of the First Cut Podcast and appears regularly on the Pat Mayo Experience golf podcasts. Follow him on Twitter: @RickRunGood.