News
Phil Mickelson beats Tiger Woods in the Match, wins $9 million and bragging rights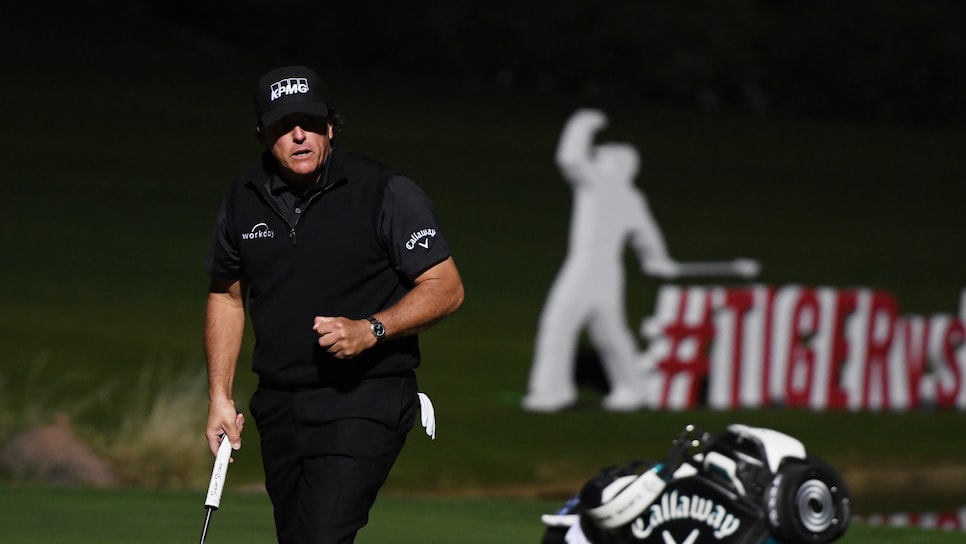 NORTH LAS VEGAS, Nev. — Phil Mickelson won $9 million and a diamond-studded belt to commemorate his victory Friday over Tiger Woods in "The Match." But the sweetest prize he summed up in just two words: Bragging rights.
"This has been very special," Mickelson said with a veneer that radiated relief as much as satisfaction as he addressed his cold and vanquished opponent after escaping the chilly desert air. "I know big picture your career is the greatest of all-time. I've seen you do things that are just remarkable. But just know I will not ever let you live this one down. I will bring it up every time I see you. I will wear this belt buckle every time I see you. It's not the Masters, it's not the U.S. Open, I know, but it's something. It's just nice to have a little something on you."
With a four-foot birdie on the 22nd hole, Mickelson beat his longtime nemesis to win this inaugural pay-per-view spectacle that had many doubters and detractors but still, in the balance, proved to be entertaining, even if it didn't quite fulfill its mission as being a truly different golf showdown.
Yes, there were the side bets designated for charity, and Mickelson lifted $600,000 off his opponent by winning three of the four challenges, all closest-to-the-pin competitions on Nos. 5, 8 and 13, while Woods took $200,000 from Mickelson after the latter failed to birdie the first hole.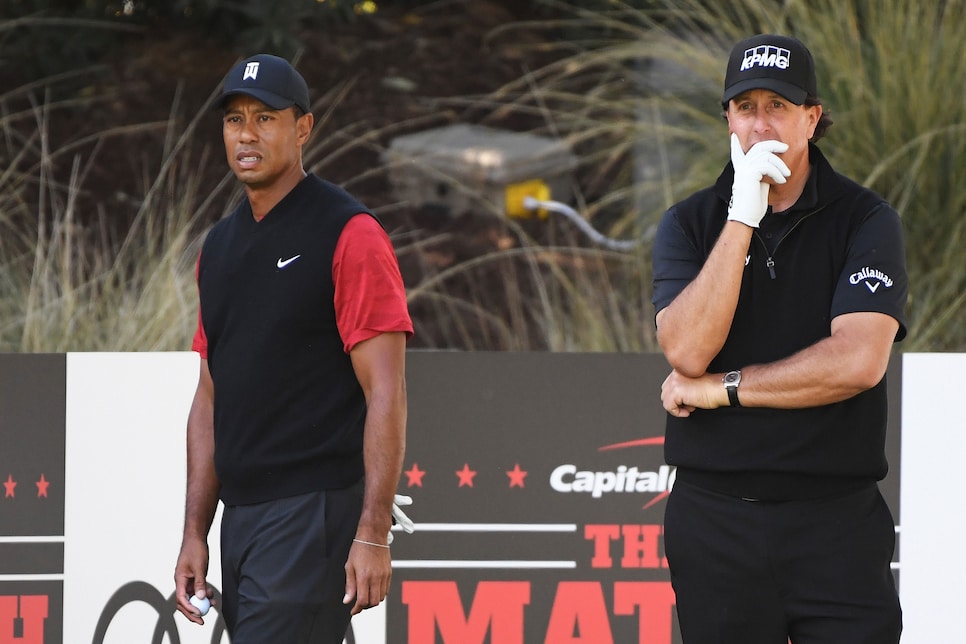 The event finished under floodlights as the two men played a makeshift par 3 of 95 yards from the practice putting green hard by the Shadow Creek clubhouse to the 18th green three times before Mickelson won it "the way I think we both wanted to win it, by making birdie," he said.
That was why he conceded a six-foot par putt to Woods on the previous hole after he missed his own six-foot birdie attempt. For similar reasons, Woods conceded a 3½ foot par putt to Mickelson on the final hole of regulation after the 14-time major winner missed a walk-off birdie from eight feet.
The golf was scratchy for much of the day, perhaps showing rust. Woods, 42, hadn't competed since the Ryder Cup, while Mickelson appeared in the season-opening Safeway Open in Napa, Calif. Though he didn't light it up, Mickelson, 48, proudly proclaimed that, "I drove it like a stallion." Woods grinned and cringed at the same time upon hearing that, perhaps partly because he struggled off the tee, especially early on. Neither putted particularly well. Of the 22 holes played, nine were won, five by Mickelson including the clincher. Each shot three-under 69 in the regulation 18 holes with Mickelson going bogey-free. Woods had six birdies and three bogeys.
They played the home hole a second time and halved it with pars. Then came the shootout with lob wedges, and though Woods twice missed the green long, they still halved with pars twice.
"It was an entertaining match," said Woods, whose successful comeback season ends next week in the Bahamas when he hosts the Hero World Challenge. "I mean, we went out there and played hard. I had plenty of opportunities to make putts today and I didn't make any putts to put a little pressure on Phil. I had an opportunity on the last hole to win the match and I hit a bad putt, and then in extra holes … how do you not hit a green with lob wedge? Twice. So that was an opportunity that went wasted. Phil capitalized on it."

But not before Woods provided the most dramatic moment. After finding the back fringe at the par-3 17th hole and Mickelson sizing up an 11-footer for birdie that could end it, Woods chipped in from 22 feet and offered a low fist pump. Mickelson failed to answer, and the match was all square.
That sequence also offered some of the best dialogue.
"Just like old times," Tiger said to caddie Joe LaCava.
"You've been doing that to me for 20 years," Phil said when they reached the 18th tee.
Perhaps the most disappointing aspect of the program was a relative paucity of interaction between the two men. And the entire affair was 100 percent USDA Grade A trash-talk free.
"It was just difficult to kind of get into that," Mickelson said, "and after I won those closest-to-the-pins on the other three par 3s I was ready with a comment for him, and I got caught up in thinking too hard about what I wanted to do there and really thinking about the shot."
"We had banter here and there, but I don't know about Phil, but I got lost in the competition of things," said Woods, who captured his 80th PGA Tour title in emotional fashion in September at The Tour Championship. "I got, you know, focused on trying to hit a shot, to put heat on Phil, to put a ball on a green, to make putts. I got lost in the heat of the competition, which in hindsight looking back, that was fun to lose myself there in the heat of the moment in a competitive scenario against Phil."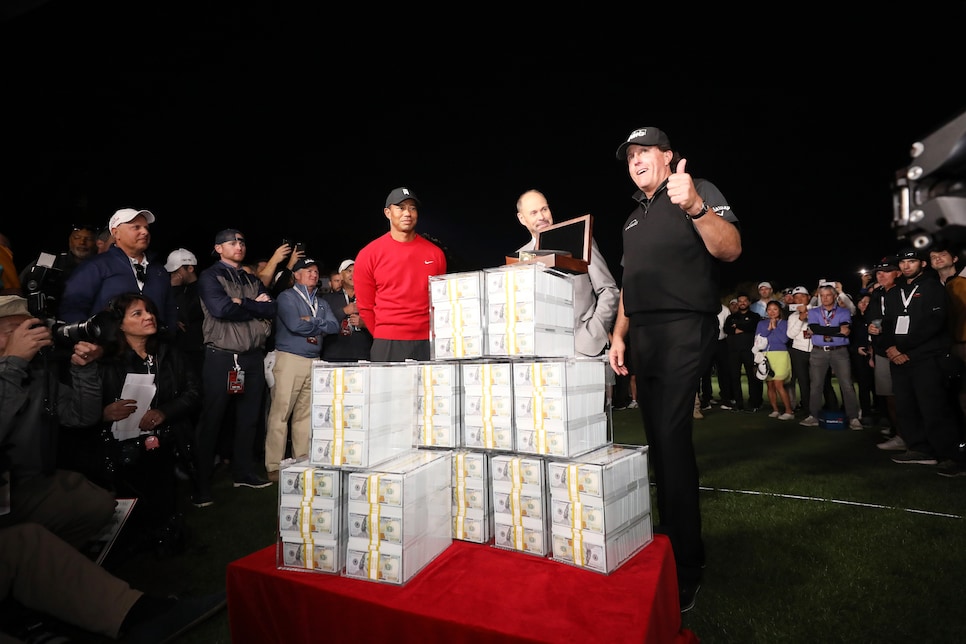 Winner of 42 PGA Tour titles, including the WGC-Mexico Championship in March that ended a nearly five-year winless drought, Mickelson couldn't help but take one last shot at his opponent at the end of their press conference. It's the bragging rights thing, and the left-hander knows how to exploit it.
"Just a very special day and something I'll always be appreciative of the opportunity, appreciative of the 25-plus year career that I've had, appreciative of what you've done to propel the sport from where it was when I started to where it is now," Mickelson said to Woods. "Again, doesn't take anything away from the career and everything you've accomplished. Just gives me just a little bit of something extra to bring up next time I see you."
Will they see each other again in another match, as opponents or partners? That remains to be seen. Neither man would speculate. "I guess it will depend on if people enjoyed it and want more," said the champ, who definitely wants more. And he has at least nine million reasons.