News
Tiger vs. Phil was not must-see TV ('this is some crappy golf'), but it had its moments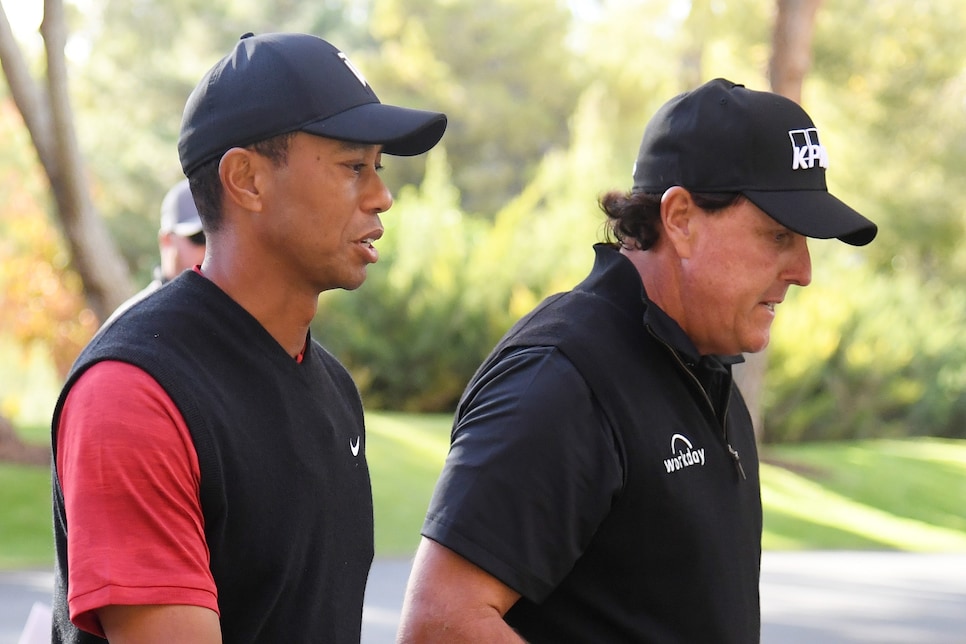 The pre-game show, featuring the comic stylings of a former basketball star, was one circle shy of a three-ring circus, suggesting a long afternoon under an ill-conceived big top for the pay-per-view Capital One's The Match featuring Tiger vs. Phil on Saturday.
The telecast from Shadow Creek Golf Club in North Las Vegas wasn't that, though it occasionally veered into carnival country, usually between the completion of one hole and the start of another. Did we really need the Barkley back-and-forth with Justin Verlander, the latter weighing in via Twitter?
Well, maybe we did, alas, considering the plodding pace of play that required filling desert-like expanses of otherwise dead air time. Two players, whatever the stakes—$9 million in this case—should be able to complete a round quicker than it takes to play a World Series game.
Yet Barkley, for all his buffoonery, provided the most astute observation following two terrible approach shots into the par-4 ninth hole.
"Am I allowed to talk?" Barkley said. "I just want you to know something, America. This is some crappy golf. You all know that. These guys aren't playing well. They're both playing awful today."
Barkley, however inelegantly by televised golf standards, said what everyone ought to have been thinking, that both players were in mid-offseason form. This was not a surprise. Tiger had not played competitive golf since the Ryder Cup in late September; Phil since the Safeway Open the first week of October.
The format, made-for-television and requiring the players to interact, favored the more outgoing, gregarious, and ultimately victorious Mickelson, as Peter Jacobsen noted.
"I think in the challenge of the wills, Tiger doesn't like to be open. He doesn't play corporate golf, he doesn't talk to people while he plays," Jacobsen said. "Phil does. Phil's like the maitre d' at a restaurant. He talks to everybody. He wants everybody to be his friend. This is playing right into his hands."
Mickelson was in his element. Woods, conversely, was out of his, evidence of which was obvious to long-time observers of his behavior when things go awry, among them one of the analysts, Darren Clarke.
"If Tiger didn't have a mic on now, we'd be hearing some very different language," Clarke said on one occasion. On another, he said, "he'd definitely be cursing now if he didn't have a mic on."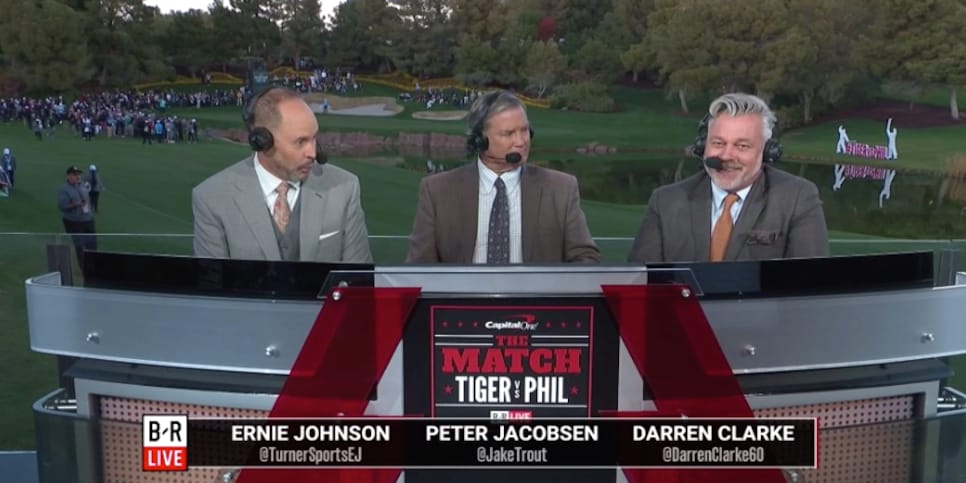 The idea of this television show, beyond enticing the audience with two icons playing for $9 million winner-take-all, was to allow viewers to listen in to the golfers' interactions with one another and with their caddies.
We heard Mickelson asking Woods how Fred Couples was. Woods apparently had played golf with Couples at the Madison Club in La Quinta, Calif., recently.
"Same as always," Woods replied, after which each agreed that "he's the best," and Mickelson telling a Couples story involving Fred asking for strokes in a friendly money game and Mickelson giving him one aside.
Their early exchanges generally kept those paid to talk from overwhelming the telecast, a refreshing break from weekly PGA Tour telecasts and their incessant talking. More often, given Woods' awkwardness with small talk, their exchanges with their caddies was more compelling.
When Woods chipped in for birdie from the fringe to square the match at 17, he could be heard saying to caddie Joe LaCava, "just like old times, Joey."
Moments later, Mickelson said to Woods, "I've been watching that for 20 years. I didn't need to watch that now."
Yet even with a match coming down to the final hole and what evolved into a farcical playoff (teeing it from the putting green in the dark) with $9 million at stake, it was not especially riveting, given the mediocrity from two of the best in history and the time it took them to underperform.
Whether the show was interesting enough to warrant the series of similar pay-per-view events to which the organizers have suggested, the verdict here is probably not.
Actor Samuel Jackson, a Capital One spokesman and part of the pre-game crew, probably had it right, with this observation before a single shot was struck:
"I think it would be more interesting if they played for half of Capital One's money and half their own money."