News
How 'The Match' began—and where it might lead
An inside look at the origins of the Tiger-Phil showdown, and the business it hopes to become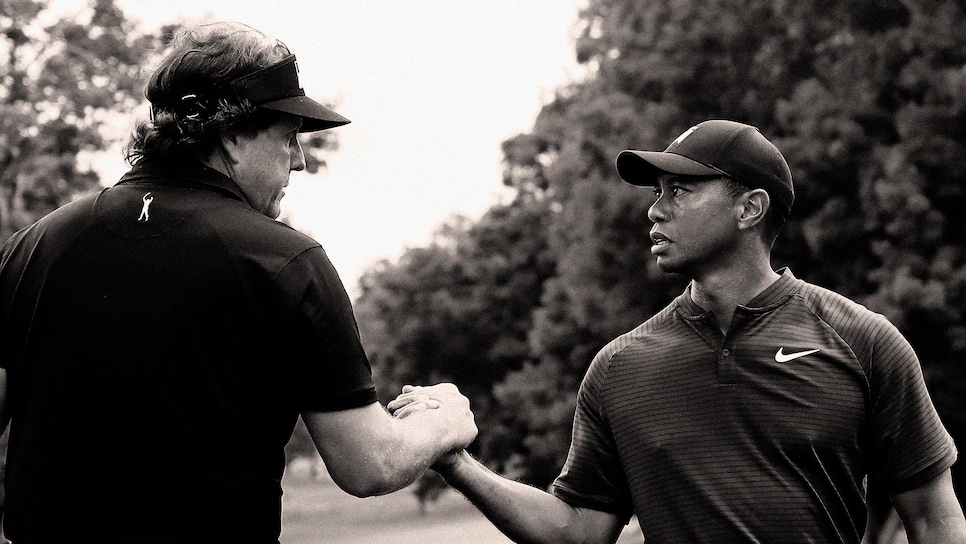 They are playing for $9 million next week, winner take all. But if "The Match" in Las Vegas realizes even a modicum of success, its two participants, Tiger Woods and Phil Mickelson, each will enjoy a considerable windfall. That's right, no one is being shut out here.
Theirs is, more accurately, a winner-takes-more arrangement.
That's not to suggest palms won't get sweaty down the stretch Nov. 23, the Friday after Thanksgiving, at toney Shadow Creek. These fellas might be flush, but even they would notice a seven-digit credit in their bank accounts. No, this will be an intense competition between two rivals—the bitter kind for many years—who have forged a friendship, an alliance and a nameless joint-entity shell company into which cash already is flowing, thanks to the fee WarnerMedia's Turner paid (much higher than the reported $10 million) for the rights to the more commercially catchy property known as "Capital One's The Match: Tiger vs. Phil."
Competition is merely a portion of the script when the two tee off at 3 p.m. EST. Unlike the countless other made-for-television matches—including the seven-year run of Monday Night Golf in which Woods was the star—the Mickelson-Woods affair is being billed as equal parts entertainment and golf match. Wait, you say, isn't that the hit-and-giggle Silly Season variety of exhibition golf? Not likely. This is more like hit and niggle. And needle. And who knows what else. There won't be golf pong, one of the promotional videos released in the run-up (which Mickelson "won"). Players and caddies will be miked. Drones will be employed. But sorry, no ring girl holding up a sign for each hole, a la what you might see in boxing.
"We created those 'Battle' programs years ago, and Tiger was in the prime of his career, but we're coming at this event differently," said Excel Sports' Mark Steinberg, Woods' longtime agent. "This is going to be fun. This is a TV show. That will make it more sustainable. You'll see things that you just won't see on a Sunday at a regular tour event. Are they going to want to beat each other's brains in? Absolutely. They're there to compete. But they're going to have a hell of a lot of fun, and it will be different start to finish. The battles back in the day were more about competition. This has other elements that make it entertainment, too."
In addition to the promise of incessant banter and next-level trash talking— they've both had free time in recent weeks to groove a few new one-liners as well as their swings—the most intriguing wrinkle is certain to be the series of side bets that each will throw at the feet of the other, most times with little warning, putting their own money on the line that the winner will shovel towards his charities of choice.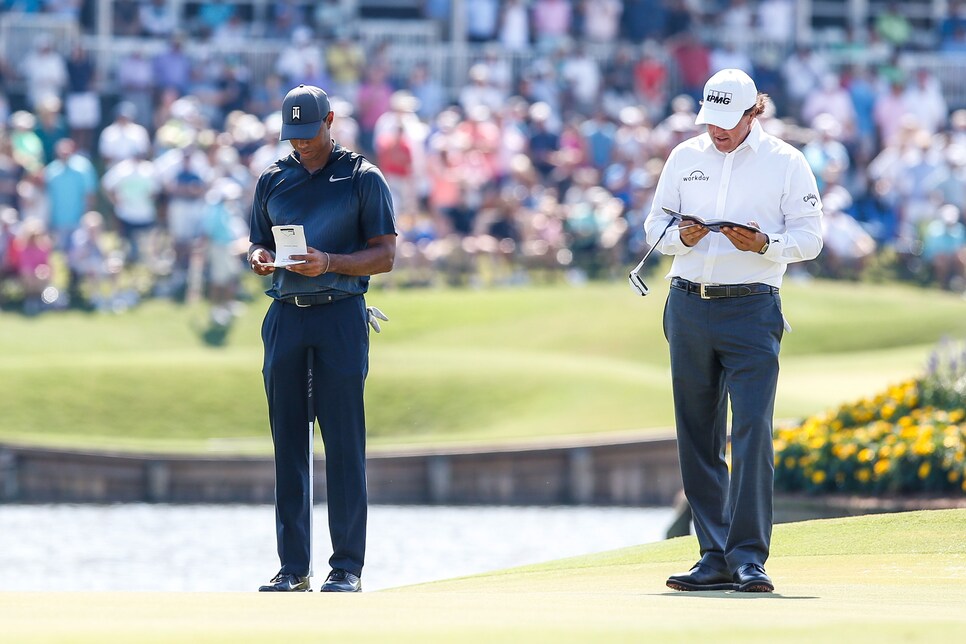 Steinberg said each player is limited to a handful of challenges, partly because of "parameters" set by the PGA Tour, which, of course, owns the media rights for this kind of special event and determines many of the facets of the final presentation. As a point of clarification, Turner paid the rights fee to Mickelson and Woods, and their joint entity, in a separate deal, paid a fee to the tour.
Another initiative that could keep the viewer engaged is the display of odds on shots each player faces. Utilizing ShotLink in combination with information on the golf course, the broadcast will feature real-time statistics to calculate the probable outcome of various strokes. And after each hole has been completed, the broadcast, according to a recent Turner release, "will integrate a proprietary data stream provided by the MGM Resorts Race & Sports Books—in association with the MGM/GVC Interactive Gaming Joint Venture—to deliver odds, moneyline and other information associated with the golfers' performance."
(Speaking of odds, Woods recently was listed as a -220 favorite to win, according to Westgate oddsmaker Jeff Sherman.)
"It's worth noting," said one television executive, "that this fits in with the current atmosphere surrounding gambling in sports. It's interesting that that's part of the flavor of this match."
The concept for The Match began with a hypothetical question between two Hollywood friends, CAA's Jack Whigham, the agency's co-head of motion picture talent, and one of his clients, Bryan Zuriff, a producer whose credits include the film, "Jobs," and the Showtime series "Ray Donovan."
Zuriff, a golf enthusiast who was a huge fan of "The Skins Game" that used to occupy Thanksgiving weekend, is that creative type who has a million ideas running through his mind at all hours. Apparently, some are quite good, including a new Showtime limited series, "Escape At Dannemora," starring Benicio del Toro and directed by Ben Stiller (the latter who might make an appearance on the pre-game show). His rough conceptualization for The Match got this ball rolling.
"He called and asked me, How crazy is this?" Whigham recalled. "I said, Probably too crazy.
"Basically, we started thinking, Wouldn't it be cool if there were a golf match that was played the way a lot of us play with our buddies on the weekends? You know, where you bet on everything and talk smack and basically have this continually running dialogue of, pardon the expression, giving each other shit.
"One of the fun things about working in Hollywood is the amount of times we say to ourselves, Well, crap, why can't we do something like this?" added Whigham, whose client list also includes the likes of Del Toro and Chris Hemsworth. "Bryan called me, and we began spit-balling about this idea. And this thing fell apart a few times before we were able to put the pieces together."
In addition to the PGA Tour, which had to sign off on the enterprise before anything could happen, the big pieces were the players. Fortunately, Zuriff is friendly with Mickelson through their membership at The Madison Club in La Quinta, Calif. And Mickelson, a "Ray Donovan" fan, had just won the WGC-Mexico Championship, his first PGA Tour victory in nearly five years. Later that month, the parties shared their idea with the Woods camp, which, given this timeline, shines a new light on the Tiger-Phil nine-hole practice round at this year's Masters. By the time Mickelson was playfully—and rather slyly, it appears—floating the idea of a $10 million match against his new best friend in early May at The Players, negotiations with the tour and a potential broadcast partner were well underway.
'One hundred percent, I really do think it has legs. The reaction we've seen from the days it was just an idea to the time since the announcement is proof that this format can have some staying power.' —Michael Levine, co-head of CAA
Not that there weren't a few obstacles to a final deal. But one factor that emerged to bring increasing viability to the enterprise—and with it value as an entertainment property—was Woods' continued success in his comeback from spinal fusion surgery. (Of course, when the match is played, there's the larger comeback story, too, nine years in the making, from the Thanksgiving weekend accident that led to an ugly public unraveling of his private life.)
Nick Khan, co-head of television for Creative Artists Agency, which helped negotiate the eventual deal with Turner on behalf of Woods and Mickelson, said Woods' rebound after a two-year absence from the tour has been integral. "There was an old bigger-than-life talent manager named Bernie Brillstein who died about 10 years ago, and he wrote in one of his books that real superstars never go away, they just hibernate for a while," Khan said. "Tiger Woods was in hibernation because of injuries, but now that you see him out of hibernation, you see the crowds and the TV ratings that go along with that, and those are the same crowds and ratings that he generated before his injuries. If he stays healthy and he has the right platform, he'll continue to have the force of a superstar."
A half-dozen entities expressed interest in the rights. Comcast, which owns NBC and Golf Channel, and CBS Sports, in order, had first crack because they are the U.S. rights holders to the PGA Tour's tournament broadcasts. When each passed, it appeared ESPN was in line for a July 4 show. Zuriff, who early on took a more hands-on role, independently had the money lined up, but the deal fell apart in the 11th hour, and his backers exited.
That gave way to Turner, which was part of AT&T's purchase of Time Warner, which recently cleared federal regulatory hurdles. The Match was the first true deal for Turner president David Levy as part of the new WarnerMedia conglomerate, and Levy threw not only the massive resources of WarnerMedia into the pot, but also the requisite amount of cash.
"When David Levy wants something," said Steve Loy, Mickelson's agent, "he usually gets it."
CAA, represented by Khan, Michael Levine, co-head of CAA, and Alan Gold, head of media advisory, were the natural arbiters of the deal. Over the last decade, Khan and Gold together have negotiated $38 billion in sports media deals, and the pair recently had completed deals for World Wrestling Entertainment with Comcast and Fox, and a seven-year pact between Disney's ESPN and Top Rank Boxing. They're well-versed in the realm of what is known as "unscripted programming."
"Those guys had a good feel for what was happening in the marketplace and could serve Tiger and Phil's collective interests well," Levine said.
"Given what we knew, we saw this as a unique event with global appeal, and, rightly, there was a lot of interest," Gold said. "Ultimately, our job was to get the best deal for the players."
Which did not solely equate to dollars, though the money didn't hurt.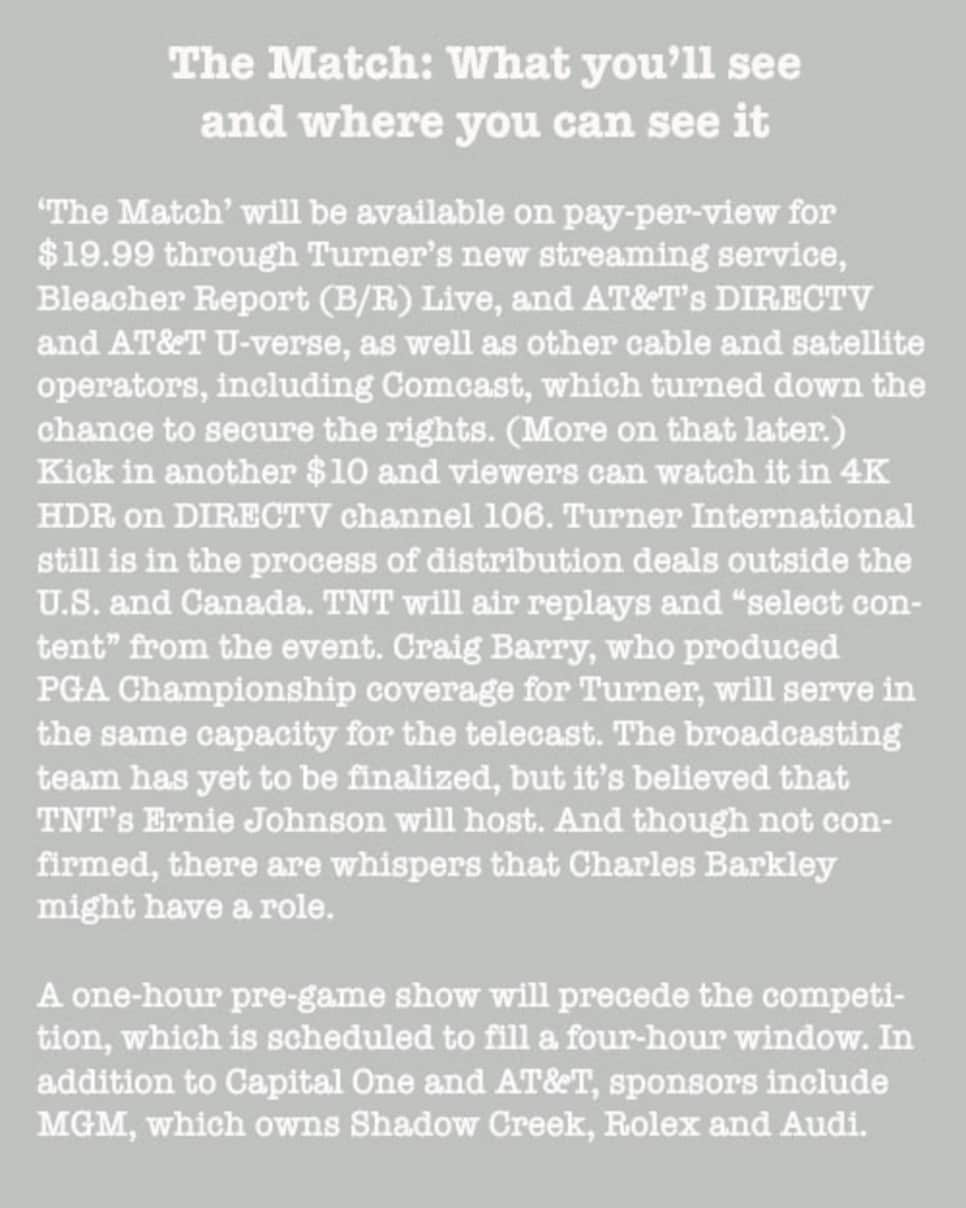 Levy promised to activate all of the assets in the new WarnerMedia portfolio. And he has made good on that, from the OTT (over the top) platform B/R Live to the HBO 24/7 special that aired Tuesday night as well as AT&T and DIRECTV resources. "To be able to show the full breadth of our portfolio made us want to step up and put in a lot of resources," he said. "Plus, taking the game's two most iconic golfers and putting them in a situation that has never been tried before was incredibly attractive to us as a sports entertainment offering."
Said Gold: "This is a next-generation type of deal that incorporates everything from pay-per-view to premium cable to mobile and OTT … it just hasn't been done before."
Neither, really, had a deal been done by any of the parties that was so complex. Steinberg and Loy found themselves on the same side of the table, which is why CAA's involvement was crucial.
"We wanted to make sure the partnership in the deal was structured appropriately and there was no preferred relationship that might supersede the purpose of it," Loy said of allowing CAA to handle the heavy lifting. "You know, a lot of this was possible, though, simply because Phil and Tiger over the last few years have become damned good friends."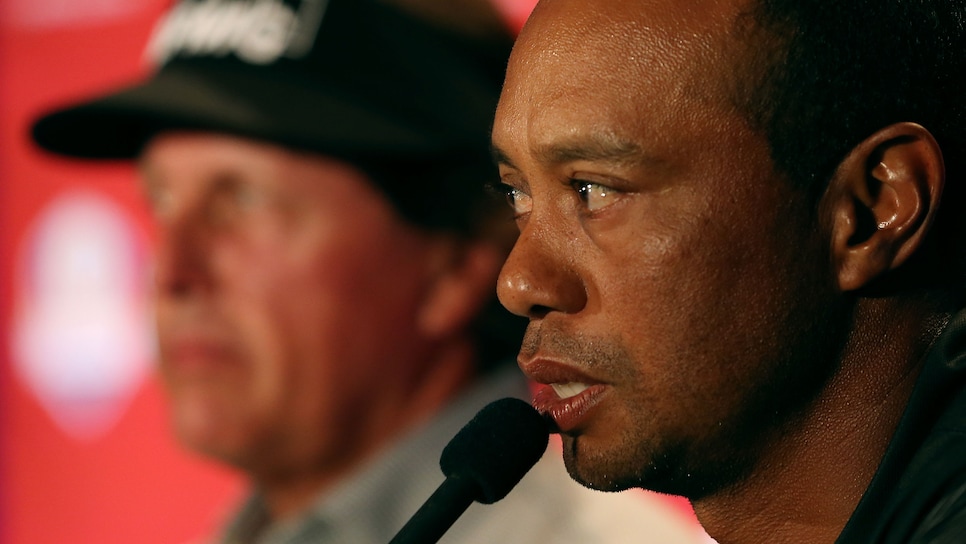 "Honestly, Tiger and Phil were the easiest part of this," Steinberg said. "It was a challenge, and it's still complicated. You have Turner underwriting a lot of it. The venues of MGM and Shadow Creek have their needs and wants. You have two big agencies [Excel and Lagardere] working together. It was a lot of work, but we're excited about what the end product will look like."
"I know there are a lot of doubters about this whole thing, but I think it's pretty impressive what these guys have put together," said one fellow PGA Tour player close to both men who did not want comments attributed to him. "It's a fascinating deal, and that those two guys could come together for it is pretty amazing given their history. I have to take my hat off to them, whether it's ultimately successful or not. And who knows if it could be a good deal for other guys down the road."
Expectations for the success of The Match are guarded but all concerned parties are optimistic, which is an easier posture to assume when staring at a blank slate. Golf never has attempted to offer an event via pay per view. Therefore, no one has a fix on its prospects. "Trying to get estimates on what a pay-per-view event in golf would do is almost impossible. There's no track record," Levy said.
Suffice it to say that considerably more than the next $9 million payoff is riding on the subscription numbers—to which the PGA Tour will be paying close attention, by the way.
All along the plan has been to create a franchise of high-stakes matches. So, too, is the aspect of players squaring off, said one source, "for a full PGA Tour purse in one-day events." In other words, taking the tour's concept of early-round featured pairings to a new level with an immediate payoff.
'This is going to be fun. This is a TV show. That will make it more sustainable. You'll see things that you just won't see on a Sunday at a regular tour event.' —Mark Steinberg, Tiger's agent
Woods and Mickelson would own such a series, which Loy said could include the two competing together as teammates. That would have the unmistakable feel of Challenge Golf, the 1960s TV series in which Arnold Palmer and Gary Player were the featured team against a collection of high-profile professionals. "We hope to see other players involved. You might see Phil and Tiger against players at the top of the world rankings, or two players from the same nation," Loy said. "But, obviously, a lot depends on the pay-per-view numbers. We're optimistic about it."
"Everything is on the table going forward," Steinberg said. "Whether we do one or two next year, we'll see. It depends on the landscape. Both guys will be involved. Then we'll plan accordingly."
"One hundred percent, I really do think it has legs," Levine added. "The reaction we've seen from the days it was just an idea to the time since the announcement is proof that this format can have some staying power."
That's the bet Turner has made, not only paying the rights fee and putting up the $9 million purse, but also "providing an upside and partnership interest for the players," according to one source, meaning the media company has more than just a broadcast stake.
That being said, Levy isn't about to define success by how many households pony up $19.99—even as others focus almost solely on that metric. This is an opportunity for the new WarnerMedia conglomerate to showcase all its various platforms to sports leagues and organizations, which is why Levy pushed all his chips into the pot.
"It's already a win for us," he said. "Our measure of success is not the amount on pay-per-view that comes in, but what will it do for all these entities? How can we showcase WarnerMedia and AT&T's portfolio? Obviously, yes, we do have a partnership with them. But we've not discussed future events.
"In today's media environment, you measure success by cross-platform engagement. If I can get people to engage, then this would be exciting."
As for Mickelson and Woods, they get to wrestle over a $9 million pot. Undoubtedly, the winner is going to feel great. The loser, meanwhile, probably isn't going to feel all that bad.