Instruction Takeaways
Bryson DeChambeau went to extremes to get longer. But there are takeaways for you, too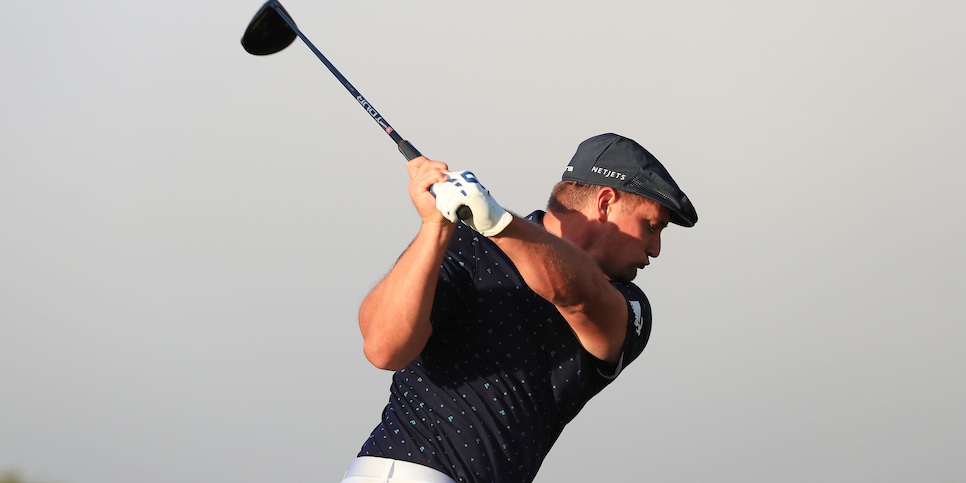 The Bryson DeChambeau Science Project has to be considered an unqualified success. DeChambeau wows golf fans on a weekly basis for his unfathomable lines off the tee, swinging 30 miles per hour faster than he did as a PGA Tour rookie. He led the PGA Tour last season with an average driving distance of 323.7 yards. And it's leading to success: He overpowered Winged Foot like we haven't seen en route to a U.S. Open; he has nine top-10s in 22 starts last year and even contended at the World Long Drive Championships as a top-10 player in the world.
Top Kentucky teacher Michael Finney works with DeChambeau's coach, Chris Como, and with biomechanics expert Dr. Sasho MacKenzie—and has some real-world takeaways from their work you can use for more power even if you skipped physics class.
"Bryson is averaging 192 mph ball speed on tour and recently topped out at a Long Drive contest at 219," says Finney. "The increased force he has put into the handle of the club and increased hand path length he has developed over time has significantly contributed to these astounding numbers. Increased backswing speeds and speed training over multiple reps at max effort have also tapped into biomechanical mechanisms that have allowed him to swing at speeds on tour that seemed like fantasy only a few years ago.
"The quest will continue by Bryson and many other highly talented and coordinated golfers as they realize the benefits of long (and accurate) drives and wedges to par 5s."
Increase the length of your hand travel
"In the gym, Bryson built a foundation that increased his range of motion at numerous parts of his body—foot, ankle, knee, hips, arms—that let him lengthen his resulting downswing hand path," says Finney, who is based at the University of Louisville Golf Club.
"This increased hand path length is also a huge predictor of increased clubhead speed because it allows the golfer to ramp up speed over a longer road. Picture one end of a piece of string at the mid point of the hands at the top of your current backswing. Have that string travel with your hands on their arc down to their impact position. Take that curved piece of string and lay it out on the ground in a straight line. Then, make a new backswing with improved range of motion through the body parts listed above. If the second piece of string is longer than the first piece, you are in business."
In the below video, watch how far back Bryson DeChambeau's hands travel:
An important corollary to the previous idea? Making a "big" backswing with a large shoulder turn and the club rotating past parallel isn't the same as creating longer hand travel.
"Sure, John Daly has a big backswing, but Corey Pavin's club rotates very similarly, and he's not long," says Finney. "The key is understanding that merely rotating the club more doesn't necessarily mean you're increasing the distance between where your hands are at the top and where they are at impact."
Don't worry so much about swing plane
DeChambeau has some features in his swing (besides the crazy speed) that aren't so conventional, like a single, similar plane for every club—and single-length irons. But you don't need to get wrapped up in making your swing flatter or more upright when it comes to producing more power.
"When working on that increased downswing hand path length, the ball doesn't care what plane you swing on," says Finney. "It just wants your hands further away from where they're going to be at impact. If that means your backswing is more upright, so be it. If that means your hands have more "depth behind you" from a down-the-line perspective, so be it. Every inch farther away from where the hands will be at impact counts. Fight for those inches and you'll hit longer drives."
Don't just swing the club. Twist it.
Think the hands are passive in the swing? Think again.
"The stronger your hands, wrists, and forearms are, the more torque you can apply to the handle over the entire downswing, which will most likely result in higher speeds," says Finney.
"And don't forget that every part of the body contributes ultimately to the force imparted by the hands to the handle. All this summed power from the ground forces, thighs, torso, arms, and shoulders come together at the hands."
Wild shots are not your enemy
DeChambeau has made plenty of physical changes in his swing in the last three years, but an even bigger factor in his success has been his willingness to try new things. He's not afraid to see some crazy shots as he incorporates something new—and doesn't throw things away if they don't work right away. "Your initial results may not lead to the outcomes you desire—ramping up force on the downswing and making bigger 'range of motion' backswings may initially lead to some poorly struck shots," says Finney.
"If you give these ideas some time to get absorbed, your innate ability to find the middle of the clubface will come back after some committed practice—and hopefully with more clubhead speed."