Tour Technique
What makes Brooks Koepka a great ball-striker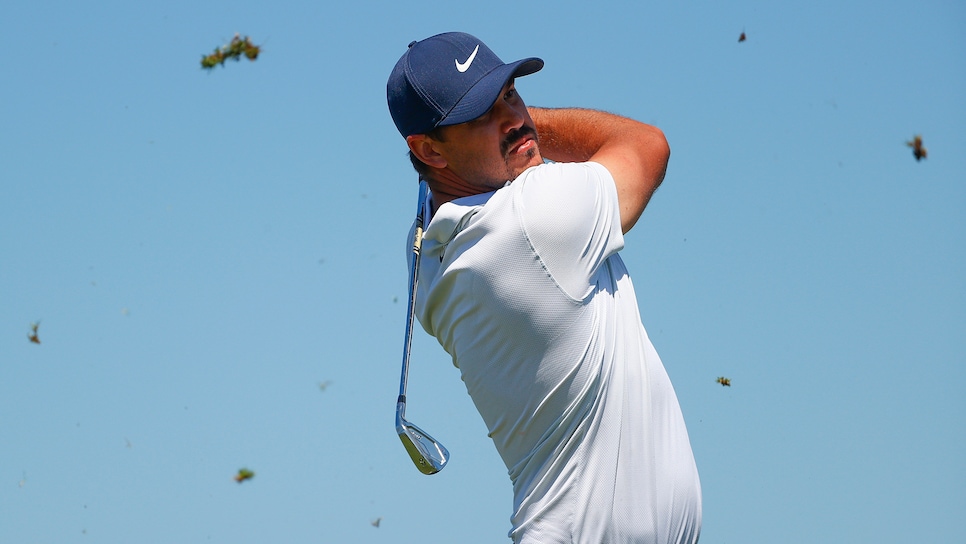 Maddie Meyer/PGA of America
As Brooks Koepka preps for his big match against Bryson DeChambeau, you can be sure he's getting back to basics with his iron play. You've heard DeChambeau reference Koepka's struggles lately—he's MC in his past two events—and more problematically, lost strokes on approach in each measured round this fall.
Iron play is normally a strength for Koepka—like we saw earlier this year, as he contended at the PGA and U.S. Open. For anyone looking to get into the same game-improvement mode, you can learn something from Koepka.
We asked the No. 1 teacher in Ohio, Kyle Morris, to break down some of what makes Kopeka's ball-striking (and decision-making) so great—and what you can take from it.
Be specific with your landing spot
"We're going to get to some of the technical stuff, but let's start with what clubs Brooks and other great iron players pull on certain shots," says Morris, who runs The Golf Room in Dublin.
"When a tour player wants to hit the ball a certain yardage, he looks at carry distance first before anything. Brooks accounts for where he wants this ball to land before he worries about hitting it close. For him, that might mean baking in an extra yard or two to account for less than perfect contact. For you? You need a bigger buffer, like five to 10 yards. How far do you land your 8-iron? If it's 130 yards, that's the club to pull when you need to go 125 in the air.
Watch Koepka demonstrate this in the below video:
"This shot perfectly represents the one Brooks likes to hit whenever he can," says Morris. "It starts one way and curves back toward the flag but doesn't over-curve past the target. You can get one of these go-to shots yourself, and it doesn't matter if it's a draw or a fade.
"Set an alignment stick five yards in front of you on the target line, and another stick a foot to the right or left of that one (depending on which curve you want). Your practice goal should be starting your shot along the outside stick without it curving across the one on the target line."
Watch Koepka demonstrate this in the below video:

"The four questions that you need to ask yourself with any shot you hit? How's your lie, where do you want to land it, what trajectory do you want to hit, and what club do you need to accomplish that goal?" says Morris.
"On this shot, Kopeka was downhill, so the ball will have a tendency to fade and flight lower. That translates into clubbing down for more loft."
Watch Koepka demonstrate this in the below video:
"There is a massive correlation between when a player gets to their lead side and their handicap," says Morris. "Probably 95 percent of players get to their lead side way too late. You need to be moving to your lead side before your backswing ends to make sure you have the max amount of pressure into the ground when your shaft is vertical in the downswing."
Watch Koepka demonstrate this in the below video:
"Want to make sure you load into your lead leg early and enough? Try this experiment the next time you practice," says Morris.
"When you swing through, see if you can go to your finish and lift your foot and tap your toe on the ground. If you can't, it means you didn't get everything transferred. Get that top down, and you'll hit much more crisp shots and control your distances better."
Watch Koepka demonstrate this in the below video:
Master the in-between shots
"The chances of you sitting on your perfect carry number for any given iron is slim to none, so you need learn how to operate in those grey areas between clubs," says Morris.
"That means practicing them! Keep the same tempo and aggressive mentality into the ball but shorten the length of your backswing to saw off some distance and hit those 'tweeners.'
Watch Koepka demonstrate this in the below video:
Listen to David Leadbetter's complete breakdown of Koepka's swing in the video below: