Takeaways
Aaron Rodgers hustled us all, Tom Brady HATES losing (shocker) and Bryson's erratic play continues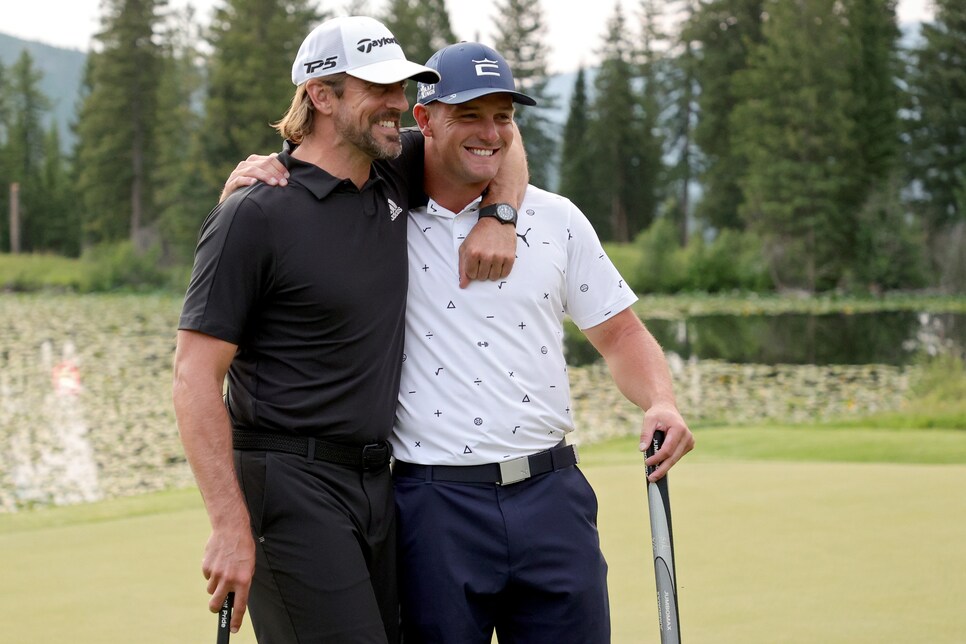 Aaron Rodgers and Bryson DeChambeau celebrate after winning The Match 4.
Stacy Revere
During a conference call on Monday ahead of the fourth edition of The Match, Aaron Rodgers said he hadn't played much golf since last summer. Maybe nine rounds, total. Given how serious Phil Mickelson takes these things, and how much Tom Brady wanted to avenge his first loss with Lefty, Brady and Phil were the obvious pick based off this information.
Apparently, Rodgers hustled us all, because not only did he play well on Tuesday in Big Sky country—more on The Reserve at Moonlight Basin later—he may have won The Match for he and partner Bryson DeChambeau. Rodgers' driving was erratic at times, but on the occasions he put DeChambeau in a good spot off the tee in the modified alternate-shot format, DeChambeau was able to piggy back off that with a solid approach shot. From there, Rodgers made putt, after putt, after putt.
"I was able to get my partner up on the green," DeChambeau said. "He was making everything today."
Late in the match, while it had yet to be won, Rodgers' putting had DeChambeau in awe.
"I like to think of myself as a good putter, one of the best on tour, but man, that guy is making everything right now," the 2020 U.S. Open champion said.
Rodgers did, indeed, hole a bunch of clutch putts, including the match winner on the 16th hole in a 3-and-2 victory. Afterward, he was asked if he was lying about not playing all that much.
"No, I really haven't been playing a lot of golf," the three-time NFL MVP said. "I'm just a pretty good putter."
There were a few warts, as there would be with any amateur coming in cold. At the opening hole, DeChambeau's mammoth tee shot left Rodgers with a short wedge in, one of the shots he fears the most.
"I just said, 'just get me on the green, don't get me inside of 60 yards,' " Rodgers said. "First hole of the day he puts me inside of 60 yards, I chunked it up there. He made [the chip], and from that point forward I felt good about our chances."
Rodgers' football future remains uncertain, but his golf future does not. He'll tee it up in the American Century Championship this week in Lake Tahoe, an event he finished 16th in last year. As long as he avoids those 60-yard wedge shots, expect another strong showing from the legendary QB.
Phil Mickelson and Tom Brady lost for the second time in The Match.
Dylan Buell
Tom Brady really, really hates losing (shocker!)
We know, breaking news. All the man does is win and when he does lose he seems to hate it more than winning. Everyone who has had to sit through Brady's career for the last two decades is very aware of this fact. But in a golf match, for charity, in a sport you are supposed to play for leisure, you'd think TB12 would lighten up a bit. Yeah, no.
Yes, he did have fun, cracked a few A+ jokes (the one where he said "this is the leader of the Green Bay Packers here ... I think" was HOT FIYA), and he may have even hit the shot of the day, but you really got to see how insane this guy is late in the match, when they rolled out the one-club challenge. It was a bit of a mess, in a good way, with the guys chopping it up with the club they randomly drew from an evenlope (7-iron for Brady), and it wound up coming down to a Brady putt with that 7-iron. It slipped past the left edge, and Brady let out a visceral "GOD DANNGIT." While Rodgers was scurrying around in the background, probably aware that Brady was seriously pissed, DeChambeau attempted one of his many failed jokes of the day and said something like "Love the emotion there," and then tossed Brady his ball after saying the next putt was good. Brady was having absolutely none of it, and looked like he was about to explode:
This stare lasted at least another three seconds. He was legitimately infuriated. Over a five-footer. In a charity match. With a 7-iron. These GOATs are just built different, and we can promise you Brady might not sleep until he gets another crack in one of these things. Here's what he said after the loss —"I think I'm the unfortunate variable here. Phil is 2-0 without me, 0-2 with me." Guy hates himself for not coming through in a hit and giggle in a sport he's not even professional in. He's a nut-job competitor, which is exactly why he has seven rings.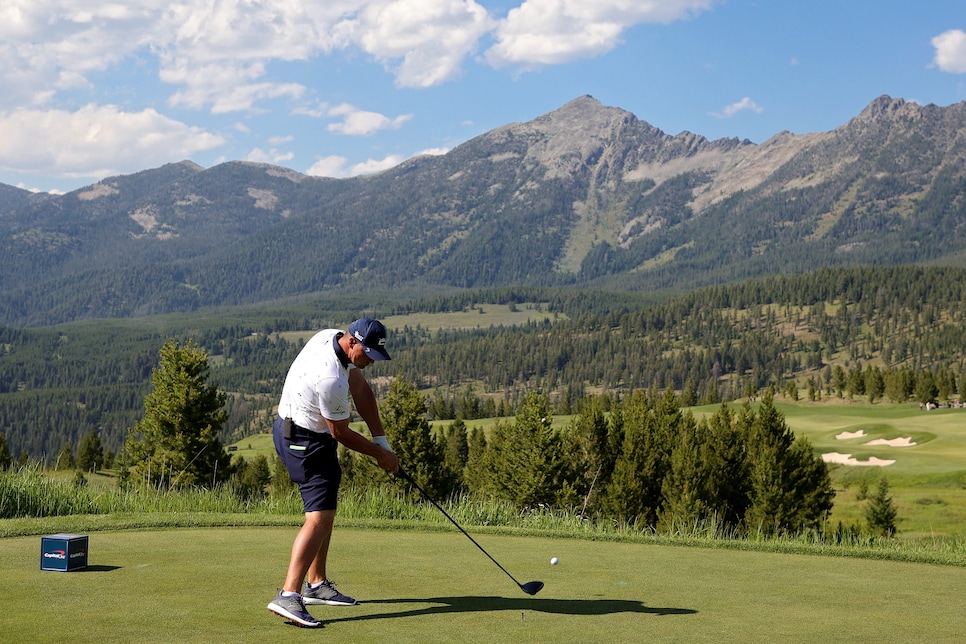 Bryson DeChambeau hits a tee shot during The Match.
Stacy Revere
DeChambeau's erratic play continues
If we're keeping it real, we should be taking exactly ZERO from DeChambeau's play in a charity match as it regards to his actual game and upcoming schedule. Having said that, he's been pretty erratic since the back nine on Sunday at Torrey Pines, and one could argue even before that. That's very much a product of his swing-it-and-find-it style of play, but eventually he always finds it and it all clicks and results in a monster win. This could very well happen again soon.
But he's now gone six starts without a top-10 after looking like he might win every event of the Florida swing. The last time he went at least six starts without a top-10 was August/September 2019, so something is clearly off. The fact it still seemed off in a exhibition without much pressure and no Brooks Koepka talk or questions to answer is a tad troubling, at least for the immediate future, which includes the Open Championship, the Olympics, the FedEx Cup Playoffs and the Ryder Cup. He'll probably make this all sound very stupid and irrelevant soon, but it's very clear he's in a bit of a funk at the moment.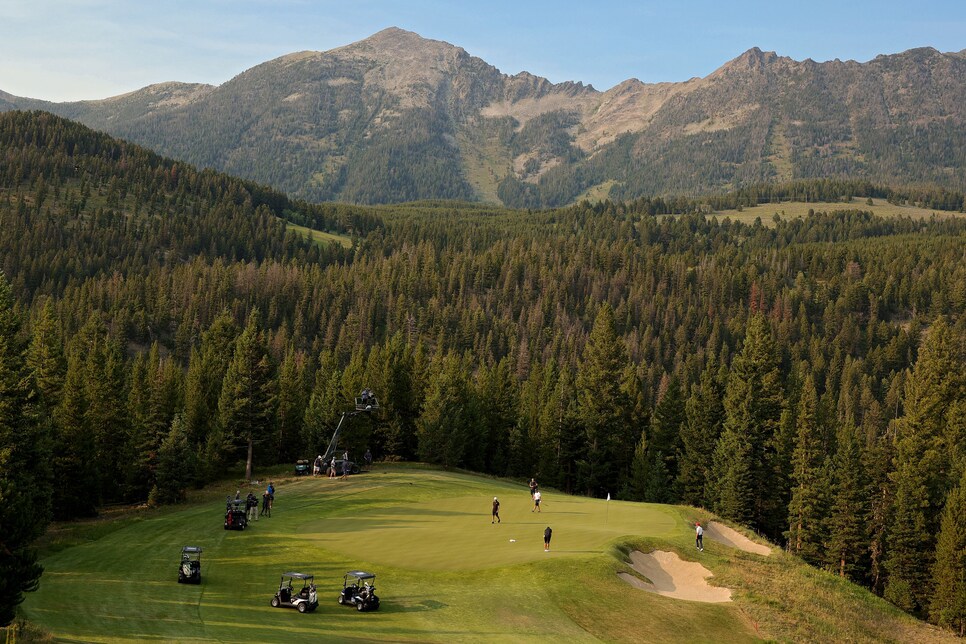 Aside from the fact I'd lose at least three sleeves of balls and possibly get mauled by a bear while looking for one, The Reserve at Moonlight Basin looks off the chain. How many bro trips do you think were planned tonight? Hundreds? Thousands? Millions? It's certainly on a number of bucket lists now, as it should be. Incredible views, great golf, endless other outdoor activities begging to be … activity'd. Apologies to the fine folks of Montana, but the secret is officially out and we're all on our way as we speak.