The Grind
Bryson DeChambeau's rough week, Phil Mickelson's old gambling gripe, and Xander Schauffele's surprise wedding
Welcome to another edition of The Grind, where we are in serious need of a sports psychologist. Another HGGA Championship (my annual golf trip), another year of me getting driver yips, and yet another heartbreaking runner-up finish. On one hand, I'm proud of how I GRINDED, including back-to-back up-and-downs to get into a playoff. On the other, I can't put the ball in play off the tee under pressure and am a disgrace to the sport. Seriously, you have to see it to believe it, but trust me, it's beyond embarrassing. I'll let Woody Austin sum it up for me:
OK, let's talk about something else. Anything else.
Cameron Davis: A fantasy favorite for a while, Davis is now a PGA Tour winner after capturing the Rocket Mortgage Classic. Of course, during a week I had nothing riding on him.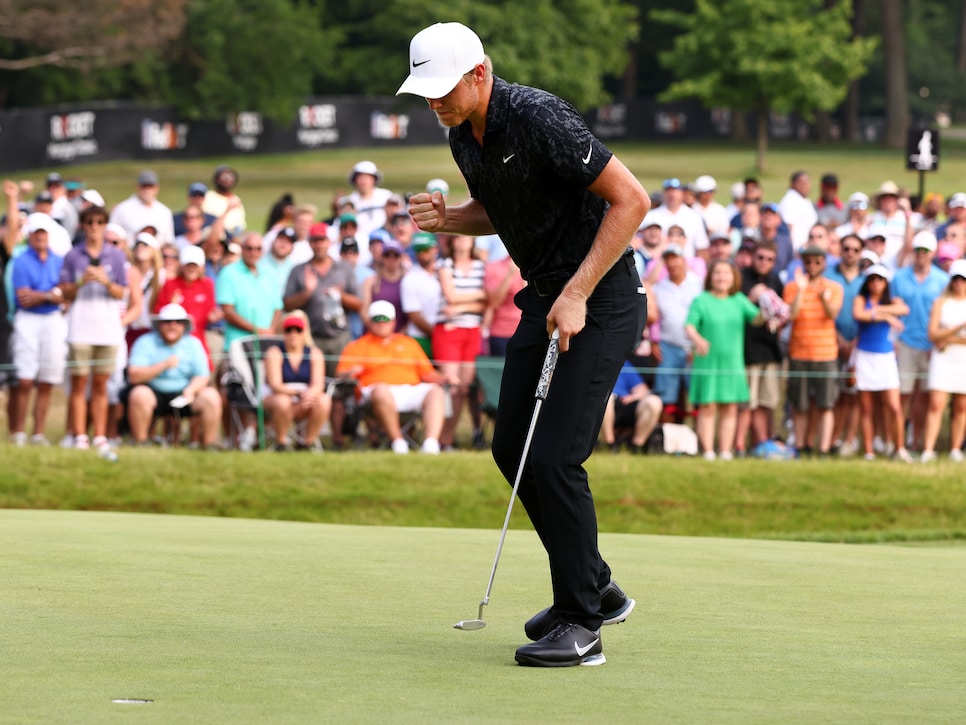 Congrats, though, to this talented Aussie who legitimately has a tough decision over playing righty or lefty:
Nelly Korda: While competing in a major of my own, I missed commenting on Korda's first career LPGA major at the KPMG Women's PGA Championship. What a player. And what a run she's on, with back-to-back wins in which she was 44 under par.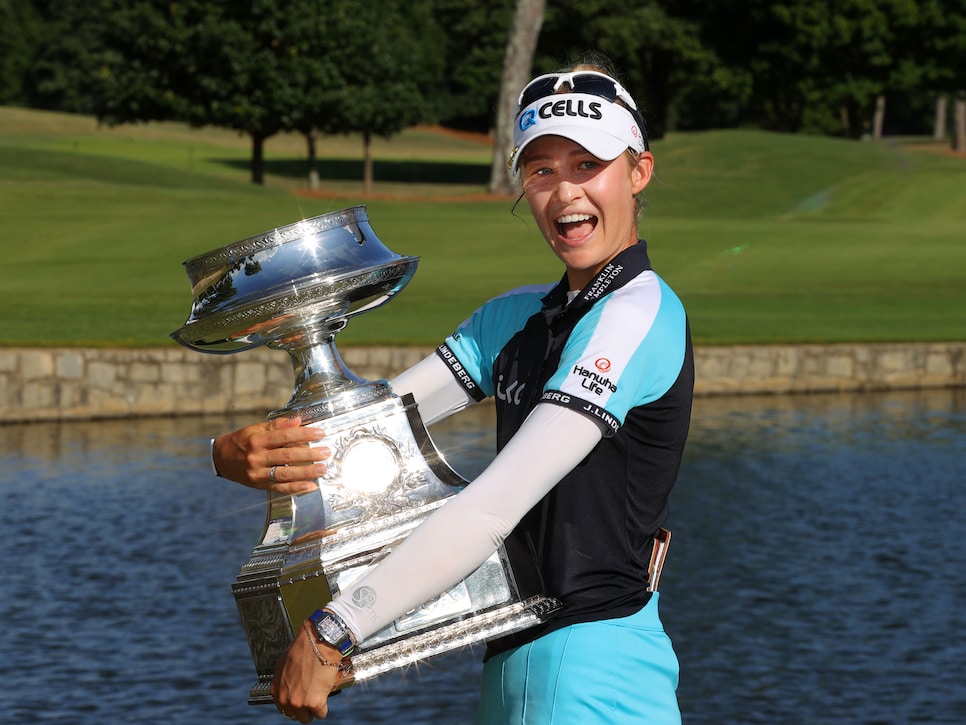 She also moved to No. 1 in the world ranking for the first time. NOT-SO-BOLD PREDICTION: It won't be the last time.
Pine Valley's first female members: Speaking of World No. 1s on the women's side, Annika Sorenstam has added another barrier-breaking moment to her legendary career by becoming one of the first female members at the top-ranked golf course in the country. Sorenstam will be joined at the famed New Jersey club by accomplished amateur golfers Sarah Ingram and Meghan Stasi. It's a good thing all three are such good golfers because that course is an absolute beast. Yep, I played there once. NBD.
Kiawah Island: Of course, there's tough, and then there's Kiawah's Ocean Course in 20 mph winds tough. Playing into that breeze for about 2.5 hours straight for those middle nine holes? When you're battling demons in your head? What a bloodbath. But there's plenty of other great golf there as well in addition to the site of the "War By The Shore." And if I could play one course every day down there, it would be Cassique. Just spectacular. And fun. Even if you have the driver yips.
Bryson's week: A year after winning the Rocket Mortgage Classic, things didn't go nearly as smoothly in Detroit for Bryson DeChambeau. He missed the cut then purposely missed talking to the media after both rounds on his way out. Bryson is certainly not the only big name to do this, but it's not a great look.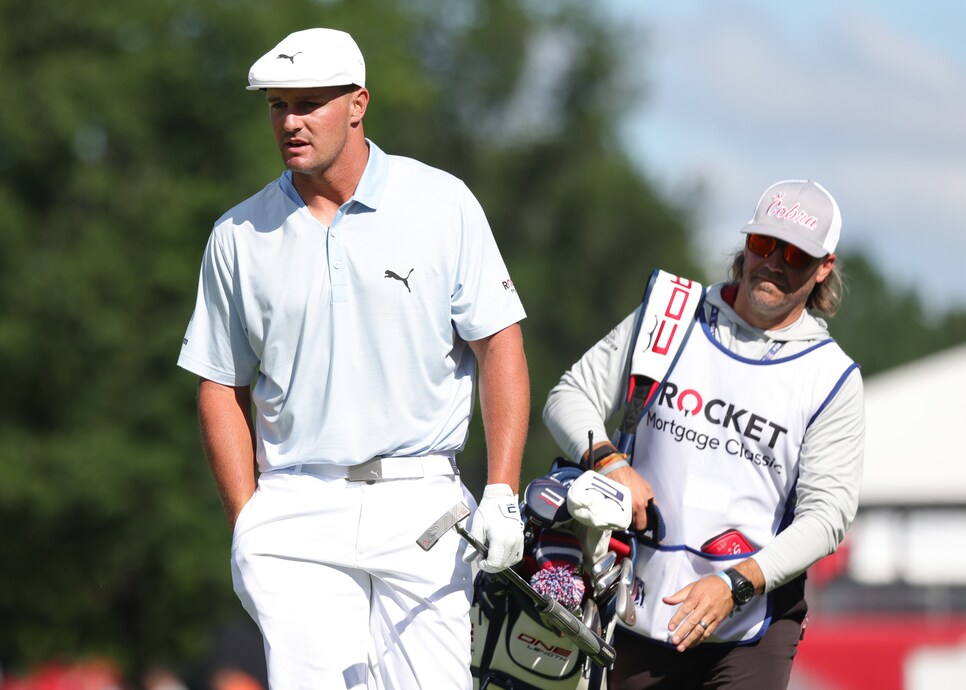 It's also not great for #Content, although, even this turned into a big story because anything DeChambeau does—or doesn't do—these days is a big story. Anyway, please stop by next time, Bryson. Oh, yeah, Bryson's caddie, Tim Tucker, also abruptly skipped out on him right before the tournament started. Look, there's only so much math you can do. The day I finished my required math course at college was one of the best days of my life. Still, pretty wild to walk away from a good-paying gig these days.
Bernhard's broken putter: In the most "Pros-are-just-like-us" moment of the year, Bernhard Langer managed to snap his trusty putter while driving a golf cart under a gallery rope. Whoops. It's only the club he's been using for two decades that has helped him dominate the PGA Tour Champions and continue to win on the senior circuit well into his 60s. Of course, even with a backup putter from Scott McCarron, Langer finished in the top 10 for the week. What a stud.
Playoffs: The past two PGA Tour events have produced sudden-death playoffs going a combined 13 holes. So someone can be tied for first place after 76-plus holes and they still lose a golf tournament? That's just brutal. What about Joaquin Niemann this week? The guy didn't make a bogey for the entire tournament and then he makes one the first hole of sudden death. It's just cruel! And yes, I'm a bit biased having lost the HGGA Championship in a sudden-death playoff. Why couldn't we have just shared our coveted green jacket? Sigh.
The PGA Tour heads to the Quad Cities for the John Deere Classic, AKA Steve Stricker's fifth major. And that's not an exaggeration. The guy is playing this week instead of in an ACTUAL major at the U.S. Senior Open. Pretty wild move, especially since he's technically the defending U.S. Senior Open champ after the event was canceled last year due to COVID.
Random tournament fact: Jordan Spieth earned his maiden PGA Tour win at this event when he was still 19 by holing a bunker shot on the final hole of regulation before winning a playoff. OK, so that's not very random, but it's still a pretty awesome tournament fact. It's also seems like one of the only years Stricker didn't win.
RANDOM PROP BETS OF THE WEEK
—A 19-year-old will hole a bunker shot to force a playoff this year: 1 MILLION-to-1 odds
—Steve Stricker will win the John Deere this week: 40-to-1 odds (Actual odds, value!)
—Bryson DeChambeau won't have trouble finding a caddie: LOCK
Phil Mickelson thought he had out-driven Bryson DeChambeau. He hadn't.
THIS WEEK IN PUBLIC DISPLAYS OF AFFECTION
Congrats to Xander Schauffele and his lovely wife, (Googles "Xander Schauffele wife") Maya Lowe! Apparently, these college sweethearts have been together since 2014. Talk about keeping a relationship under wraps. I had no clue!
Anyway, good for you, Xander. Although, the post created some questions. Is Maya or your dog your best friend? Which best friend got you to switch to arm-lock putting? Did the dogs get married too? And most importantly, should I still bet on Xander at next week's Open Championship? Speaking of gambling. . .
THIS WEEK IN PHIL BEING PHIL
Phil spent much of his week ripping a writer at the Detroit News for a story about an old bet and replying to people on Twitter. Apparently, the bet involved a "mob-connected bookie" in 1998 and a $500,000 winning bet that Mickelson (and friends) were never paid.
Not really sure why Phil got so worked up about this, but imagine being so rich that you're more mad about someone telling the story than about the missing half MILLION dollars?!
THIS WEEK IN BROOKS VS. BRYSON
As word got around that Bryson DeChambeau and caddie Tim Tucker had split up, Brooks Koepka did some serious trolling:
"I've got a life. I've been grinding on my life, working on myself and staying in shape. Golf is tough in Los Angeles. There's not a lot of courses to play, and there's traffic all of the time. When I think about spending an hour sitting in traffic and four and a half hours on the course, I think, 'What else could I be doing for five and a half hours of my life?' I could read a book. I could read something interesting on the Internet. I could meditate. I could go for a walk on the beach. I could do just about anything that gives me pleasure besides golf. So that's what I've been doing." —Aaron Rodgers. Interesting take.
Congrats to Jin Young Ko for winning her eighth LPGA Tour title at the Volunteers Classic of America. Combined with her 11 LPGA Korea wins, that's 19 victories since 2014. Pretty prolific. . . . Congrats to Cameron Beckman for winning his first PGA Tour Champions title and taking down Ernie Els in the process at the Dick's Sporting Goods Open. According to his bio, Beckman was an art major in college. The more you know. . . . Shadow Creek's green fee will now be $1,000(!) during peak time. Just a guess, but that will never be part of the HGGA Championship's rota. . . . And finally, congrats to Mark Finegan for winning the 2021 HGGA Championship, ending a long (nine-year) drought at Kiawah just like Phil Mickelson did there in May at the slightly more prestigious PGA Championship. Here he is getting our green jacket slipped on him by two-time defending champ Eric Lebowitz:
Fin's grit under pressure can't be questioned after winning such an epic battle—but his handicap will be! Such is life for whomever wins our trip each year.
RANDOM QUESTIONS TO PONDER
Should I have hit driver on that playoff hole?
Should I be reading books instead of playing golf?
Does anyone have Bob Rotella's number?