Major moment
Nelly Korda rises to the challenge with an inspired win at the KPMG Women's PGA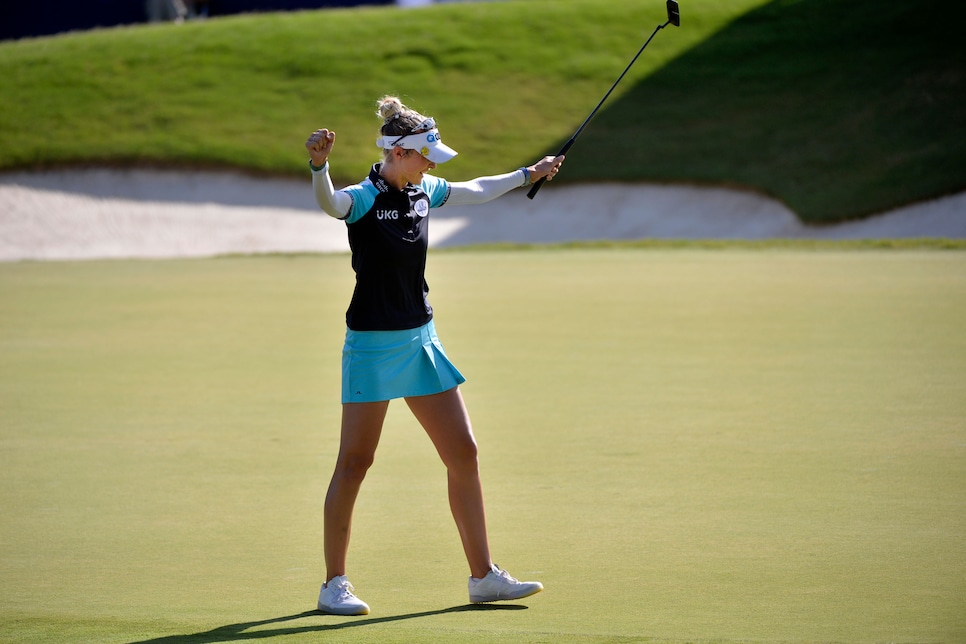 Photo By: Edward M. Pio Roda
JOHNS CREEK, Ga. — With a single shot, a 7-wood from 243 yards, that left her with a tap-in eagle on the fifth hole, Nelly Korda effectively defeated the entire field at the KPMG Women's PGA Championship ... save for one. The last woman standing in the way of Korda's first major—and the validation of the 22-year-old's status as the game's next great player—was the one who had gone toe to toe with her all week while the rest of the contenders dropped one by one, unable to maintain the torrid pace. Lizette Salas was coming off a year from hell, having fought mental-health issues, and she had played all weekend like a woman restored. This wasn't a championship she would give up easily, particularly after her last close call at a major, when she fell by a single shot to Hinaki Shibuno at the 2019 Women's British Open. On Friday and Saturday, while Korda battered Atlanta Athletic Club with a relentless onslaught, her game looking bogey-proof at worst, Salas held on like a terrier, putting together a brilliant front-nine 30 on Saturday and holding on for dear life after.
In the end, though, the cream rose, and the killing blow came on another par-5, the 12th, where a massive drive set up a 6-iron from 173 yards that crawled mere feet over the water guarding the green, landed softly and set up another short eagle putt that she converted. (Later, Korda admitted she chunked the shot, and it was fortunate that after some debate with her caddie Jason McDede she'd opted for the longer club.) Salas blundered her third shot, finding the back bunker on a short approach, and by the time she made bogey, the one-shot margin had become four. Korda, at 20 under, followed up that eagle with a textbook par at 13, a birdie at 14, and it was like the wind came out of Salas' sails at last. She continued to fight, but how do you maintain faith when your opponent simply has no flaws? You could say that Korda was too good, or you could say that the tournament was about eight holes too long for Salas, who simply couldn't play that far above her head on a scorching Sunday outside Atlanta. In both cases, you'd be right.
If at times this felt like watching only the parts of Rocky IV where Ivan Drago robotically annihilates all his opponents, it's worth noting that Korda herself opened up on her struggles with pressure in the past few weeks, inspired by similar comments from Bubba Watson and Matthew Wolff. After missing the cut at the U.S. Women's Open earlier this month, golf no longer seemed fun to her, and she knew a mental change was in order. It's not an instant fix—she had fun Friday, while on Saturday the early onslaught from Salas put her back in a tense mindset—but it's an improving situation. On Sunday, Korda turned that pressure into fuel, and to watch her breakaway on the back nine was to watch a thoroughbred suddenly realize her own power. Korda soared with the dual knowledge that nobody could touch her at her best and, more importantly, that she is very much at her best.
Then she came back to earth, with a heat check of a tee shot at the par-3 15th that never came close to finding dry land. It was the first sign of the day that she was, in fact, 22, an error more mental than physical. Even with the two-shot swing after her double bogey, she led by three with three holes to play, and three straight pars sealed the victory, closing with a 68 and a 19-under 279 total. It was the sixth win of her LPGA career, and along with getting the major monkey off her back at a young age, she will also rise to No. 1 in the world for the first time.
After the round, Salas was in tears, but she insisted they were tears of happiness. It was easy to believe her; she had a lot of reasons to feel proud. To lose to Korda, while painful in its way, was a noble, combative loss.
"She played great, and there's nothing I could have done differently to change her game plan," Salas said. "And that says a lot about her. I'm just lucky she's on the American side for that Solheim Cup."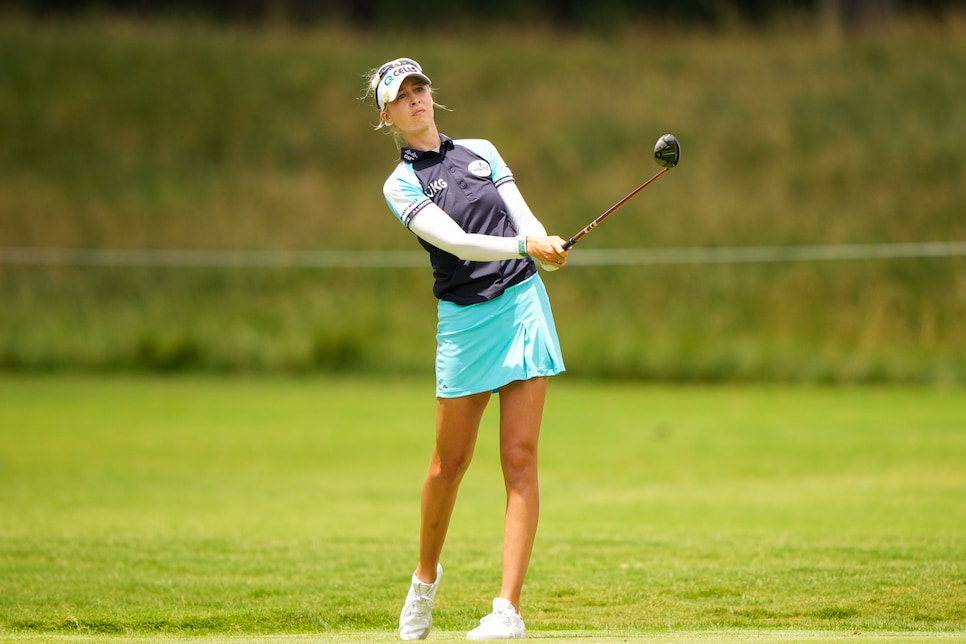 Nelly Korda hits her tee shot on the sixth hole during the final round for the KPMG Women's Championship.
Darren Carroll/PGA of America
Things got so bad for Salas in the last year that she considered retiring, and the mention of that period brought the tears back to her eyes.
"What stopped me from retirement? My team stopped me from retirement," Salas said. "I think finally being raw and coming forward … they pretty much stopped me. They know who I am deep inside, and they know what I'm capable of, and I think for me, trusting people, trusting my team and really committing to the new process, that was a huge turning point."
Korda, for her part, embodied the ethos of her superlative family in the aftermath. She was happy, but controlled—living in the moment. As Jessica Korda noted earlier in the week, they have been trained to limit their focus to a very narrow scope. Along with genetics, it accounts for the success of both daughters and their brother Sebastian, a rising star in American tennis, in professional sports. It may be that Nelly diverges the most from that ethos, as she had to be reminded by McDede to stop thinking too far ahead on Sunday and has had her battles with nerves. It may also be that she is the most talented of one of the world's great athletic families. She was effusive, as she stood next to her trophy, about the role that family plays.
"Honestly, when I'm down, they're always there," she said. "Just having my mom out here is really nice. Jess is like the best big sister. … I don't think anyone can come close to her. She just has a heart of gold."
Nelly was asked if she ever felt like destiny was on her side on Sunday, that she meant to win, and that even her errors would pale in comparison to the triumphs that awaited her. In true fashion, she backed down from the more dramatic implications, and spoke of the luck on No. 12.
"When I chunked it and it flew the water," she joked, recognizing her moment of destiny. "Yeah, in golf you're going to get bad bounces with good shots and you're going to hit it close with really bad shots. You're going to chunk it. That's just golf. I keep reminding myself that I've hit amazing shots in the past, and I've been completely screwed in a sense. In a way, no, I didn't really think about it too much. I just honestly right then and there, I was like, Oh, my God, thank God that flew the water."
And so it went—when another reporter asked how she had grown in the past year, she laughed and said they should be asking her caddie. When asked what message her father delivered to her on Facetime—he's in London, watching Sebastian at Wimbledon—the answer was "you're welcome for the boot camp."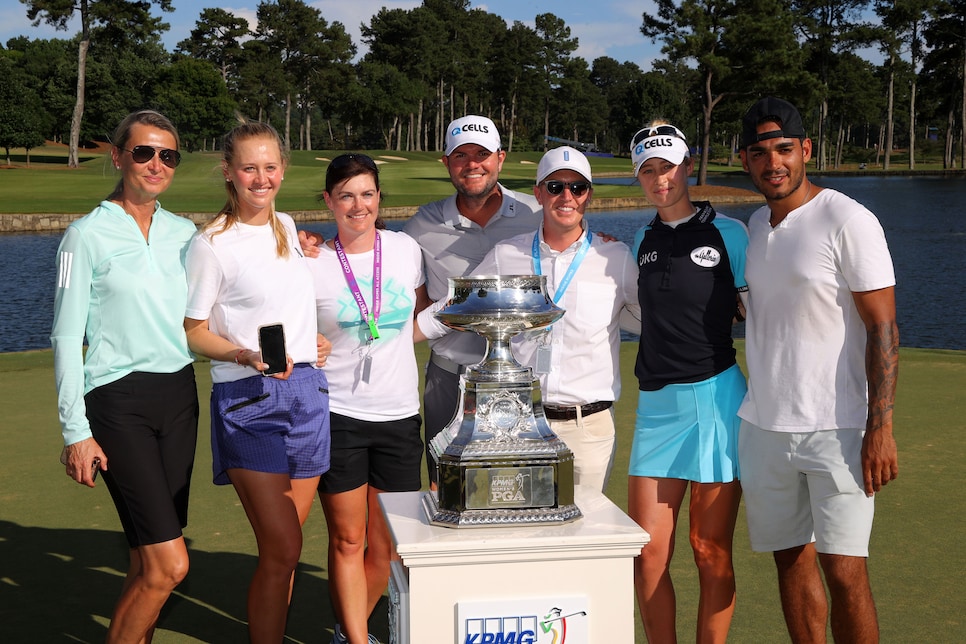 Nelly Korda poses with the trophy and her caddie Jason McDede, sister Jessica Korda, mom Regina Rajchrtova and other family.
Kevin C. Cox
These are the Kordas, masters of compartmentalization, true athletes in their brains just as in their muscles. In Nelly, they now have a major champion in golf, and she did it by handling the nerves that are innate to her, and shutting them down with hyper-focus in what should have been the most terrifying moment of her career. By virtue of that mental strength, she's now done something no other Korda has done, which is to be judged the No. 1 player in her sport.
She told the gathered media that because she's been forced to grow up so fast on the LPGA Tour, she feels 30 rather than 22, and she behaves like it, too. Armed with that amount of talent, pedigree, and perspective, with the major monkey already off her back, it's hard not to feel that we've just seen the start of an historic career.