LPGA Tour
Jessica Korda takes a major step toward securing Olympic berth at Women's PGA Championship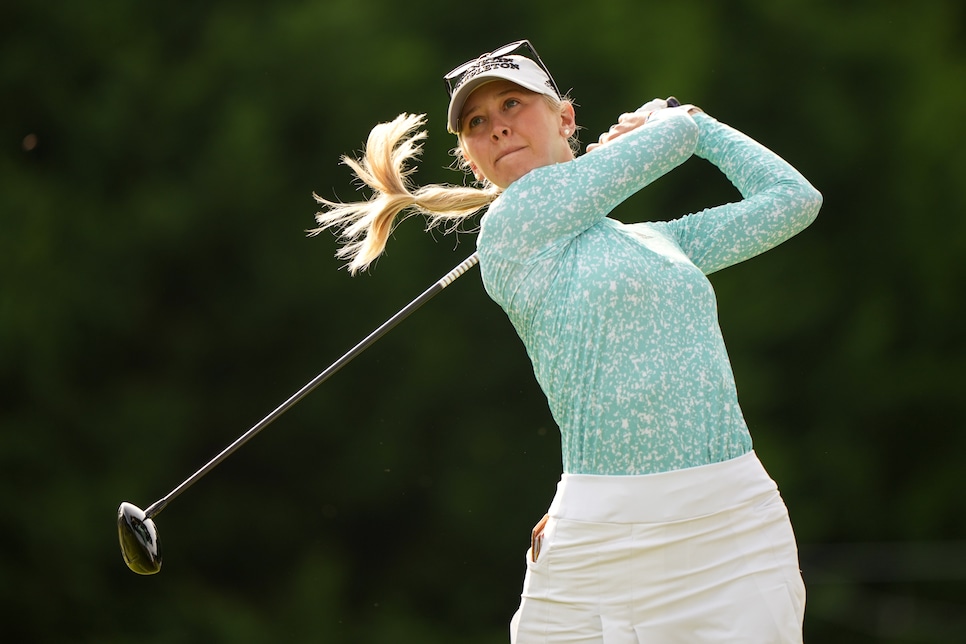 Jessica Korda hits her tee shot on the fifth hole during the second round for the 2021 KPMG Women's Championship.
Darren Carroll/PGA of America
JOHNS CREEK, Ga. — When you're a journalist and you're about to ask a question that you think might make a golfer mad, and you also happen to be a coward, you do what I do, which is to lead with a disclaimer. It almost never works, but the logic is irresistible—if I simply acknowledge what the person will hate about this question, you think, they will hate it less, and we can all go about our day.
Friday afternoon, I had a question that I thought would make Jessica Korda mad. She had just finished her second round at the KPMG Women's PGA Championship, a solid round that turned average with a double bogey at 17—a situation that did not, incidentally, make my question easier—but she was still at three under and safely in the top 10.
More importantly, she had essentially clinched an Olympic berth on this, the last week of qualifying. I say "essentially" because there don't seem to be official prognosticators on the LPGA Tour, or, if they exist, they're particularly cautious, and there may still be an outrageous scenario in which someone could jump ahead of Korda over the weekend for the fourth and final spot on the U.S. team. Nevertheless, by making the cut and shooting under par, she is now overwhelmingly likely to remain in the top 15 of the Rolex Rankings and defend her spot against challengers like Ally Ewing, Jennifer Kupcho and Austin Ernst. This is a particularly big deal for Korda, because both her sister Nelly and her brother Sebastian will also compete in Tokyo.
But here's the rub: Earlier in the week, she had been very emphatic and perhaps a little irritable when the Olympics were brought up by another reporter. She was simply not considering it, she said, which is one of those sentiments that's a little hard to believe, but obviously serves its purpose in the athlete's psyche.
After her second round Friday, when it became clear that her spot was all but clinched, I thought things might be a little different—it's always easier to talk about something after you've achieved it. Still, when I approached her by the clubhouse, I came with some trepidation. The white stones on her hat clip sparkled in the sun, and her body language was slightly downcast, perhaps a result of that double bogey.
"You were very clear earlier in the week that you were focused on this tournament, so this question may be dense," I began, expertly deploying the disclaimer. "But is there any part of you that thinks, 'OK, I just took a really important step, by being under par and making the cut, toward Olympic qualifying?' "
"I don't know why you guys keep asking me this question," she said, issuing a brittle laugh that sounded far more vexed than amused, to a question that had now been asked of her twice in her three official interviews. "This is a major championship. Ask me Monday."
There's a strange paradox in moments like these, which is that when you expect someone to be upset at what feels like an innocent question, it's somehow more aggravating when it comes true. You begin thinking thoughts like, "My God, is this what it's come to? I'm just doing my job!"
"But I mean, we have human brains," I pressed on, annoyingly. "We can consider two thoughts, right?"
"I'm not looking at it like that because that's not how I'm trained to look at it," she said. "I'm looking at it like this is a major championship and this is what I'm looking forward to. It's the same as, I never thought of making the Solheim Cup until it was the week of. Always. I've always said that, every single time I'm asked about a future event. I concentrate on the one that I'm at. That's my main priority. Whatever happens after this, I can't affect what anybody else does. What I can do is try to concentrate on what I'm doing the day of. Whatever happens in the future, I don't have a ball to tell me what the future looks like. I can't even tell you guys what the future might look like. So I'm literally just concentrating one shot at a time, all the time."
Which was thorough, and fair enough. On Friday, she played very much like someone adept at this kind of compartmentalization, grinding out pars on her first seven holes en route to an even front nine. On the 10th, I explained the Olympics situation to a man sitting behind the ropes, who then turned to his wife.
"You see," he said to her. "Some parents can be proud of their kids. Some of them amount to something."
I moved on from that conversation as quickly as possible, but had the fleeting thought that in the unlikely case that Petr and Regina Korda needed another reason to be proud of their children, they had it in Jessica's performance under various kinds of pressure—attempting to win her first major, making the Solheim Cup and, yes, the Olympics.
If you ran into Korda on the street and had no idea who she was, and somebody told you about her family's pedigree, you wouldn't be surprised—she looks and moves like a consummate athlete, and everything about her game on Friday was managed with the discipline of someone who had been schooled in the competitive arts from a young age.
Even her approach to every shot is drama-free. While her playing partner Charley Hull rose and dipped her club rhythmically, up, down, up, down, up, down, before hitting, Korda just steps up, perhaps flexes her knee once, and hits. The results on Friday were "boring," in the sense that it was steady and predictable, and when she finally got a birdie to drop on 14 after several near misses, she was just a shot off the lead.
The steady round was spoiled on the par-3 17th, when her tee shot barely stayed dry at the edge of a stone wall, and a shot later, when she chipped into a bunker, she probably wished it had just flown into the hazard in the first place. The bunker shot was too difficult to stop close to the hole, and after a two-putt, she had slipped back to two under. And yet, true to the "one shot at a time" mentality she would profess moments later, she regrouped to birdie 18 and moved back into the top 10.
En route from the 18th green to the press area, she stopped to sign autographs for the children lining the ropes. As far as I could tell, she was immersed in the moment, looking neither forward nor backward, simply taking it one signature at a time.