News & Tours
Why Bubba Watson, once again contending at the Travelers Championship, wanted to never return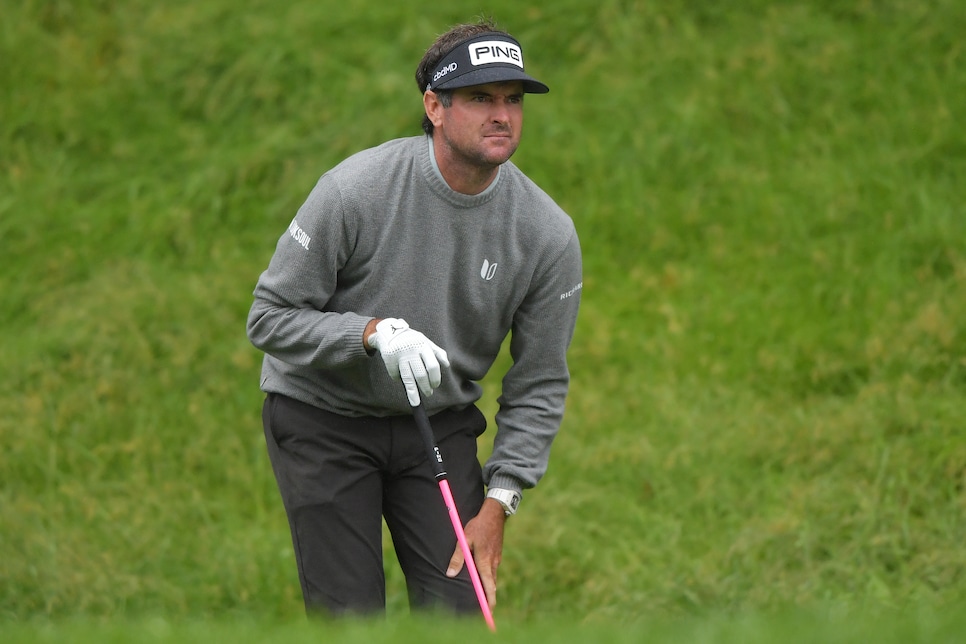 CROMWELL, Conn.—Bubba Watson grew up in Bagdad, Fla. He splits his time between Pensacola and Scottsdale. But the man is at home in Connecticut.
And he was this close to never coming back.
Watson, a three-time winner of the Travelers Championship, is once again contending at TPC River Highlands thanks to back-to-back 66s.
"When you come off the U.S. Open everything seems easier," Watson said, asking why he plays so well at this event. "Even though there is thick rough you feel like you can play out of it. You can still move the ball forward … That's really what I've felt over the years, is that I can play no matter where the ball ends up."
Watson missed a five-footer for par on his final hole. That was the lone blemish on his day. Well, we should say the lone blemish on his card, racking up five birdies and 10 pars before his 18th hole. There was a blooper—or highlight, depending on your perspective—at the par-4 second when Watson broke his driver mid-swing, the head flying off at contact.
Amazingly, the ball still went 295 yards, and Watson would go on to birdie the hole.
"Yeah, it was a perfect tee shot right down the middle. Chipped it in there and made the putt for birdie," Watson joked when asked about what happened at the second. "It's one of the things where the driver is travel, heat, cold, whatever it is, over time, overuse, my driver head popped off. It's the shaft right above the hosel. It's cracked, broke, whatever you want to call it."
Watson said the last time he could recall a driver breaking was at the 2015 Presidents Cup in South Korea. He carries a back-up for such a scenario and he had the replacement in hand a hole later. The two-time Masters winner seemed relieved that no one in the gallery was hurt by the broken club, although he added a jab after the fact.
"Nobody has ever been hit by it, and luckily DJ was just out of the way and it didn't reach the crowd, so nobody got hurt, hit. Nobody in my group knew where the ball was," Watson said. "Once you hit, you're focused on where the driver head goes. So, again, luckily—but if I was going to hit anybody I was hoping it would be Brooks. But I missed him though. Not that good of an aimer."
His eight-under total serves as the leader in the clubhouse as the afternoon wave makes its way to the course. It has been a performance that continues Watson's dominance at this event; along with his three wins, the 42-year-old boasts a runner-up, fourth place and T-6 finish in 14 career starts.
However, Watson revealed that after his debut at the event (formerly known as the Greater Hartford Open) in 2006 he initially didn't want to return.
"First time I ever played here it was a different sponsor and I shot I think a 74, 74 without looking it up," Watson said (it was actually 73-72), "and I was like, man, I'm never coming back here.
"Then Travelers started coming around to everybody and saying, Hey, we're going change the range. The old range here where you couldn't hit driver, not supposed to hit driver. So they said they were going to change that and start doing better for the players and caddies, trainers, physios. So there was a lot of things they were going to amp up and then golf was the last thing they were worried about."
Watson specifically pointed out to the Travelers' focus on community, citing what the tournament does for the Hole in the Wall Gang camp, as why he decided to give the tournament a second-go.
"Seeing that, feeling that, the energy of these kids, listening to their songs that they sang for me and my wife at lunch, was amazing," Watson said. "And then my first win here with my dad watching. So many things that happened with my family at this place, this community. It just means so much to us, and so when I get here I just feel energized. I feel like the people are behind me and they're pulling for me. I feel like I can move the ball forward from any lie, so that's always a positive trying to make a par or make a birdie."
A win this weekend would tie Billy Casper for most Hartford tournament victories. While Watson acknowledged what that accomplishment would mean, he distilled his pride to a feat that doesn't seem as grandiose against the backdrop of his career.
"It was funny, me and Phil [Mickelson], I was asking Phil some questions out there the last couple days and I told him one of my most exciting things in golf was getting my PGA Tour card," Watson said. "So that was one of the most exciting things in golf before I became vice captain of the Ryder Cup. It was one of those things where never dreamed I could win that many times, and now at one place having a chance to get four times and tie one of the greats of all-time, yeah, be a thrill of a lifetime."