News
Amid triumph and concern, the Travelers goes on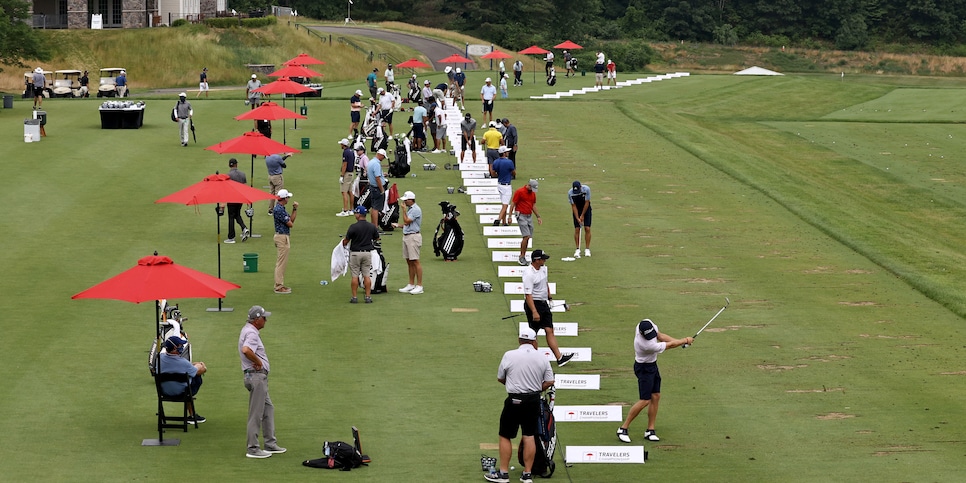 CROMWELL, Conn. — This is Brian Zimmerli's favorite week. A week that's more like a holiday. It has been since he was a kid, when he'd accompany his dad from nearby Glastonbury to the Greater Hartford Open, mesmerized by PGA Tour players in his backyard. Brian's pops worked as a marshal for years. Eventually, Brian joined the volunteer ranks, first manning concessions before working his way to a walking scorer and, eventually, serving on the tournament's executive committee. In those 30-plus years, this week's tournament is one he's long dreamed of but never thought possible.
"Gratifying is not a strong enough word," Zimmerli said while testing scoring equipment on Tuesday morning as he followed the practice rounds of Cam Smith and Marc Leishman at TPC River Highlands. "It is a testament to all the hard work the people and the community have put into this tournament to see all the players here."
There's an emphasis on all, and it's not an exaggeration. When the field was announced for the 2020 Travelers Championship last Friday it featured nine of the world's top 10 players, with 109 of the original 156 in the field boasting a tour win to their credit. Not too long ago, twice in fact in the early 2000s, the tournament was on the verge of extinction. Now one of the more beloved spots on the tour calendar had the firepower to back up its sentimentality.
"I joked with [tournament director Nathan] Grube that we should hang a banner at the entrance. 'Welcome to the Travelers, golf's sixth major,'" said Andy Bessette, executive vice president and CAO of Travelers. "From where this is to what it's become, is a true success story."
But while this week is a watershed moment, it is also bittersweet.
Make no mistake, the Travelers team says it's thrilled to be the third event in golf's return from the coronavirus pandemic. Moreover, as the rest of the tour schedule was engaged in a game of musical chairs, the Travelers managed to keep its original spot on the calendar.
"There are so many good tournaments that got canceled, that didn't get the chance," Grube says. "It's an honor that we were able to continue."
Yet this season was supposed to be the culmination of years of resurgence. With the U.S. Open less than two hours down the road at Winged Foot, the Travelers already secured four of the top 10 players by February, believing it had another four locked in as well. Mentioned above, it ultimately got its star-studded entrants. Nevertheless, the irony is not lost on assembling a line of marquee stars, only for the show to go on without a live audience.
"You can imagine what we feel. My heart really breaks for this area," Grube says. "They love this tournament, and do so for much it. There are more important things going on in the world but [fans not getting to come] is not lost on us."
If that sounds like self-pity, it isn't. There's no time for that. From the moment the Travelers received word it was still on, the entire event had to be recalibrated, tossing out its well-drawn strategy to meet the pressing needs of an ever-changing health landscape.
"There's no doubt the safety aspect is the primary driver," Grube said. "It's broad. But we broke it down."
Grube and his staff left no detail unturned in its process. Take, for example, the questions that arose for transportation and lodging. The process involved the following dilemmas: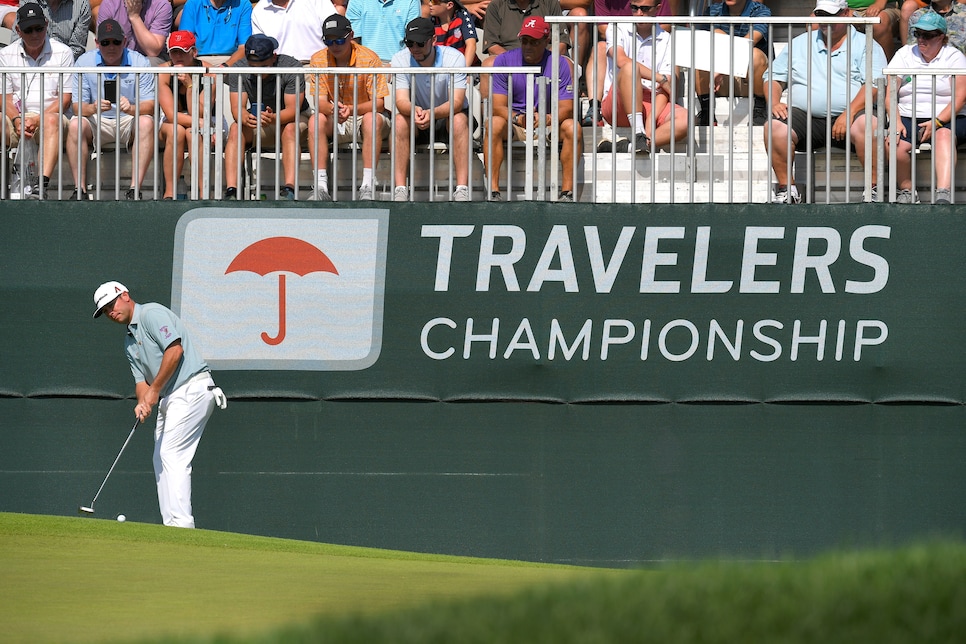 Chez Reavie will be defending his title sans fans in 2020.
Stan Badz
Who would be guiding the players from the airport to their vehicles? How long would each car sit empty at the airport, making sure enough time had passed since the last occupancy to reduce transmission of COVID-19? Same with hotel: How are they cleaning the hotel? Who is cleaning the hotel? Will the hotel have room service? Can the hotel kitchen handle that amount of orders?
"Each question seemed to beget another question," Grube says. "You're trying to see the world through the prism of a tour player, to see every aspect that could effect them. And then we did that for caddies, media, tournament officials, volunteers. Everything, to make sure it was clean and up to federal protocols."
"Safety is the edict for the tournament," Bessette says. "It's not easy. But without it, this doesn't go."
If there was a saving grace, Grube and his team were not alone. Each PGA Tour event operates as its own entity, and inherently there's competition among them—a player committing to Tournament A can correlate to passing on Tournament B. Yet Grube says the tournaments that proceeded his, the Charles Schwab Challenge and RBC Heritage, along with next week's Rocket Mortgage Classic, have worked as a coalition during the tour's return.
"The collaboration has been awesome," Grube says. "[Colonial director] Michael Tothe was feeding us information, what was working and what wasn't, from the first week back. [Detroit director] Jason Langwell was taking photos on the ground. The Hilton Head crew would give us ideas. Just a constant flow back and forth. This tournament is going to work because so many people outside our group helped."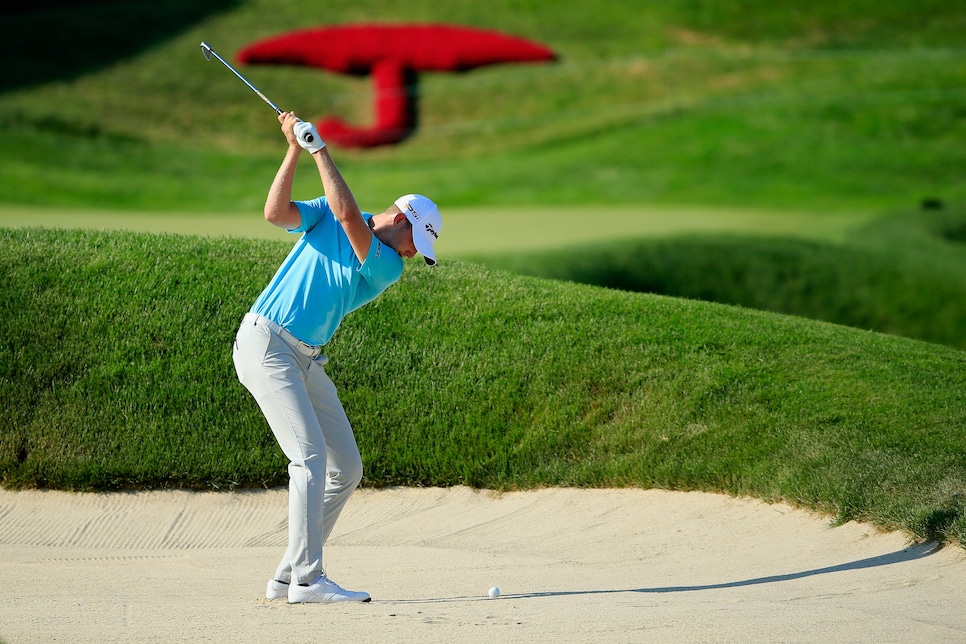 It also works because of the leadership of Bessette and Grube. Their passion for the tournament is evident in everything they do, passion that serves as an energizing source for the team. "We know we're in good hands with them," Zimmerli says. "They are a galvanizing force, and everyone follows their lead."
Yes, the Travelers will take a hurtin' at the bank. The spectator ban, elimination of the pro-am, sponsors not able to utilize box seating will do that to the bottom line (although Bessette says many sponsors are still donating their money to the tournament's charities). But whatever hit the Travelers takes, its brain trust feels it can withstand. Besides, when Grube and Bessette took the reins in 2007, their gaze was always on the horizon, on what this event could be. The mission remains the same.
"We've been fortunate with what we've built around the community, in the game," Grube says. "This year is not ideal, but we are going to make it the best we can be, and will be all the more reason to make it better in 2021."
Of course, that's next year. There's a competition to be had this week. Holidays are to be celebrated, pandemic be damned.