LPGA
Lizette Salas, early leader at the KPMG Women's PGA, opens up about mental-health issues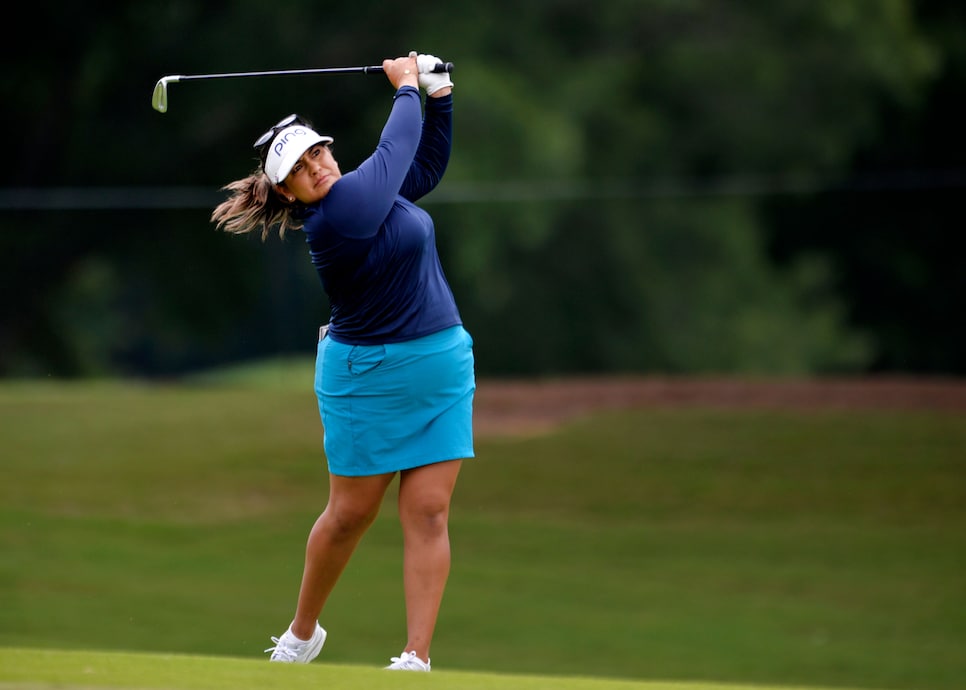 Lizette Salas plays her second shot on the ninth hole during the first round of the KPMG Women's PGA Championship. Salas' opening 67 at Atlanta Athletic Club gave her the lead after the morning wave's play.
Edward M. Pio Roda
JOHNS CREEK, Ga. — When Lizette Salas stood on stage for her post-round press conference, she laughed as one of the TV techs came out to lower the microphone for her.
"It's not good for my confidence when they do this every time," she said, smiling at the assembled media.
Salas had just finished her opening-round 67 at Atlanta Athletic Club, good enough for the morning lead at the KPMG Women's PGA Championship, and after that light-hearted beginning, few could expect that the conversation would take a serious turn, alighting on Salas' serious mental health struggles in 2020.
After answering a handful of questions about her round—"I kept it boring," the 31-year-old said of her five-birdie, zero-bogey day—she mentioned that she no longer felt afraid on the course.
"When were you afraid?" a reporter asked.
"When was I afraid?" she repeated. "Probably all of 2020. That was a really tough year for me. It was probably one of the lowest points of my career mentally"
In her remarks, Salas avoided the nitty-gritty specifics of what she endured, but made it abundantly clear that she had suffered through a painful mental health crisis during COVID-19.
"It was a combination of things," she said. "I really didn't like myself in 2020, and I think with the whole COVID and not being able to work and have golf as my outlet, that really hit hard … it was hard for me to even speak about it just because I felt like other people are going through the same thing. 'Why do I need to feel sorry for myself?' Over time, it accumulated and got worse, and when I finally got out here, it was just … it was so bad that the golf couldn't help."
A look at her record late in 2020 reflects her inner struggle. After not missing a cut for nearly a year and a half, the 10-year LPGA Tour veteran missed cuts in five of eight tournaments starting in October and wrapping around to 2021. It wasn't last month that Salas says she started to feel like she was emerging from the darkness.
"It takes time," she said. "I had to take care of my mental health, and that's something that a lot of people don't really take into consideration. I think for me coming from a Hispanic background, it's very hard to talk about that. But I'm very fortunate to have a team that was willing to bend over backwards to help me and to get me to where I am right now."
Salas credited her team repeatedly and reiterated that learning to ask for help, and to lean on her support system, allowed her to begin to recover. In the midst of the worst periods, she had tried out a new team in Dallas, a move that backfired and made her situation considerably bleaker. She returned to her home base of Los Angeles, to her coach Jim Gormley and her trainer Josh Loyo, and opened up new lines of communication with them.
"They check me when I need to be checked, and vice versa," she said. "Opening up to them and allowing them to understand what I was going through on a more personal level rather than just golf, I think it really allowed all of us to just be more in sync and to really brainstorm what I need from them even possibly outside the golf course."
After experiencing extreme anxiety and disappointment on returning to golf last August, she hit a new low, struggled through some of the worst play of her career, and began to wonder how to fight her way out. The answers were not immediate; the process was slow and gradual. When she had trouble sleeping at night, she put her phone away and began reading books, like Erika Sanchez's I Am Not Your Perfect American Daughter ("I thought it was a biography of myself," she said), and a book about Frida Kahlo that spoke on the artist's strength and inspired her to highlight certain passages. Most of all, it was the people around her that never wavered when she needed them most.
"They're used to me in tears," she said, "but that's what being a team is all about, and I consider them family."
Eventually, the clouds began to lift. In her last four tournaments this season, including the U.S. Women's Open, she's finished no worse than 23rd and had her first two top-tens in more than a year.
"I think probably Pure Silk [the Pure Silk Championship in May, where she finished fifth] was the light," Salas said. "It actually was getting darker before it got lighter, and just being in that at Kingsmill, I had a lot of good memories. John [Killeen] was back on the bag again. I had a new putter and new toys, and I was playing the golf I know how. That really just lit a spark in me."
She had thought about going public with her struggles earlier in the year, but the moment never felt right, and she never felt ready. Today, given the platform after her round, it came out almost by accident. Now she leads at the Highlands Course and has at least a chance to win for just the second time in her career, the first coming in 2014. It would be a dramatic reward, but as her health returns, Salas is already reaping the benefits, and her philosophy is summed up by a rallying cry she carries with her from her college days as a four-time All-American with the USC Trojans.
"It's been hard for everybody," she said of her struggles, "but we've come together. As we say at USC, we're fighting on."