Women's PGA Championship
The duel before the duel: Nelly Korda and Lizette Salas overcome their own demons to set up a Sunday showdown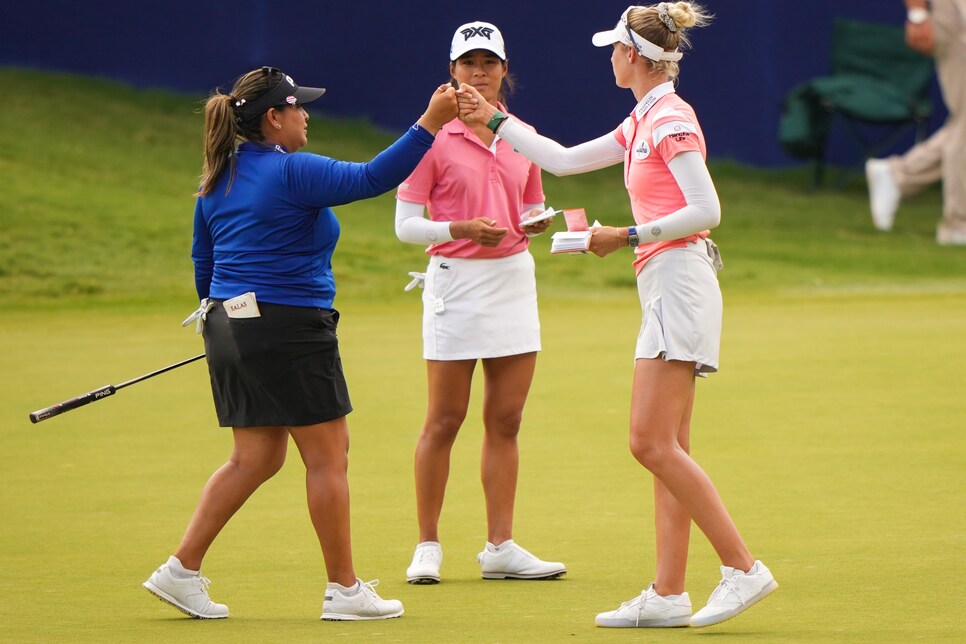 Lizette Salas (left) and Nelly Korda fist bump on the 18th hole during the third round for the 2021 KPMG Women's Championship.
Darren Carroll/PGA of America
JOHNS CREEK, Ga. — In different ways at this week's KPMG Women's PGA Championship, Nelly Korda and Lizette Salas—both at 15 under, five shots clear of the field and set for a final-round clash—are women unburdened.
For Salas, the catharsis came in the form of an emotional Thursday press conference, when she spoke publicly for the first time about her mental-health struggles over the last year. Simply hearing her own name on the course felt bad, and she greeted each new day, and each new round, with fear. Golf was her identity, but golf couldn't help, and the situation spiraled into darkness until she turned outward to her team for help. The healing process began with that decision, but like most recoveries, it was slow and halting.
"It takes someone to say it out loud for you to realize it deep down inside," she told reporters later, "but when you play well throughout the season—like, I've had a pretty good season—you just put so much pressure on yourself. Takes the enjoyment out of it."
At 22, Korda is mature enough to admit that she'll probably struggle with it her whole career, as she did Saturday at the Women's PGA, where the adrenaline was spiking and she responded as she usually does, by becoming stoic and keeping her emotions buttoned up.
"Inside, I'm on a pretty big roller coaster," she said. "But I think it feels good to kind of let it out."
The new freedom and comfort they each feel were evident on a scorching front nine, when Salas, who trailed by one after Korda's shocking six-birdie finish on Friday, came out of the gate quickly, draining roughly 80 feet of putts on the first three holes to send notice to the field. Korda immediately understood her job would be to make sure Salas didn't race too far ahead, and she answered with birdies on the first two holes to extend her own streak to eight in a row.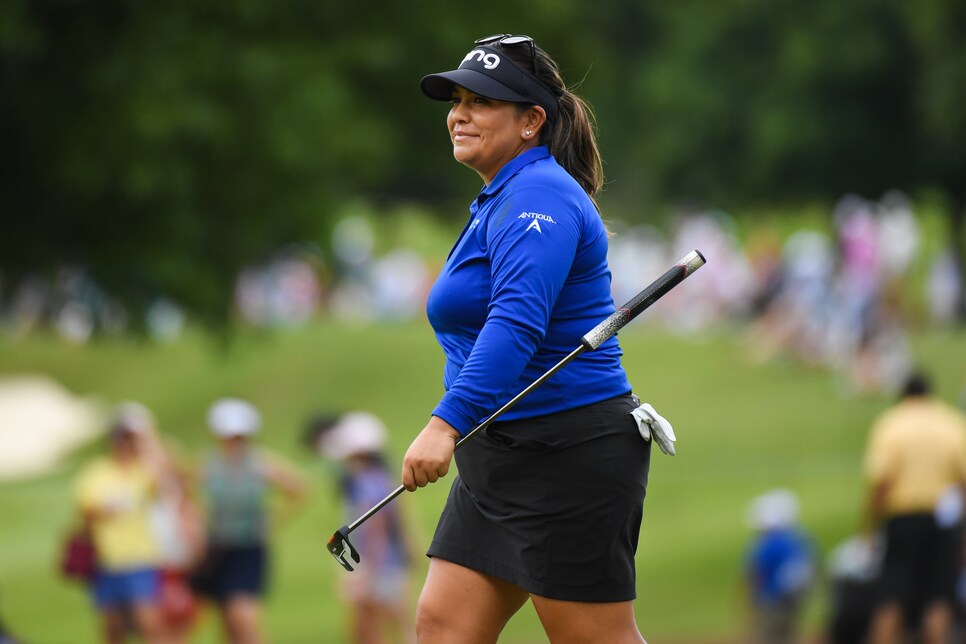 Lizette Salas on the seventh hole during the third round for the 2021 KPMG Women's Championship.
Montana Pritchard/PGA of America
But Salas, dressed in blue and black to Korda's light orange and white, couldn't be contained, and a beautiful wedge on 5, a downhill slider of a putt on 7, and another 15-footer on 8 saw her go out in 30. Korda did her best to answer, but at the turn, what had been a one-shot lead turned into a two-shot deficit.
Inevitably, reality and a sense of the moment will catch up to golfers after such a tear—think of Patrick Reed and Rory McIlroy at the 2016 Ryder Cup, who couldn't keep the brilliance of their first eight holes up when the intensity peaked during their famous birdie exchange—and Salas came back to Earth on 10 with her first bogey. There's also the water; there's far more of it on the back nine at Atlanta Athletic Club, haunting almost every green, and target practice had to give way to caution on what is clearly the course's harder half.
If you're looking for stylistic differences between the two, Korda plays faster and hits farther. Much farther, in fact, and what was remarkable about the entire round is how Salas stayed with Korda approach for approach, despite using hybrids and longer irons from as far behind as 50 yards on the fairway. While a cool breeze blew and the cloud cover was thick enough to give temporary reprieves from the sun's bite, Salas ground her way from hole to hole long after the torrid streak had ended.
The change on the back nine, whether it was the water or a sense of what was at stake, is that neither player could buy a birdie putt. Between them, they only had one, and that came from Korda on 13, where a solid approach yielded the birdie that tied the two at 15 under. That's where the score would remain for the rest of the round, and the field, while creeping closer, never made a serious move to challenge their supremacy. Patty Tavatanakit, Giulia Molinaro and Celine Boutier each reached 10 under, but it will take a Herculean effort (or a collapse from both leaders) for any of them to make up that much ground on a course that's yielding plenty of birdies.
Salas often hails the virtues of "boring golf," and that's mostly what we saw from the leaders on the back. Korda flirted with disaster on the par-3 15th, when her shot, though pin-high, came perilously close to the water guarding the right side of the hole.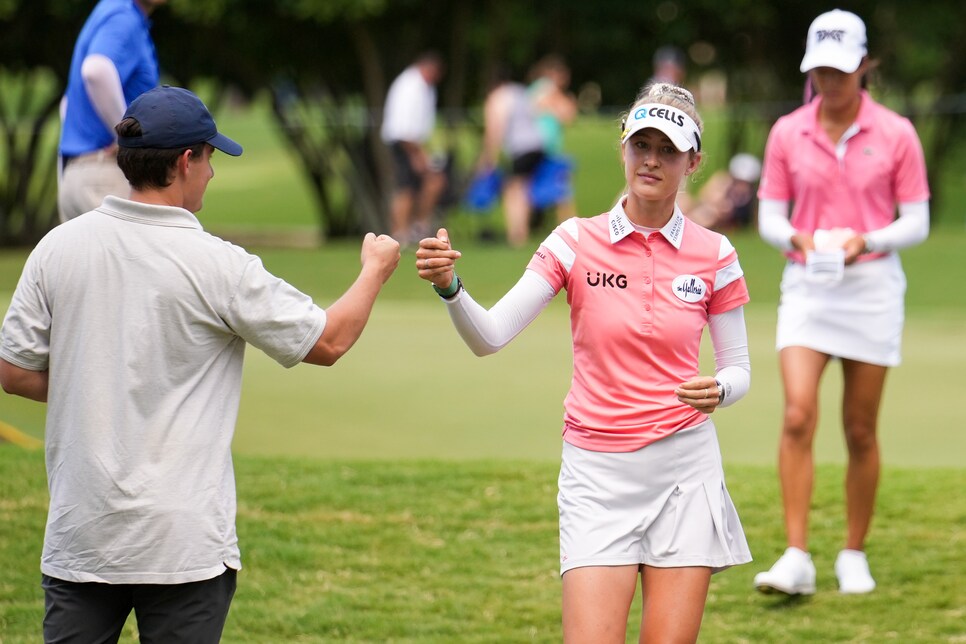 Nelly Korda fist bumps a spectator on the 15th hole during the third round for the 2021 KPMG Women's Championship.
Darren Carroll/PGA of America
"I swear to God I gave myself a heart attack," she said after. "I did tell Jay [Jason McDede, her caddie] when he first started working for me that he'll have a heart attack a round."
Aside from that, it was safe golf with the specter of Sunday looming over everything. Salas, who shot her third-straight 67 on Saturday, smiled and engaged the crowd and joked with her caddie between shots (I heard one snippet about a weather app), while true to what she said after the round, Korda (68) was serious and retreating, offering only faint smiles when the galleries—increasingly large as the round wore on—shouted her name.
At the press conference, Korda was polite but eager to leave. She spoke quietly, in a low voice, and said that she'd simply spend the night with family, likely watching the Olympic Trials to keep her mind off the tournament. Salas was her usual gregarious self—"Is it low enough?!" the 5-foot-4 contender said when she saw the microphone—and had no plans for the night beyond finding somewhere to eat outdoors and shutting off her phone.
"My dad says this phrase: Everything has its moment," Salas said. "I think I was meant to go through what I was going through."
Korda will feel similarly on her own struggles, and when the two meet on Sunday, the prospect of a professional breakthrough will be the silent third partner in their pairing. Salas is the 31-year-old journeywoman with only one tour victory to her name, and Korda is the young wunderkind with two just this year, but they'll both be sailing with the wind at their backs, infused with the courage of having fought and survived against an opponent more daunting than any they could find on a golf course.