KPMG Women's PGA Championship
Michelle Wie West makes first major cut since 2018 after pep talk from husband: 'He told me to get my head out of my ass'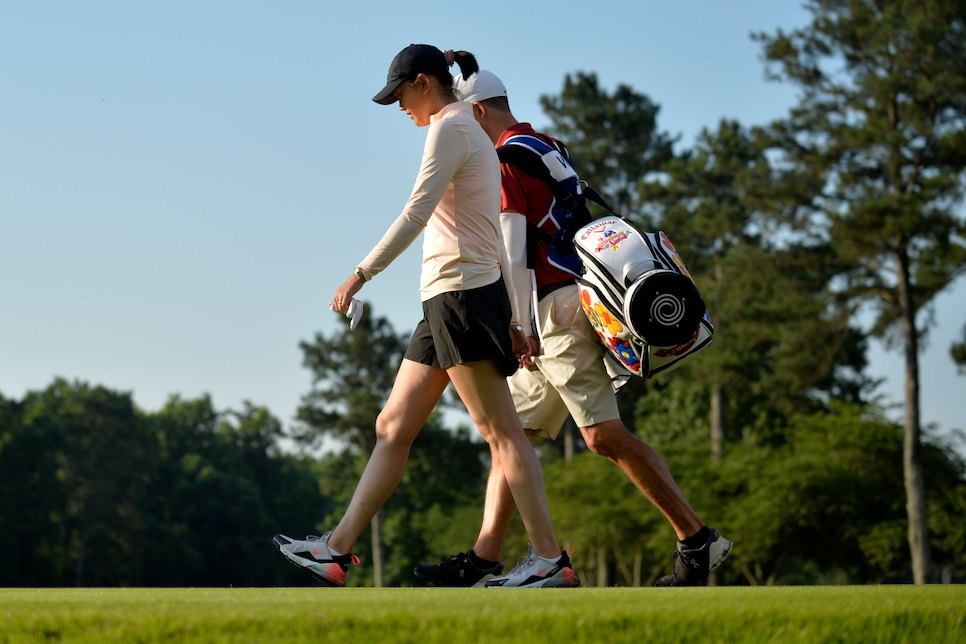 Michelle Wie West walks from the first tee during the second round of the KPMG Women's PGA Championship.
Edward M. Pio Roda
Two years removed from arguably the lowest point in her professional career and three months into her return to competition, Michelle Wie West had reason to celebrate a golf accomplishment on Friday. With a three-under 69 in the second round at Atlanta Athletic Club, the 31-year-old is playing the weekend at the KPMG Women's PGA Championship, her first made cut in a major since 2018.
Wie West made five birdies and two bogeys on Day 2, bouncing back from a frustrating opening-round 77 that included a 43 on her opening nine holes (the back nine at the Highlands Course). At the end of play Thursday, Wie West was down on herself, something that was obvious to her husband Johnnie West. The executive with the Golden State Warriors decided some tough love was in order.
"Yeah, I was definitely moping after my round yesterday, and I was talking to my husband, and he told me to get my head out of my ass, so I did," Wie West said. "I played, got my head out of my ass, and I played some golf today."
Indeed, the former U.S. Women's Open champion made birdies on four of her first eight holes Friday. Her 69 matched the lowest score she's posted since her return to play in March. "Yeah, I feel good about it," Wie West said. "I had a great back nine yesterday and kind of played off that mojo. I had two pretty bad mud balls on the first two holes, and I was pretty rattled about that. I think it just took me a little while to kind of get my bearings. Very proud of myself for pushing through, and hopefully I can shoot low this weekend."
While the KPMG Women's PGA was the last major Wie West made a cut in, it was also the championship in which her career looked like it may be over. In 2019 at Hazeltine National, she shot rounds of 84-82, trying to play through the pain of an injured wrist that seemed to be curtailing her career. She missed the cut by 17 strokes and tearfully noted: "I'm not entirely sure how much more I have left in me."
She didn't play another tournament the rest of the 2019 season, trying to heal from the injury.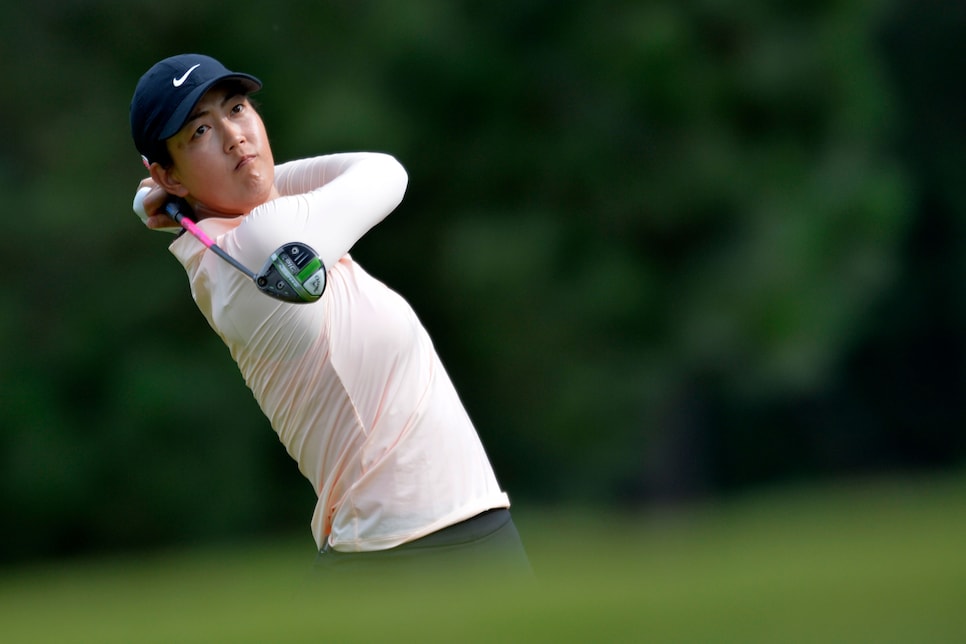 Michelle Wie West will be playing the weekend of a major for the first time since the KPMG Women's PGA in 2018.
Edward M. Pio Roda
In the meantime, Wie West got married and had a daughter, Kenna, who celebrated her first birthday earlier this month. Becoming a mom, she says, helped inspire her return to play, which began in March at the Kia Classic. While missing the cut in her first four starts, she broke through two weeks ago at the LPGA Mediheal Championship, playing all four rounds and finishing T-40.
"Yeah, it's pretty crazy when you think about Hazeltine and where I was and where I am now," Wie West reflected on Friday. "I'm just eternally grateful that I have a chance to come back. It would have been nice to get some revenge back at Hazeltine, but this is a great golf course. I had a great day today. It was a lot of fun."