Major Payday in Atlanta
Here is the prize money payout for each golfer at the 2021 KPMG Women's PGA Championship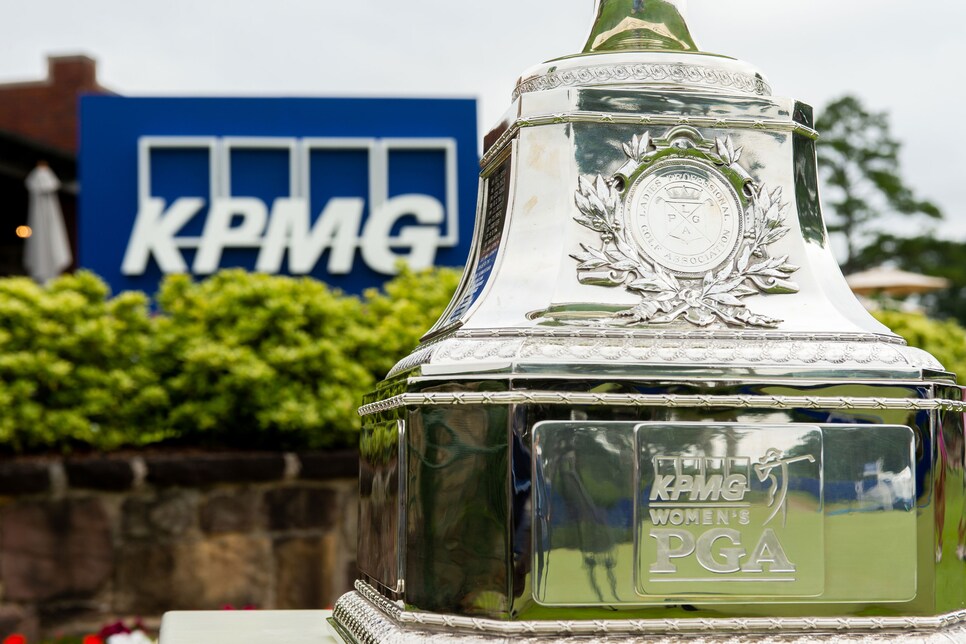 Montana Pritchard/PGA of America
There were 70 golfers with tee times on Sunday at Atlanta Athletic Club, but the final round of the KPMG Women's PGA Championship was really a two-player showdown between Nelly Korda and Lizette Salas. Then, after the par-5 12th hole, it turned into a one-player victory lap.
When Korda rolled in a 20-footer for eagle, her second of the day, and Salas bogeyed the hole, Korda stretched a one-shot lead into a four-shot advantage. It grew to five on the 14th, then shrunk to three with a double bogey on the 15th hole, but from there, the 22-year-old didn't flinch, shooting a closing 68 to grab her first career major title with a 19-under 269 total.
Korda and Salas started the day at 15 under par, five shots clear of their next closest pursuers. And the two played solid on the front nine, not allowing any chasers to make a long-shot dash at their lead.
Korda turned in three under, which included a tap-in birdie on the par-5 fifth hole after nearly holing her second shot from the 243 yards away in the fairway. She then closed things out with a flawless back nine to claim her seventh career LPGA win, and second in consecutive weeks.
With the victory, Korda became the first American to win an LPGA major since Angela Stanford at the 2018 Evian Championship, and jumped Jin Young Ko to take over the top spot in the Rolex Women's Golf Rankings. Korda is the first American to be World No. 1 since Stacy Lewis in October 2014.
There was also a nice financial incentive to come out on top, too. The overall prize money payout at the KPMG Women's PGA Championship was $4.5 million (an increase from $4.3 million in 2020), with the winner earning $675,000. Only the U.S. Women's Open has a larger overall purse and winner's payday among LPGA majors.
With the $675,000 winner's check, Korda surpassed the $5 million mark in career earnings.
Here is the prize money payout for each golfer who made the cut at Atlanta Athletic Club. Come back after the tournament and we'll update this list with individual names and prize money payouts.
Win: Nelly Korda, -19, $675,000
2: Lizette Salas, -16, $418,716
T-3: Hyo Joo Kim, -10 $269,361
T-3: Giulia Molinaro, -10 $269,361
T-5: Danielle Kang, -8 $171,934
T-5: Patty Tavatanakit, -8 $171,934
T-7: Austin Ernst, -7 $121,501
T-7: Celine Boutier, -7 $121,501
T-9: Amy Yang, -6 $93,608
T-9: Cydney Clanton, -6 $93,608
T-9: Xiyu Lin, -6 $93,608
T-12: Sei Young Kim, -5 $75,343
T-12: Wichanee Meechai, -5 $75,343
T-12: Dottie Ardina, -5 $75,343
T-15: Leona Maguire, -4 $58,839
T-15: Nanna Koerstz Madsen, -4 $58,839
T-15: Jessica Korda, -4 $58,839
T-15: Yealimi Noh, -4 $58,839
T-15: Esther Henseleit, -4 $58,839
T-15: Madelene Sagstrom, -4 $58,839
T-21: Yuka Saso, -3 $48,142
T-21: Georgia Hall, -3 $48,142
T-21: Brooke M. Henderson, -3 $48,142
T-21: Charley Hull, -3 $48,142
T-25: Alena Sharp, -2 $42,985
T-27: Alison Lee, -1 $36,793
T-27: Moriya Jutanugarn, -1 $36,793
T-27: Dani Holmqvist, -1 $36,793
T-27: Megan Khang, -1 $36,793
T-27: Lindsey Weaver, -1 $36,793
T-27: In Gee Chun, -1 $36,793
T-33: Jeongeun Lee, E $28,229
T-33: Marina Alex, E $28,229
T-33: Mariah Stackhouse, E $28,229
T-33: So Yeon Ryu, E $28,229
T-33: Chella Choi, E $28,229
T-33: Gabriela Ruffels, E $28,229
T-33: Ryann O'Toole, E $28,229
T-40: Hinako Shibuno, +1 $21,587
T-40: Minjee Lee, +1 $21,587
T-40: Lauren Stephenson, +1 $21,587
T-40: Brittany Lang, +1 $21,587
T-40: Inbee Park, +1 $21,587
T-40: Gerina Piller, +1 $21,587
T-46: Perrine Delacour, +2 $17,116
T-46: Jin Young Ko, +2 $17,116
T-46: Michelle Wie West, +2 $17,116
T-46: Ariya Jutanugarn, +2 $17,116
T-46: Albane Valenzuela, +2 $17,116
T-46: Mina Harigae, +2 $17,116
T-52: Lydia Ko, +3 $14,442
T-52: Luna Sobron Galmes, +3 $14,442
T-52: Ally Ewing, +3 $14,442
T-52: Lexi Thompson, +3 $14,442
T-56: Caroline Masson, +4 $13,066
T-56: Janie Jackson, +4 $13,066
T-58: Angela Stanford, +5 $11,600
T-58: Jennifer Kupcho, +5 $11,600
T-58: Eun-Hee Ji, +5 $11,600
T-58: Jeongeun Lee6, +5 $11,600
T-58: Anna Nordqvist, +5 $11,600
T-64: Pajaree Anannarukarn, +8 $10,431
T-64 Dana Finkelstein, +8 $10,431
66: Annie Park, +9 $10,087
T-67: Lauren Kim, +10 $9,628
T-67: Christina Kim, +10 $9,628
T-67: Sarah Burnham, +10 $9,628
70: Paula Reto, +18 $9,171