Seen on tour
Bernhard Langer breaks putter of 20 years in the most amateur way ever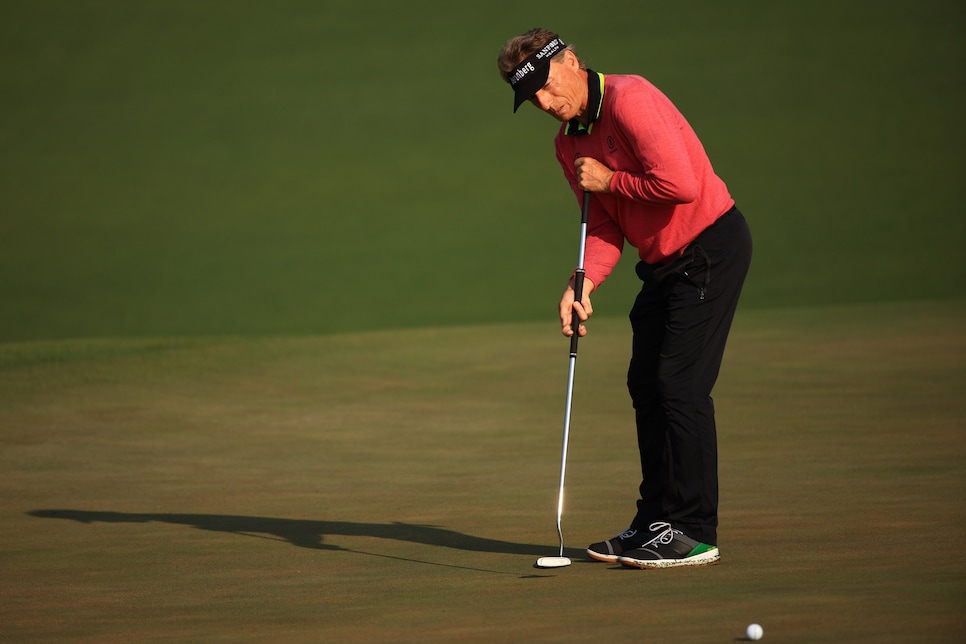 Bernhard Langer putts on the second green during the first round of the 2021 Masters.
Mike Ehrmann
Bernhard Langer has 41 wins on the PGA Tour Champions, but in trying for No. 42 at the Dick's Sporting Goods Open at En-Joie Golf Club in Endicott, N.Y., Langer will attempt to do something he's never accomplished before on the senior circuit—win without his trusty Odyssey White Hot 2-Ball Long putter.
According to the Golf Channel telecast, Langer was playing in the pro-am on Thursday and drove a cart under a gallery rope—rarely a good idea—caught the putter on the rope and snapped the shaft, a rare amateur move by one of the game's greats. Luckily for Langer, Scott McCarron, with whom he was paired on Friday, offered up his backup putter, a Scotty Cameron long putter similar to the one Adam Scott has used in the past, as a last-minute replacement.
Langer has used the broomstick-style putter for some 20 years, winning his last European Tour event with it at the 2002 Volvo Masters Andalucia with the putter before becoming a dominant force on the PGA Tour Champions starting in 2007, where he has won the Charles Schwab Cup five times.
The loss of the 45-inch putter is no small inconvenience as Langer has used the long putter to great effect, even after the tour outlawed anchoring in 2016. The two-time Masters champion ranks T-2 on tour this season in putting average and ranked first three times and second once in that stat over the previous five seasons.
Going forward, although Langer can certainly get his broomstick re-shafted, tour pros will tell you that every shaft feels slightly different. For a player of Langer's skill and particularness, that might be a transition that could take some getting used to. Or not. Using his replacement putter Langer went out in six-under-par 31 (his lowest front-nine ever at the Dick's) to take the early lead. Witnessing all this was McCarron, who kiddingly asked Langer for his putter back.
Find the right club for your game with our new Hot List interactive: