Rocket Mortgage Classic
Bryson mum on his way to missing the cut in Detroit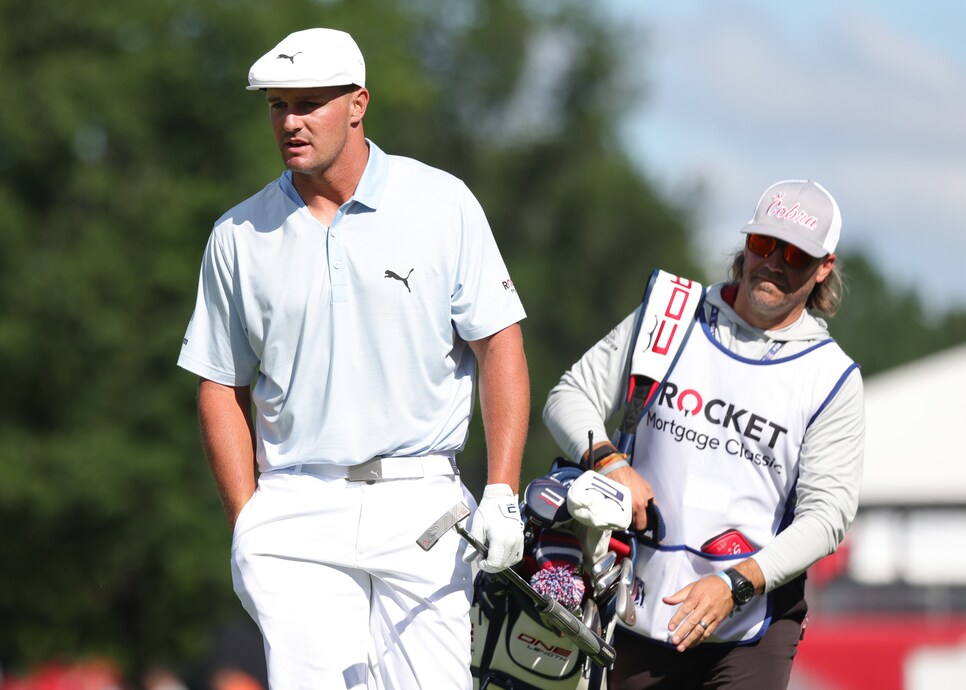 Bryson DeChambeau and caddie Ben Schomin prepare to play a shot during the second round of the Rocket Mortgage Classic.
Leon Halip
DETROIT—The defending champion of the Rocket Mortgage Classic has had nothing to say for the last two days, apparently opting to let his clubs do the talking.
The result is that we won't be hearing from either party the rest of the weekend.
Following a second-round one-under 71 at blustery Detroit Golf Club on Friday morning, Bryson DeChambeau declined a request from a PGA Tour official to talk to the media for a second straight day. At one-under 143, DeChambeau was two strokes outside the cutline the year after winning this event by three strokes with a 23-under 265 total.
He missed the cut for just the second time this season, the other coming at the Genesis Invitational in February.
The highest ranked player in the field at No. 6 in the world, DeChambeau struggled for two days after he and his longtime caddie, Tim Tucker, parted ways on the eve of the tournament. Tucker had been on the bag for each of DeChambeau's eight PGA Tour victories. DeChambeau's manager, Brett Falkoff, described the parting as mutual, but others on-site with knowledge of the situation say it was Tucker who quit just hours after being on the bag for the pro-am.
DeChambeau told ESPN that the two are merely taking a break as they did when Tucker quit in 2017 only to return the following year.
Ben Schomin, director of tour operations for Cobra Golf, was pressed into service for two days, receiving a call from DeChambeau around 8 p.m. EDT Wednesday while he was having dinner with friends in Grand Rapids, Mich., about two hours away. The Michigan native had never caddied for a tour player previously.
"It was as hard as I thought it was going to be," Schomin, 43, said after DeChambeau's first-round 72.
It was an easier job than being the tour official who had to see about DeChambeau's willingness to speak with the media. Not that he has to talk to reporters, but when you're the defending champion and a Rocket Mortgage ambassador, it might behoove you to field two or three questions before departing.
He did make one comment, that coming at the par-3 fifth hole after a heavy wind directed his wedge shot into a greenside bunker. "I hate golf," he was overheard saying by a reporter from The Detroit News.
Presumably, he'll be looking for a new caddie in short order, but he won't need one for his next outing, which comes Tuesday in Montana in "The Match," a made-for-television exhibition in which he is paired with Green Bay quarterback Aaron Rodgers against Phil Mickelson and Tampa Bay QB Tom Brady. The four players will be riding in carts at Moonlight Basin in Big Sky, Mont., for the charity event that begins at 5 p.m. ET on TNT.