The Match 4
A rusty Aaron Rodgers should be very nervous heading into The Match, but swears he's not
Aaron Rogers plays a tee shot on the first hole during the final round of the 2020 American Century Championship.
Christian Petersen
There are golfers who haven't played a round in months and would be jittery if the starter even dared take a peek at their swing on the first tee. Imagine what it's going to feel like for NFL quarterback Aaron Rodgers on Tuesday in his debut in The Match 4, the made-for-TV event teaming Rodgers and Bryson DeChambeau against Tom Brady and Phil Mickelson in Big Sky, Mont.
Rodgers claims he hasn't played more than about nine rounds since last summer (and we'll get to the specifics of that in a bit), and now he's going to do so in front of a national television audience on TNT, with all of the chatter and distractions that come with these matches for charitable causes. Look, we know this is no Super Bowl, but Rodgers would seem to be more vulnerable to a blindside here than if his left tackle took a dive.
So, he's got to be feeling some nerves, right?
"Uh, no, I'm not," Rodgers said flatly on a conference call on Monday to promote the match. "I don't want to embarrass myself; I'm competitive. But I am getting paid … to play football, and I take that sport really, really seriously."
To hear Rodgers talk, golf is far down his list of priorities at this point, and, of course, that's especially true at this moment in his career, when much of the speculation this offseason has been about his playing status for the Green Bay Packers in 2021. Blame L.A. traffic for his golf lapse, too.
"I've got a life," Rodgers said. "I've been grinding on my life, working on myself and staying in shape. Golf is tough in Los Angeles. There's not a lot of courses to play, and there's traffic all of the time. When I think about spending an hour sitting in traffic and four and a half hours on the course, I think, 'What else could I be doing for five and a half hours of my life?' I could read a book. I could read something interesting on the Internet. I could meditate. I could go for a walk on the beach. I could do just about anything that gives me pleasure besides golf. So that's what I've been doing."
Rodgers said he's played nine rounds since last August. According to the index he keeps with the Wisconsin State Golf Association, where his home course is Green Bay Country Club, he's posted 10 scores since August and has a current index of 4.6. His best score is a 76 shot on Aug. 20 at the home club. However—and here's where the nerves should come in—Rodgers has only four posted rounds in the last 10 months—all coming in June at away tracks. Scores: 83-83-80-87.
"It's not an excuse," Rodgers insisted. "I feel like the less I play the better I play. Less to think about. Golfers can be such headcases at times when they start tinkering with everything." He joked that DeChambeau (missed cut) and Mickelson (T-74) "played like amateurs" in last week's Rocket Mortgage Classic. "They're two of the biggest tinkerers in the history of the game," Rodgers added.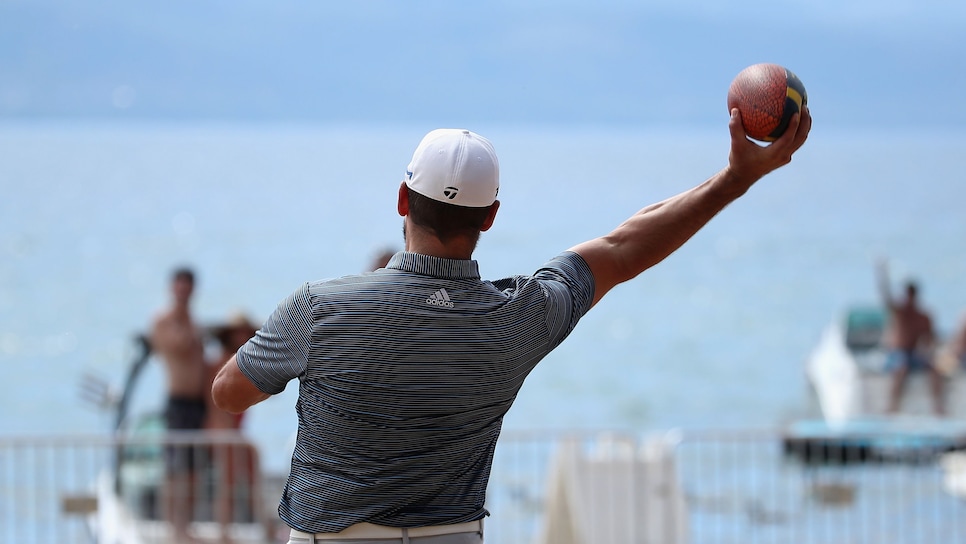 Aaron Rodgers throws a football to fans on the beach during round one of the American Century Championship.
Christian Petersen
Putting a positve spin on Rodgers' golf rust, DeChambeau said, "I love somebody who doesn't play that much golf. It usually means their next round is going to be their best. Not expecting much is actually a really good, lethal weapon."
Told of Rodgers' comments in a later call, Mickelson, of course, had a counter jab.
"One of two things is happening," Lefty surmised. "Either he is trying to lull us to sleep so that we're not sharp and think it's going to be easy, and Tom and I aren't falling for that. Or he's making excuses before we even play as to why we're going to beat them so bad."
It seemed there was a time when Rodgers might go down the Tony Romo path. Romo, the CBS football commentator and former Dallas Cowboys quarterback, has been a beast in winning numerous celebrity events and has tried to take it to the next level, appearing five times on the PGA Tour (though Romo's missed the cut each time).
Rodgers, who has top-20 finishes in the last four celebrity American Century Championships and notched a T-9 with partner Max Homa in the 2020 AT&T Pebble Beach Pro-Am, said that in the past he played four or five times a week in the offseason, grinding to improve on his single-digit handicap and potentially reach a professional level of play. But the reality of just how hard that is to do eventually sacked him hard.
"I got really, really good. I was competitive," Rodgers said. "But I wasn't really, really good compared to guys like Bryson. … I said, What am I going to do with this? I can't compete on any tour. I'm not going to make it through a U.S. Open qualifier. So why don't I start enjoying my life and maybe worry a little bit less about being amazing in golf."
In that, he may have found the solution to every golfer's angst.