The Match 4
Golf geeks can rejoice about possible Mickelson-DeChambeau banter during The Match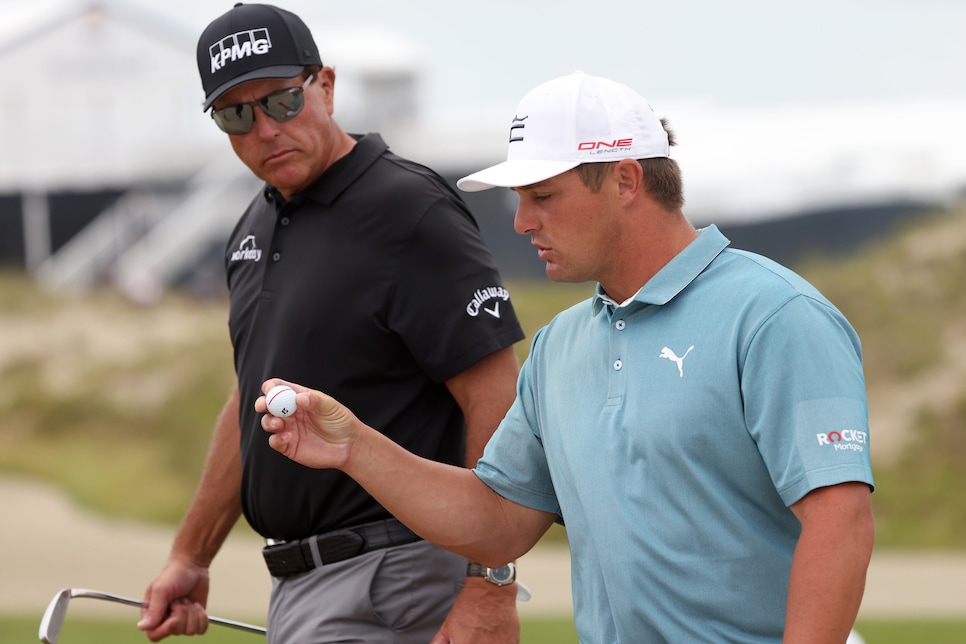 Phil Mickelson and Bryson DeChambeau walk off the tenth hole during a practice round prior to the 2021 PGA Championship.
Jamie Squire
Grab your TrackMan and hold onto to your pocket protectors, boys and girls. Two of golf's biggest nerds are about to enlighten us on a spin rate, launch angle and probably quantum physics. And like watching Bill Nye the Science Guy, you don't have to leave the comfort of your living room for the education.
Phil Mickelson and Bryson DeChambeau, the PGA Tour's nutty professor and mad scientist, will face off against each other on Tuesday in The Match 4 with a couple of NFL quarterbacks by their sides. Mickelson's got Tom Brady as a partner and DeChambeau draws Aaron Rodgers, and though good fun should be expected all around, we will warn you now that Mickelson plans to reprise some of the deep, deep golf technical talk that he and DeChambeau have engaged in during numerous practice rounds on tour. And for anybody who saw The Match 3, you know Phil can yak with the best of them.
And Phil's got plans to talk, and apparently, a bunch of questions in his head for Bryson.
"He's a fascinating guy to talk to," Mickelson said on a conference call on Monday. "I'm going to try [on Tuesday] to ask a lot of questions during [the broadcast] and have him talk about his thought process on some areas that I know are fascinating," Mickelson said. "And I think viewers are going to be very interested to hear what he has to say, too. He's a very dynamic individual."
Mickelson, 51, and DeChambeau, 27, have developed a rapport over the past few years, and while the elder surely has taught the junior some things, Mickelson insists he has benefitted greatly from the relationship, too.
"He has really helped me in a lot of ways," Mickelson said. "He can bring out a lot of knowledge, and then I have to siphon through it to see what I can apply to my own game and help me. I just have a lot of respect for him—his knowledge of the game and how things work."
This is definitely the week for golf science. The Match will be played at The Reserve at Moonlight Basin in Big Sky, Mont., and with an elevation of 7,500 feet while measuring at 8,000 yards, the course is giving Mickelson and DeChambeau a reason to put their brains into overdrive.
In the old days—and even now for regular hacks—golfers basically add about 10 percent on their yardage at elevation. But, of course, the elevation can be different, as can the temperature, barometric pressure, etc.
The modern pros have machines that calculate all of those factors. So Mickelson can be at home in San Diego at sea level, but input the conditions he'll find in Big Sky, and, voila!, he can "play" at Moonlight Basin.
Of course, with Phil, it's not quite that simple. He was asked if elevation generally creates a two-club difference for shots.
"It's hard to say that generically," he said. "When you hit the ball harder, you hit it higher and have more spin to keep it in the air. When you have a lot less density in the air, you might get 15 to 18 percent. If you hit it with a shorter backswing, the ball is coming out lower, and you might only get an 8 percent difference. To say it's two clubs or 'x' percent is not going to be very accurate."
DeChambeau has done all the calculations, too, and for his part he's predicting an explosive show. He's talking about his usual 340-yard drives possibly carrying 380 to 400 yards in the air.
"I'm going to try to hit as many greens as possible that are 400-plus," DeChambeau said.
For DeChambeau, the hit-and-giggles match is probably perfectly timed. He is coming off a rough few weeks that included a back-nine meltdown in the U.S. Open and only his second missed cut of the year in the Rocket Mortgage last week after splitting with his longtime caddie before the tournament. It's also an opportunity to perhaps present himself in a different light, beyond the perception that he's a dour, perfectionistic grinder.
"For me, I think it's a unique opportunity for us to showcase a little bit different side of everybody," DeChambeau said. "I think it's a way to showcase something unique and cool that a lot of people don't get to see on a daily basis. They just see us working in our environments. They don't get to see us interact and have fun."
Mickelson seems to know DeChambeau as well as most players on tour and contends that "he has a very kind heart that is thoughtful toward others."
"It's why he's doing The Match. He wants to raise money for a lot of other people," Mickelson said. "It's why he's open in sharing his information. He wants to help people.
"Unfortunately, people take that the wrong way. They take it as though he's showing off his knowledge. They take it as though he's talking down … and really what he's trying to do is share so that you understand his thought process in an effort to try to help, because his heart's that big."