Live Blog
U.S. Open 2022 live updates: Matt Fitzpatrick wins U.S. Open, conquers The Country Club one more time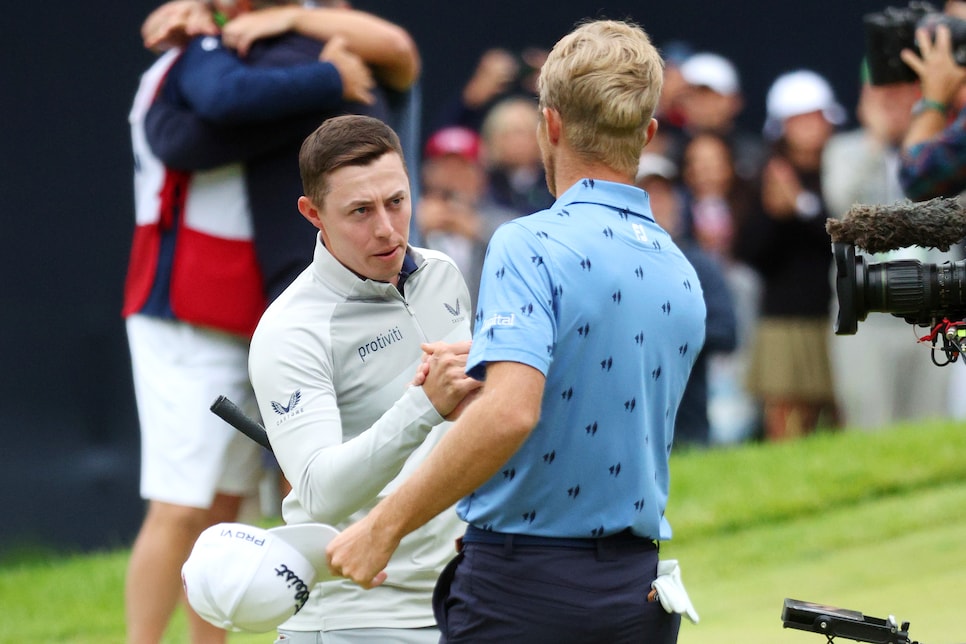 BROOKLINE, MASSACHUSETTS - JUNE 19: (L-R) Matt Fitzpatrick of England and Will Zalatoris of the United States shake hands on the 18th green after Fitzpatrick's victory during the final round of the 122nd U.S. Open Championship at The Country Club on June 19, 2022 in Brookline, Massachusetts. (Photo by Andrew Redington/Getty Images)
Andrew Redington
Sunday drama topped Saturday at The Country Club, and we saw a great treat late on this Father's Day. By all accounts, the USGA has nailed the course setup all week. The result was a phenomenal leaderboard heading into the final round—Will Zalatoris (67) and Matt Fitzpatrick (68) each shot the rounds of the day on Saturday—and they were rewarded with the co-lead after 54 holes.
(Scroll down for the latest updates)
Zalatoris and Fitzpatrick have played as well as anybody in the world over the past six months, and clearly their stellar play has been rewarded at The Country Club. It also seems like an odd coincidence that both are waiting for their first PGA Tour victory … they'll have the chance to make history by making the U.S. Open their first tour title. And then there is Scottie Scheffler, the World No. 1 who is looking for capture his fifth win of the year and second major championship.
Ultimately it was Matt Fitzpatrick who won after shooting 68-70-68-68 for a six-under 284 total. He beat World No. 1 Scottie Scheffler and Will Zalatoris by one shot. Zalatoris missed birdie on the last hole by an inch or he'd have been in a playoff for the second consecutive major, after losing to Justin Thomas in a playoff at the PGA Championship.
U.S. Open 2022 live updates:
6:55 p.m.: The final leaderboard from a wild week at the 122nd U.S. Open at The Country Club. Matt Fitzpatrick (-6), Scottie Scheffler (-5), Will Zalatoris (-5), Hideki Matsuyama (-3), Collin Morikawa (-2), Rory McIlroy (-2), Denny McCarthy (-1), Adam Hadwin (-1), Keegan Bradley (-1), Gary Woodland (even), Joel Dahmen (even).
6:50 p.m.: Will Zalatoris came within a half inch of dropping his birdie putt there on the 18th hole. But it missed and handed Matt Fitzpatrick his first win on American soil. Fitz becomes the 13th person to win the U.S. Amateur and the U.S. Open. Tremendous drama until the very end.
6:47 p.m.: MATT FITZPATRICK WINS THE U.S. OPEN.
6:42 p.m.: Clutch. Absolutely clutch shot by Matt Fitzpatrick into the 18th green from the fairway bunker. He'll have a look at birdie, but Will Zalatoris is about four feet closer. This is absolutely coming down to the very last putt. Still any number of scenarios can happen here.
6:39 p.m.: Major, major, major mistake by Matt Fitzpatrick off the 18th tee. He's left and in a nasty fairway bunker. Will Zalatoris is safely in the middle of the fairway. Again, Fitz has a one-shot lead over Zalatoris and Scottie Scheffler. This is wild.
6:37 p.m.: Keegan Bradley is getting an even better applause today walking up 18 than he did yesterday. And yesterday was incredible. He will record a top-10 finish for his hometown fans in his hometown major championship.
6:35 p.m.: Will Zalatoris missed a birdie putt from 12 feet on the 17th hole and Matt Fitzpatrick followed with a birdie miss from a similar distance. The scene is set. Heading to the last hole Fitzpatrick holds a one-shot lead over Zalatoris and Scottie Scheffler, with Scheffler in the house.
6:32 p.m.: Scottie Scheffler had a birdie look from 25 feet on the last hole and missed it. It was a great roll but it just slid by the hole. He shoots three-under 67 today to become the leader in the clubhouse at five under par. Matt Fitzpatrick and Will Zalatoris are lining up birdie putts back on the 17th green.
6:26 p.m.: One final Rory McIlroy update. He had birdie chances at each of the last two holes, was not able to convert on either and shot one-under 69. Rory ends the week at two under par and tied for fifth place. Another great finish, but the search for his fifth major championship will have to wait longer.
6:24 p.m.: Now it's Will Zalatoris who bounces back with a birdie on the 16th hole to rebound from bogey on the 15th. He's now five under for the championship, tied with Scottie Scheffler, only one shot behind leader Matt Fitzpatrick. This is coming down to the very last putt. Riveting action.
6:19 p.m.: And just like that Scottie Scheffler makes birdie on the 17th hole and is only one shot behind Matt Fitzpatrick. This leaderboard is shuffling hole-by-hole with wild turns and swings all over the place. Fitzpatrick (-6), Scheffler (-5), Will Zalatoris (-4).
6:16 p.m.: We have a developing situation. Matt Fitzpatrick made birdie on the par-4 15th hole while Will Zalatoris made bogey. Fitzpatrick now holds a two-shot lead with three holes remaining.
6:13 p.m.: In the words of Yogi Berra, "it's getting late early" at Brookline. There's no more than 45 minutes remaining and it's a three-horse race with Matt Fitzpatrick looking better than Will Zalatoris and Scottie Scheffler at the moment.
6:11 p.m.: Bravo Denny McCarthy. He made the cut on the number late Friday and shot 68-68 on the weekend to end at one under and in a tie for seventh place.
5:56 p.m.: Rory McIlroy has just made consecutive birdies on the 14th and 15th holes, followed it up with par on the 16th but is likely just a little too far back. Unless, of course, he makes birdie on the last two holes. Right now he's at two-under total. If he were to get to four under ... well, who knows. But chances now of winning a fifth major are slim at best.
5:51 p.m.: It's been eerily quiet these last 15 minutes, since Matt Fitzpatrick made that enormous birdie. He and Zalatoris are still tied at five under at the top. Scottie Scheffler is a shot back in third place. A reminder of the last four holes: par-4 15th, par-3 16th, historic par-4 17th hole and the par-4 18th hole.
5:36 p.m.: Oh my! Looking a bit flat, Matt Fitzpatrick just rolled in a birdie from downtown Boston (more than 40 feet) to tie for the lead. Zalatoris then answers by making an incredible par save from 12 feet to stay tied. Meantime, Scheffler misses a six-foot birdie at 13 and stays one back.
5:22 p.m.: Hideki finishes with a par to shoot a studly 65. He played his final 30 holes without a bogey. At three under, he would seem at least one shot shy of what it will probably take to win. Though we can't count him completely out on this monster.
5:20 p.m.: Just like that, Zalatoris gives one back. Say this, the afternoon has not lacked drama. Zalatoris couldn't overcome a badly sliced drive at No. 12 into the deep stuff. Nearly holed out a putt from off the green, but bogeyed to have only a one-shot lead over Fitzpatrick (who parred 12) and Scheffler (par on 13).
5:07 p.m.: We got some match play going for the back! Willy Z just made another birdie, from 18 feet, at 11, and then Fitzpatrick misses from just a foot shorter on nearly the same line. And then he missed the comebacker from seven feet. A Fitzpatrick three-putt bogey. Zalatoris is now the leader by two.
5 p.m.: Matsuyama absolutely chunks his approach after a great drive at 17 and it trickled back into deep graph. Unless he gets up and down from there, he's probably out of it.
4:53 p.m.: A terrible three-putt bogey for Fitzpatrick at No. 10 brings him back to Zalatoris. The miss on the par putt was from six feet.
4:52 p.m.: With three birdies in his last five holes, Hideki Matsuyama is in the conversation. Through 16, he's only three back.
4:48 p.m.: Scheffler looked invincible on Saturday before struggling coming in. He's had the same experience today. He missed his first putt insiude five feet at the 11th to make his second straight bogey, and now he's two back of Fitzpatrick and one behind Zalatoris. The defending tournament champion, Jon Rahm, is all but done. A bogey at 10 drops him to even.
4:40 p.m.: What a birdie for Willy Z! After driving into the right rough at 9, he blasted an iron that chased onto the green and then drained the 18-footer for birdie. He gave it the early walk too! He's only one back of Fitzpatrick as the two try to feed off each other.
4:37 p.m.: Fitzpatrick is the solo leader. Scottie Scheffler just made his first bogey of the day at No. 10 to drop a shot. McIlroy is toast. Fourth bogey of the day, at 11, drops to even. The clock on the next major win continues to tick.
4:25 p.m.: Matt Fitzpatrick hit a brilliant fairway wood to reach the par-5 eighth in two, and an excellent lag will give him a birdie and tie with Scheffler. Zalatoris coud only make par on the same hole.
4:07 p.m.: Scottie Scheffler faced disaster at No. 8 when his approach spun back off the green and nearly to his feet. But he's been so good today that even that didn't faze him, as the World No. 1 pitched again to eight feet and made the birdie putt. Scheffler holds the lead at six under, and Will Zalatoris is now just two back after hitting it stiff for birdie at 6 and 7.
3:57 p.m.: A long range par putt gives Fitzpatrick some trouble: He leaves himself the longest par putt he's had today, but it lips out. He drops back to 5-under.
3:54 p.m.: Will Zalatoris has continued to put together quite a rocky start this afternoon, but the young gun's tee shot on the par-3 6th is bound to give him some momentum back. He brilliantly sticks it to three feet.
3:48 p.m.: After an absolutely stunning tee shot on the driveable par-4 5th, Fitzpatrick has a testy putt for eagle, which he misses by 6 feet. It's the Northwestern alum's first real missed shot of the day, but he drains the comebacker, joining Scottie Scheffler in the lead at 6-under.
3:43 p.m.: Golf fans know that when the broadcast turns to a player who's out of contention, there's a thrilling shot coming their way. Sebastián Muñoz, who is 2-over par for the tournament, nearly aces the par-three 11th, a sneaky difficult hole despite its short length.
3:35 p.m.: Scottie is unstoppable right now. The man is on a rampage. He pours in another birdie at the 6th, moving one shot ahead of Fitzpatrick, who just missed a slippery chance for birdie on the 4th.
3:24 p.m.: McIlroy is taking golf fans on a mighty rollercoaster this afternoon at The Country Club. He sticks one at the par-3 6th, completing a bogey-birdie-bogey-birdie streak. He's only made one par all day! Psycho scorecard incoming.
3:20 p.m.: Fitzpatrick joins Scottie Scheffler for at 5-under! The Englishman buries a putt at the famed 3rd hole.
3:16 p.m.: The world No. 1 is once again doing world No. 1 things. Scottie Scheffler birdied the fourth to take a solo lead. No one has played the first four holes in 3-under par this entire week. You just can't doubt this guy.
3:12 p.m.: Will Zalatoris is facing some early adversity: he three-putted the par-3 2nd and just drove it in some gnarly fescue on the 3rd. The yippy stroke that we mentioned is definitely in play for the 25-year-old on this major championship Sunday afternoon—it will be interesting to see if he can manage the mental block as the round progresses.
3:05 p.m.: After an unfortunate bogey on the tough par-4 3rd, Rory McIlroy gets his momentum right back on the 4th. He confidently drains his birdie putt to move back to 2-under for the tournament, two strokes back from the lead.
2:53 p.m.: Our final pairing is off and Matt Fitzpatrick puts one close on the first green, leaving himself a very makeable birdie putt to take a solo lead. Will Zalatoris misses the green by just a few yards, but he chops a nice little chip out of TCC's tangled rough to give himself a short par putt.
Alas, Fitzpatrick misses low and the two leaders start with steady pars. We should probably mention that Zalatoris' back-stroke was a bit terrifying to watch. He finds the bottom of the cup, but watch out for the Wake Forest alum's short range putting as the afternoon goes on.
2:44 p.m.: Scheffler is absolutely dangerous right now. He drains a birdie putt on the long par-3 second hole. Back-to-back birdies give him a share of the lead. Things are heating up very, very quickly.
2:35 p.m.: World No. 1 Scottie Scheffler is off and he gets what looks like a pretty brutal break on the first fairway—his ball comes to rest in a crispy fresh divot. But what happens next shouldn't surprise us one bit. The divot is a minor speedbump for Scheffler. He sticks his approach tight and sinks the birdie putt. He's one back and folks, we're in for a fascinating afternoon.
2:24 p.m.: The moment we've all been waiting for has arrived: Rory McIlroy has teed off on this glorious overcast Sunday afternoon for his final round at The Country Club. And it's happening people. He rolls in a smooth 20-footer to start off with a birdie! Electric! He's got that pep in his step that sports fans around the world know all too well. If the Irishman fires off a 32 on this front nine, he could single handedly make this the greatest U.S. Open ever.
2:10 p.m.: The race for low amateur is on, but it's looking like the University of Texas' Travis Vick might have it in the bag. The Longhorn made a clutch birdie on the 625-yard par-5 14th to get to seven over par for the tournament. The flat stick has served Vick well as of late, as he sunk the putt that sealed Texas' NCAA team title last month. Lurking close behind Vick at nine over, however, is Sam Bennett, the No. 5 ranked amateur in the world and incoming fifth year senior at Texas A&M. Let the duel begin.
2:00 p.m.: Yesterday, Denny McCarthy started his third round sitting T-55. A Saturday 68 (tied for the second-lowest round of the day) vaulted the 29-year-old up the board and today he tees off tied for 11th, just five shots back. After a quick birdie at the first, McCarthy—one of the best putters on tour—looks to continue the climb on Sunday.
1:40 p.m.: We talked yesterday about how the driveable par-4 fifth would play longer into a stiff headwind off the left. Today, the wind has further shifted and it's playing directly into a steady breeze, with only the well-struck drives from the longer guys able to reach the green. Patrick Cantlay's drive was about a foot away from clearing the front bunker and possibly bounding onto the putting surface. Instead, it plugged in the face and his violent lash sent the ball a couple of feet out of the bunker before it caught the slope and rolled 20 yards back down the fairway. A forgettable pitch nearly rolled down the same slope. A three-putt later, it adds up to a dreadful double bogey for Cantlay, who was within 25 yards of the pin with his tee shot.
1:20 p.m.: The final pairing of Zalatoris and Fitzpatrick are off in about an hour-and-a-half (2:45 p.m. ET), a full hour earlier than yesterday. Why the change? For the fifth consecutive year, a two-hole aggregate playoff will be used in the event of a tie—as opposed to the former 18-hole Monday playoff. And, the USGA is likely counting on going extra time this evening; there has been a playoff in each of the three previous U.S. Opens at The Country Club. Remember that one back in 1913?
1:09 p.m.: Davis Riley lost to Scottie Scheffler in the final of the 2013 U.S. Junior Amateur. A year later, Riley lost to Will Zalatoris in the final of ... the U.S. Junior Amateur. Seeing Scheffler and Zalatoris above him on the leaderboard at another USGA championship, Riley opens with a birdie at the first to get to one over as he tries to track down the two guys who have kept him from hoisting a USGA trophy.
12:53 p.m.: Patrick Cantlay! The stoic 30-year-old opens his final round birdie-birdie to climb back to one over. The 2021 FedEx Cup champion and World No. 4 has been surprisingly unspectacular in majors so far in his career, recording just two top 10s.
12:35 p.m.: Justin Thomas started the final round of last month's PGA Championship seven shots back of the lead. He starts today seven shots back. However, with a seemingly more difficult course and over 20 players between him and the lead (versus just six at the PGA), it'll be a tall task to mount a similar comeback. A task made taller by a scrappy opening bogey for JT. He's now four over, eight shots back.
12:21 p.m.: Another U.S. Open, another stellar Sunday performance from ... Guido Migliozzi! A year after the Italian shot a final-round 68 at Torrey Pines to finish T-4 (and earn an exemption this week), he is sporting the round of the day at four under after sinking an eagle putt on the par-5 eighth. Currently sitting T-17, he'll look for a few more red numbers coming home to secure his spot next year in Los Angeles.
12:11 p.m.: In signing off from early coverage on USA, Justin Leonard predicts the winning score will be six under, citing a softer course due to overnight rains. If that proves true, it may be difficult for any of the guys teeing off within the next hour (JT, Spieth, DJ) to make up the necessary ground. That said, this is a U.S. Open Sunday, and while many of the names near the lead are proven winners, The Country Club may have something to say about Leonard's prediction.
11:51 a.m.: Travis Vick is a name more golf fans will get to know in the coming years. He's a rising senior at the University of Texas and led his Texas Longhorns to a national championship in 2022, hitting the title-clinching putt just a couple weeks ago. He also qualified for this year's U.S. Open and is playing with two-time U.S. Open champ Brooks Koepka this morning.
Though Vick has sought rulings from rules officials four times according to the TV broadcast, he's currently even par on his round, which is four better than Koepka ... who has two double bogeys and a bogey through five holes. Vick's iron play has been extremely impressive through the first five holes ... and he's getting on the radar of a lot of golf fans in the process.
11:35 a.m.: Grayson Murray has been a content machine this morning ... his poor equipment!
11:12 a.m.: We enjoy the fact golf has followed other sports in capturing footage of golfers arriving to the course during majors. It probably started with Tiger and the fascination around him—but these behind-the-scenes looks are an intriguing look we rarely get to see.
10:58 a.m.: The frustration of the U.S. Open ladies and gentlemen. Grayson Murray has had a good week at Brookline, but just made a triple bogey ... and then unleashed the fury on this putter toss:
10:35 a.m.: With 20 players having started their final rounds thus far, there's only one player under-par. And that's Haskins Award winner Chris Gotterup, who stuck his tee shot tight at the par-3 second hole. Other than him, The Country Club is winning over everyone else early on Sunday.
Here are all the pin positions for the final round. It doesn't look like too many easy locations ... particularly down the stretch...