Brookline Rewind
Fitzy's major moment, The Country Club shines and a little-known player perk: 18 U.S. Open parting thoughts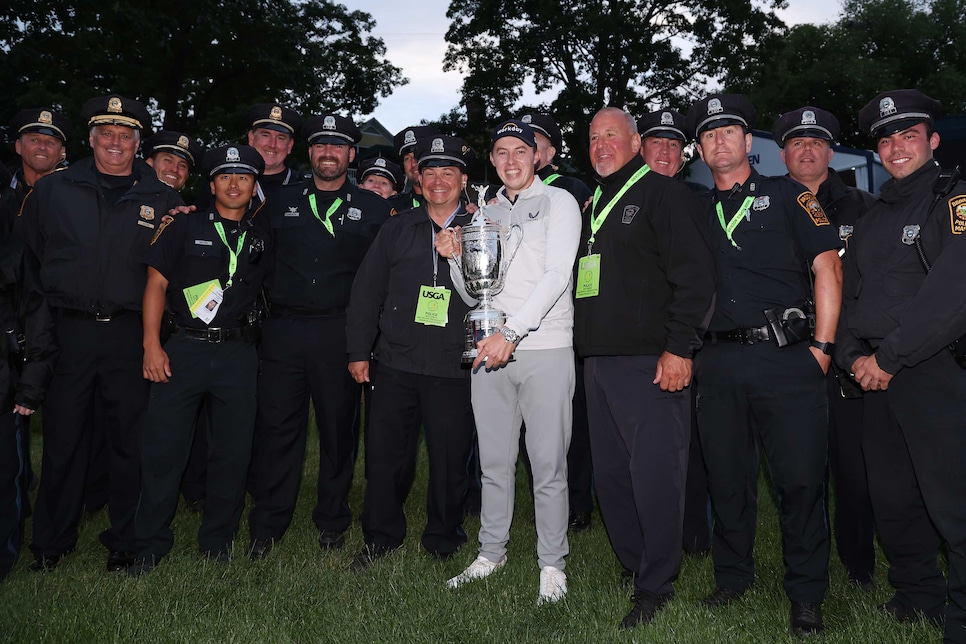 BROOKLINE, Mass. — Matt Fitzpatrick is a major champion, winning the U.S. Open with a legendary ball-striking performance—and doing it at The Country Club, where it all started. There is so, so much to discuss. Here are 18 parting thoughts from Brookline.
1: We start, as always, with the winner. This was the second consecutive major championship that Matt Fitzpatrick found himself in the final pairing on Sunday. His first tee shots in each help illustrate the different mindsets he was in.
When Fitzpatrick gets nervous, his tempo gets even quicker than it normally is, and his miss is a low pull. When he hit that shot on the first tee on Sunday at Southern Hills, you knew it was going to be a long day. He fought it all afternoon and had to play defensively the entire day. His first tee shot at The Country Club on Sunday was a tight draw down the center. He had a different look about him the entire day. At the PGA, it seemed as if he was hoping to play well, and when he didn't early, he spiraled. At the U.S. Open, he expected to play well, and even when he wavered in the middle of the round—a missed five-footer for par at 10, and a three-putt from 20 feet at 11—he steadied himself, buoyed by the belief that he was swinging the club as well as he ever has, and that two hiccups on the green wouldn't change that fact. Hitting 17 of 18 greens in regulation in the final round of the U.S. Open, at a course with famously small greens, well, that's among the best ball-striking rounds in major championship history. And the shot that sealed the deal, a sky-high cut from the fairway bunker that had to get up quickly to clear the lip … well, just let Will Zalatoris provide the context.
"I thought even going for it was going to be ballsy," Zalatoris said. "It's probably 1 in 20 … at best … to pull it off." Fitzpatrick never considered laying up. Experience in high-leverage moments is invaluable, as is belief.
2: This one hit Will Zalatoris hard. When it's your first chance at winning a major and you don't, you chalk it up as a learning experience. He had that at the 2021 Masters. When you get beat by a guy playing perfect golf, as he did in the playoff to Justin Thomas at last month's PGA Championship, you can rest easy at night. This one? There's no easy way to get over it … except, and it's a big except, for the way he putted on Sunday. Zalatoris' stroke has been an easy target; at times, on the short ones, it downright difficult to watch. But he putted beautifully throughout the week, and he is genuinely one of the better mid-range putters on the PGA Tour. How solid he looked on the shorties on Sunday should go a long way toward his confidence moving forward, for if he continues that work with the flatstick, he is a top-five player in the world. He now has seven top-eight finishes in nine major starts as a professional. He has major championships in his future. Multiple.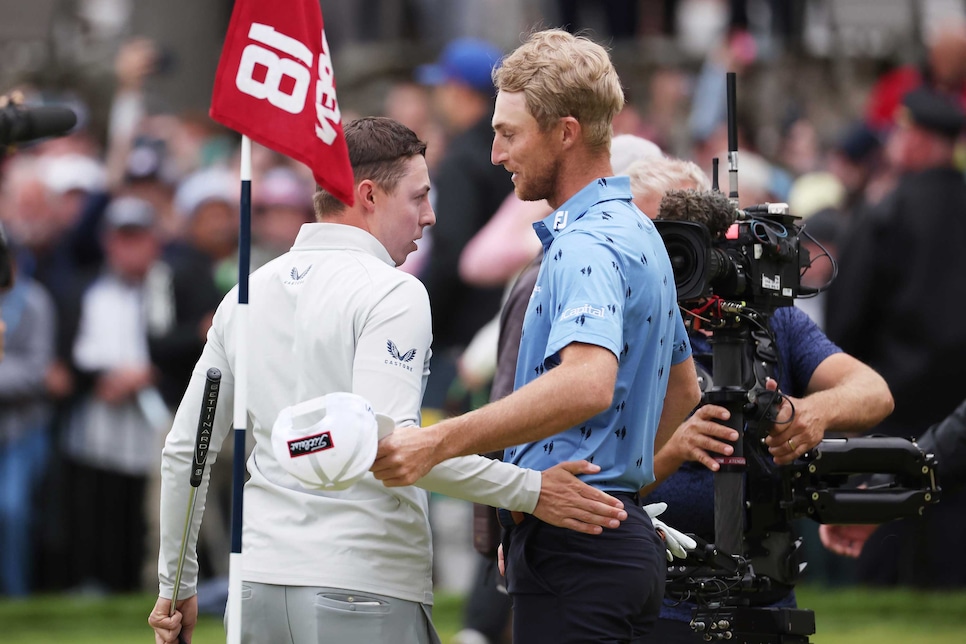 3: It's amazing Billy Foster had managed not to be on the bag for a major championship given the list of guy's he's looped for full-time: Seve Ballesteros, Darren Clarke, Thomas Bjorn and Lee Westwood. Early in the week he told The Caddie Network that if Fitzpatrick had putted for Westwood, he might've won six or seven majors. Clearly, the near-misses stayed with him—none more so than the 2003 Open Championship, when Bjorn held a one-shot lead heading into 16 on Sunday before leaving two shots in a bunker and throwing it away. Foster can hardly tell that story without breaking into tears. Now, more than 30 years after he began his caddieing journey, he fills the lone hole in his resume. He was more emotional than his boss on the 18th green.
4: Golf needed a week like this. The last fortnight has been dominated by rumors, drama and existential crises. This was the perfect chaser for all the conjecture, and all the mind-numbing discussion of "generational wealth" and "growing the game." The U.S. Open is the purist golf tournament in the world, with nearly half the field earning their place through World Ranking agnostic qualifiers. This week's field featured a high school senior, college kids, a mid-amateur, mini-tour players, Korn Ferry Tour players, PGA Tour superstars, legends of days past and a 57-year-old journeyman.
The best players gravitated toward the top of the leaderboard throughout the course of 72 holes—funny how that happened—and Sunday was positively buzzy … until Mexican television reminded us that the rumors, drama and existential crises aren't going anywhere. They reported that Abraham Ancer would be the next to make the jump to LIV. The news dropped just as the leaders were making the turn at the U.S. Open. Depressingly fitting. There's always a Monday morning letdown after an electric major, but given the storm we're about to re-enter, this one's tough to swallow.
5: Collin Morikawa will be thinking about that third-round 77 for a long time. Despite not having his patented cut to rely on—he said he played a draw all week for the first time since his freshman year of college—Morikawa shot three rounds in the 60s, including a final-round 66, at the U.S. Open. His stuff was good enough to win, and he wasn't far off notching the third leg of the career Grand Slam … at 25 years old.
6: In non-Masters major championship golf, coverage complaints are a rinse, repeat situation. The consensus: too many commercials, not enough golf shots. This week, however, the outrage reached an all–time high—so much so that Mike Whan, CEO of the USGA, responded on Twitter to assure fans that his organization is listening and working with broadcast partners to address the problem.
That response was significant for a few reasons. The first: Whan is a new type of leader for an organization that, historically, has been a caricature of golf's stuffiness. He is not a golf lifer or purist, he is a new-age executive who knows the value of positive PR. It's hard, maybe impossible, to imagine Mike Davis or any of his predecessors responding to public criticism. It also struck a note given recent happenings in the golf world. The whole LIV situation has shined a light on the professional game's shortcomings, and the emergence of a worthy (or at least deep-pocketed) competitor to the PGA Tour has certainly heated the seats of the sport's decision-makers. Yes, this was not a PGA Tour event, but the ever-shifting landscape is forcing all executives off their metaphorical high-horse to re-examine their product and find ways to improve it. If nothing else, let's hope that'll lead to some lasting positives.
7: Gripes about non-Masters major championship apps are also a rinse, repeat situation. The USGA's offering functioned better than the PGA of America's, for sure, and was just a hair behind the PGA Tour's in terms of performance. The Masters? That's in a different category. You know it, and so does the USGA. One USGA official offered this, early in the week: "The Masters app just ruins it for all of us." They're trying; they're just a bit outgunned resources-wise.
8: This could well be the last time we see Stewart Hagestad in a major championship. The 31-year-old was playing in his fourth U.S. Open and sixth major overall by way of his second U.S. Mid-Amateur title last summer. He's been the lone mid-am on three straight U.S. Walker Cup teams. He lives a charmed life, bouncing around finance jobs over the last half-decade while also having time to keep his game in good enough shape to compete with the college kids all summer long. He's an easy target for criticism, given the financial safety net that provides scheduling flexibility. But before you send a mean tweet in his direction, ask yourself: If given the opportunity, and if you had the game, would you not do the exact same thing?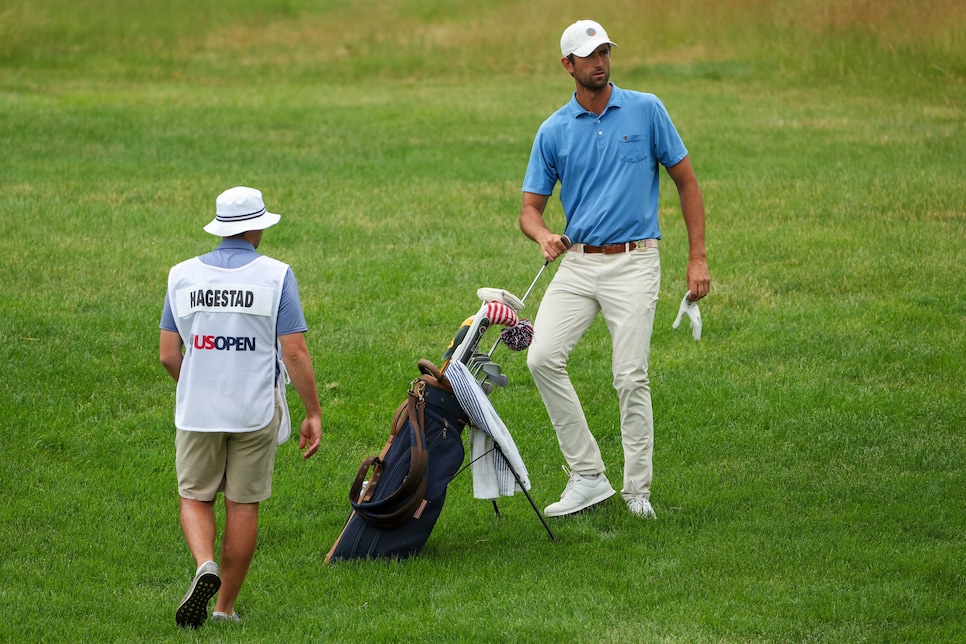 9: It is legitimately astounding that Scottie Scheffler and Collin Morikawa are both 25 years old. You show these two pictures to a non-golf fan and they'd swear these men must be at least 15 years apart.
10: Consider this an official motion to give The Country Club a place in the U.S. Open rotation, which currently includes Pebble Beach, Oakmont, Pinehurst and Shinnecock Hills. TCC matches up to each of those as a pure golf course—Will Zalatoris called it the hardest he's ever played, and the general consensus among players was that it offered a varied test and forced players to plot their way around more than U.S. Opens of recent vintage. Length is always an advantage, of course, but it was a prerequisite at Winged Foot and Torrey Pines; this week, guys like Adam Hadwin and Joel Dahmen were able to hang. Add in the history attached to this place and the tremendous Boston sports fans and you've got a recipe for one hell of a major championship. It'd be a damn shame if we have to wait another 34 years to come back here.
11: There are moments in every major that remind us of one golf's chief charms: that you, watching at home, can relate to the emotions that they, the best players in the world, are feeling.
The best example from this week came on Friday, when Collin Morikawa was playing the drivable par-4 fifth. His tee shot found a bunker short and right of the green, and the pin was cut just a few paces over a false front. Morikawa caught his bunker shot a tad heavy, and the ball rolled to the top of the ridge and, mercifully, stopped. Morikawa leapt out of the bunker and knocked the sand off his feet as he jogged to mark his ball, terrified that the slightest breeze would send it tumbling down the slope. He got there in the time, the crowd loved it, and he thanked the crowd for appreciating his stunning display of athleticism. All of us have been in that situation before. It was hard not to smile.
12: I always like to pass along the funniest (family-friendly) line I heard from every major. This week, there was a runaway champ. During Thursday's first round, Dustin Johnson was sauntering up to a tee box when a fan asked him a LIV-inspired question: "Hey, DJ! How big is your bank account?!"
His response, without missing a beat, dripping in swagger and in a Southern drawl: "Bigger'n yours."
Not much else to say, is there?
13: A drivable par 4 is a welcome change-of-pace every week, but especially so at a U.S. Open. It throws the guys a bone of sorts, a lone birdie opportunity interspersed between 500-yard, hold-on-for-dear-life beasts. Why, then, did the fifth at The Country Club fail to scratch that itch?
The great drivable par 4s have greens surrounded by vortexes of trouble. This presents the player with options: lay up with an iron to the fairway and give yourself a flip wedge into the green … or take on the trouble for a chance at glory. Thread the needle and an eagle becomes a distinct possibility; hit a foul ball and you could leave with 6. The hole should make you question yourself. It serves as a litmus test for a guy's confidence level.
The fifth did none of that. Almost no one laid up off the tee, even when the wind was blowing into them during Sunday's final round. And that's fine. That alone doesn't make it a terrible hole—almost no one lays up on the par-4 10th at Riviera, for example—but the reason for it does: there was just no trouble up by the green. Miss left and you were in some trampled down rough with a green that slopes back to front, so even mis-hit shots from the rough stopped on the fringe. Miss to the right and you had a great angle to the middle of the green and a little runway of fairway before the green to run the ball up. The Country Club charmed players, fans and media alike all week. But the fifth stood out as the lone weak hole.
14: Conversely, the short par-3 11th was just a delight all week. The hole is part of the Primrose nine at TCC and hadn't been used in championship play since Francis Ouimet's victory in the 1913 U.S. Open. It must be a part of any The Country Club layout moving forward. A short, treacherous par 3 that demands precise distance and spin control weeds out those who cannot control their nerves.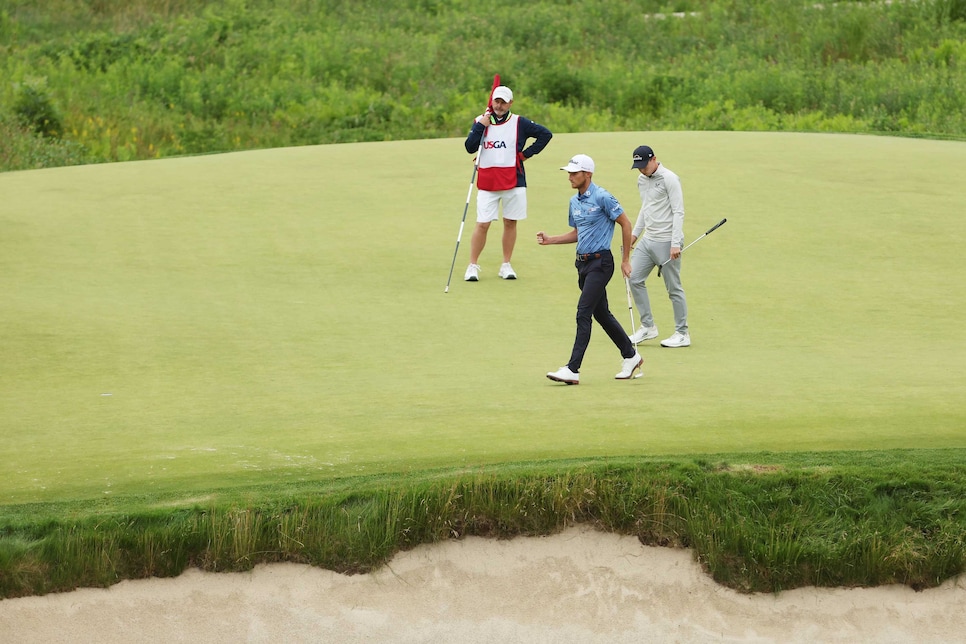 It played a pivotal role on Sunday. Will Zalatoris played first in the final group on Sunday and hit a wedge that dug into the center of the green and spun back to pin high. Matt Fitzpatrick followed with a much lower-flighted shot that plopped down and stuck just inside Zalatoris' ball. Zalatoris would be giving Fitzpatrick a read. Advantage, Fitzpatrick … until Zalatoris poured his birdie putt right in the center, his fourth in his last six holes. Fitzpatrick, surely eager to answer with a birdie of his own, gunned his five feet past the green and yanked the comebacker. Length is not necessary to challenge the best.
15: Perhaps you noticed that a bunch of the guys were sporting fresh 'cuts this week. Like, really fresh. Turns out there is an "Official U.S. Open Barber" who, it would seem, provided haircuts free of charge for any participant. Perks, man. Perks. I managed to snap a photo of this guy, and some pointed out the irony of a bald guy giving haircuts. I'm going to give him the benefit of the doubt and assume he's not bald, he's just got a higher and tighter haircut than 99 percent of humans on this planet.
16: Brooks Koepka and Joel Dahmen couldn't be more different—in their games, their résumés, their bank accounts and the way they carry themselves. Koepka gives off textbook alpha-male energy: I'm cooler than you, and I don't care what you think. "I mean, I'm pretty confident," Koepka said Friday, "but I feel like everybody should be confident in themselves, and if you're not—people hate confidence. That's why people aren't a big fan of me."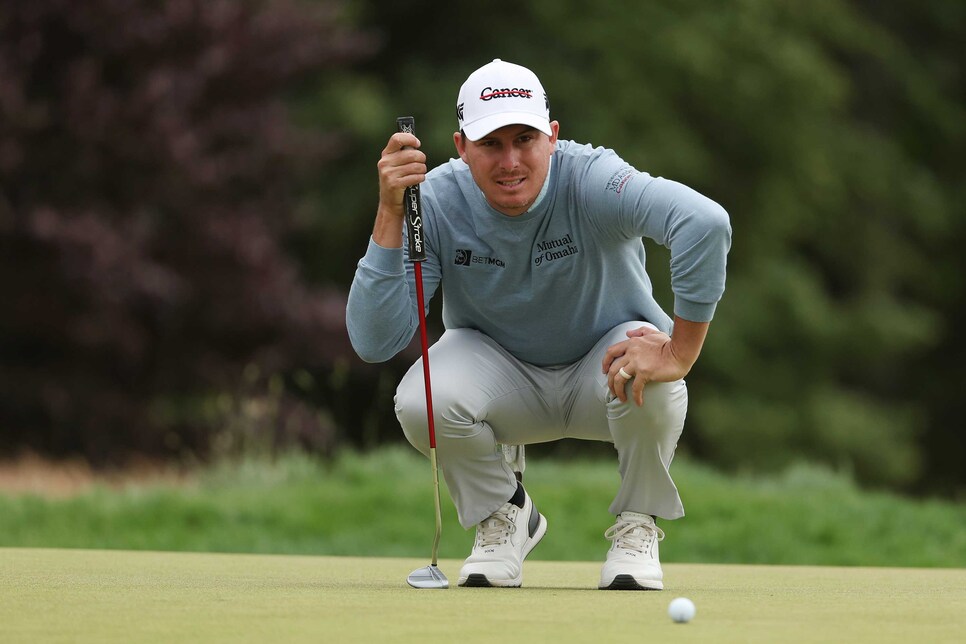 Dahmen, on the other hand, has said numerous times that he doesn't think he'll ever win a major. He debated not even trying to qualify for the U.S. Open because, he told The Athletic, "If I qualify, I'm just signing up to get my ass kicked." Back in November, he told me: "Look, I'm not selling a single ticket. Maybe to a couple buddies, but I probably gave them free tickets anyway. I'm not bringing anyone here. I'm not adding a ton of value outside of maybe some Twitter stuff." You get the sense both men lean into their personas a bit, that the way they truly feel is probably a bit less extreme than they let on. Still, it's fascinating the wide range of attitudes across professional sports. Golf is no different.
17: It's not the most glamorous part of the gig, but part of being a golf journalist is trying to eavesdrop on conversations between famous golfers. As such, during a practice round on Monday, I noticed Jon Rahm and Rory McIlroy having an animated exchange, and I did my best to hustle over and see if I might be able to catch the drift. Turns out they were discussing a new special-edition watch that surely costs half my yearly salary. The Morikawa anecdote stood out for its relatability; this one, then, was a reminder that while we share a passion for golf, their toys are a bit shinier than ours.
18: The NIL era has officially hit golf. In years past, the amateurs always stick out on the driving range, their stand bags and logo-less (or college-issued) shirts contrasting the pros' staff bags and NASCAR driver-like shirts that serve as mobile billboards. This week? Not so noticeable. Michael Thorbjornsen of Stanford and Charlie Reiter of the University of San Diego were both head-to-toe in TaylorMade, including the same staff bag that Rory McIlroy and Collin Morikawa had. Keita Nakajima, the World No. 1 amateur from Japan, had four different logos on his shirt. Nick Dunlap, the reigning U.S. Junior Amateur champion, had a logo on his right sleeve and a different one on the right side of his hat. We're all for people making money, but the line between amateur and professional continues to grow more faint.
Next up in this triple-crown like major cadence: St. Andrews. It'll be here before we know it.