BROOKLINE, Mass. — Admit it, you're jealous of Stewart Hagestad. Two weeks ago, the best mid-amateur in the world successfully defended his title at the Anderson, a prestigious two-man event at Winged Foot. ("I had a good partner.") This week, by way of his second U.S. Mid-Amateur victory last fall, he teed it up in the U.S. Open.
It wasn't the first time, either. Hagestad played the 2017 U.S. Open thanks to his first Mid-Am victory, then he made it through qualifying each of the next two years. He's played the Masters twice and was low amateur in 2017. Last month, he won the Coleman Invitational mid-am event at Seminole. Last year, he was runner-up at the Crump Cup, another big mid-am event at Pine Valley. He's been the lone mid-am on three straight U.S. Walker Cup teams. This week, he made the cut at The Country Club. It's been one helluva run.
"I've accomplished more than I ever thought possible in the amateur game," says Hagestad, 31, upbeat despite shooting a third-round 79 that left him well down the leaderboard. He plays in the first pairing out with Harris English on Sunday at 8:49 a.m.
He's upbeat because he ignores the social-media chatter. Hagestad is an easy target. Tall, handsome, polished, well-spoken, a member of multiple exclusive clubs—Los Angeles Country Club, the host of next year's U.S. Open, and Deepdale on Long Island—and, according to the keyboard warriors, a professional golfer masquerading as a mid-amateur.
"I'm at the point now where I just don't even look at Twitter," Hagestad says. "I really try not to. If there are 100 comments made on social media, 99 of them could be great and super supportive, and even if there's one negative one it still hurts."
It's true that Hagestad hasn't worked a traditional schedule for the last half-dozen years. But that doesn't mean he hasn't worked at all. After graduating from USC in 2013, where he was a solid but unspectacular college player, Hagestad went to New York to work as an investment analyst at KTR Capital Partners. He moved to Oak Tree Residential, then back to California, where hd did stints at Merrill Lynch, Crescent Capital and Houlihan Lokey. He's been in the MBA program at USC's Marshall School of Business for the past two years and has interned at Platinum Equity in the summers.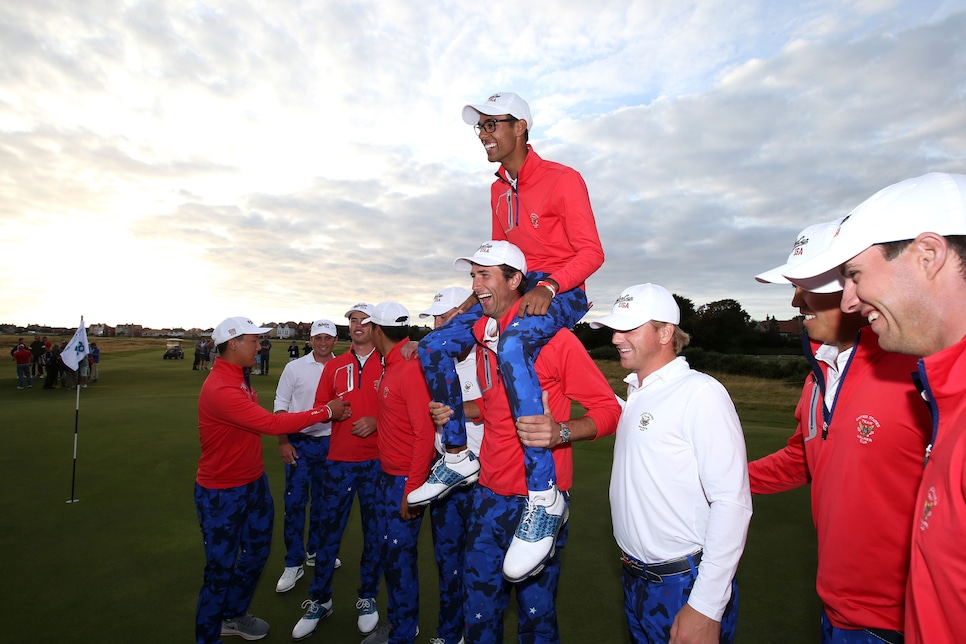 Stewart Hagestad, carrying Akshay Bhatia on his shoulders during the 2019 Walker Cup, has a goal of representing the U.S. for a fourth time in 2023 at St. Andrews.
Jan Kruger/R&A
There are, however, gaps in his résumé's chronology; Hagestad has had the luxury of taking breaks from work to focus on his golf. That's possible because of a financial safety net most do not have. Hagestad knows this. It's not a secret. He does not pretend he has been chained to a desk year-round, searching for an hour here or there to hit balls. He does, however, insist that his focus shifts seasonally.
"I don't really play a ton between October and March," he says. "The last two years I was in school. Before that, I would work for eight months and then play for four. I gave up promotions and pay bumps. I made the dean's list in two out of four semesters in business school, and I passed the SIE exam after graduation.
"My entire February was 7 to 10 a.m. doing interviews, then class until 2 or 3. I understand that's very different than working 8 to 6, but I like to think I was pretty good at balancing everything. I had a unique opportunity, and I took it."
Therein lies the abridged explanation for Hagestad's remarkable amateur career: He knows how lucky he is to have the flexibility that he does. Do you hold it against him for taking advantage of it?
As for what's next: Hagestad will head to Chicago in July for a 30-day training for a new job at BDT Capital Partners, then move back to New York City while BDT builds out its Florida office. The plan is to move to south Florida when that happens. Golf-wise, he has one final goal: to play on his fourth consecutive Walker Cup team next year at St. Andrews.
"Then, I'd like to ride off into the metaphorical sunset. I put a lot of effort and energy into golf, and I'll always be passionate about the game. I don't expect my game to stay at the same level moving forward; that wouldn't be realistic. But I'm excited for chapters to come in the future."