Another One
Stewart Hagestad joins exclusive company with second U.S. Mid-Amateur title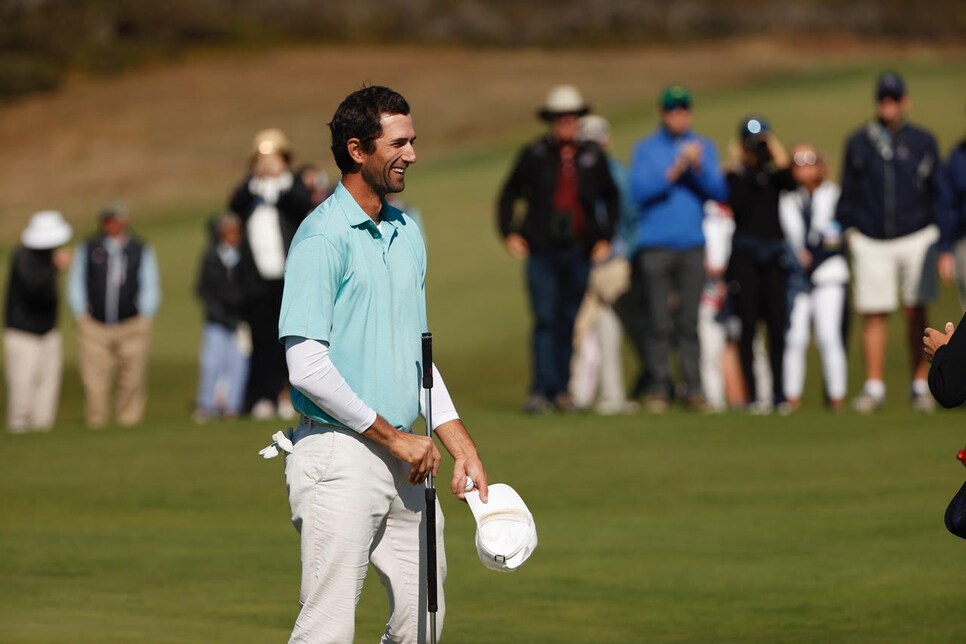 Stewart Hagestad smiles after winning the final match 2 and 1 at the 2021 U.S. Mid-Amateur at Sankaty Head Golf Club in Siasconset, Mass. on Friday, Oct. 1, 2021. (Chris Keane/USGA)
It was a steep hill to climb for Mark Costanza on Friday, so steep that had he scaled it he might have considered himself on the top of the world. Instead, it was Stewart Hagestad who was occupying rarified air in the end, becoming the sixth multiple winner of the U.S. Mid-Amateur Championship in its 40-year history.
Hagestad, who won the Mid-Amateur in 2016, defeated Costanza, 2 and 1, closing him out with a 35th-hole birdie at Sankaty Head Golf Club in Nantucket, Mass. It derailed an impressive comeback bid by Costanza, who was 7 down through 11 holes and 5 down after the first 18 holes of the 36-hole final played over two days because of weather issues earlier in the week.
"It's amazing," Hagestad said about joining the list of multiple winners. "I'd be lying if I said I wasn't somewhat read up on the history and guys that have won two, and it's an honor to have my name on that trophy twice."
The victory earns Hagestad an exemption into the U.S. Open at the Country Club in Brookline, Mass., next summer, as well as a likely invitation to the 2022 Masters. In the 2017 Masters, Hagestad, 30, a Newport Beach, Calif., resident, became the first Mid-Amateur to make the cut at Augusta National and was low amateur.
A USC graduate who is in his second year of an MBA program there, Hagestad did not win a hole on Friday until the clincher on the 17th green.
"He gave me nothing the whole day," he said. "I thought that at some point I would maybe get a break or he would give me a hole, which I wouldn't say would stop the bleeding but would at least create some kind of a buffer. When I hit a great putt at the first hole, I had like an eight-footer and it went high, I think that the feeling of that match maybe pivots a little, or it changes just a little."
Costanza, 32, a Morristown, N.J., investment banker on the first stage of his honeymoon (he and wife Meredith were married on Sept. 18 and were headed to Italy later on Friday), methodically chipped away at the deficit, finally reducing it to a single hole with a birdie on the 31st hole, No. 13 at Sankaty Head. But his comeback stalled there, and when he missed a 10-foot birdie attempt at 17, Hagestad followed by holing a four-footer for birdie to win.
"I said if I could get it to 3 [down] at the end of the day yesterday, that would have been great," Costanza said. "But to get it to 5 was satisfactory and gave me a chance. I knew I needed to get off to a good start. The birdie I made on three [on Friday] was huge. That was a tough shot, and I hit a great 4-iron in there, and I think that kind of just set the tone and relaxed me almost for the day. Just started playing well from there."
But Hagestad, a veteran of 24 United States Golf Association championships and playing in his fifth Mid-Amateur, was not rattled by Costanza's charge.
"I knew that he would come out swinging," Hagestad said. "He's a really good player. He gave me a couple holes yesterday. I knew I wouldn't get that from him today. But I tried to go out and I tried to basically make him beat me, and he damn near did that. He's a tremendous competitor. He's a great player. He's a super guy. I had a feeling that I was going to get his best today, and he sure earned my respect for sure."