Editor's Note: This story originally ran in summer 2017. In 2021, Stewart Hagestad won the U.S. Mid-Amateur title for the second time in his career. The victory will bring him back to the Masters and U.S. Open in 2022.
Only 26, Hagestad would appear ready to give the pro ranks a shot and make such events recurring on his calendar. But the 6-foot-5, 182-pound Southern Californian, who struggles against dropping as much as a dozen pounds from walking and stress during tournaments, is committed to a path rarely taken by top talent anymore. "You don't have to play 30 events a year to be a competitive golfer," he says. "I'd rather try to be good at lots of things in life." And his goals are written down. By this time next year, he wants to crack the top 10 in the World Amateur Golf Ranking and be enrolled in a top-five business school.
Puzzling as Hagestad's decision to not turn pro might seem, the lesson is that the best golf of your life can happen at any moment. A few years out of college working in Manhattan as a financial analyst, seeing kids he knew from junior golf playing on TV, this would've been the traditional time to let his game go downhill. Instead, Hagestad joined Deepdale (N.Y.) Golf Club­ as a junior member and made a habit of dawn practice sessions. Then, after work, he'd hit up Golf & Body NYC, a private gym with golf simulators a short walk from his apartment.
"I got into the idea of golf on my own terms," says Hagestad, who at 15 left home to live at the Hank Haney International Junior Golf Academy on Hilton Head Island. When he first stepped onto the University of Southern California campus, he'd hardly tasted alcohol. To the chagrin of the golf coach, Hagestad pledged a fraternity and settled into being third or fourth in the lineup.
In the real world, Hagestad's boss at Oaktree Residential, a real-estate management company, took no issue with the conscientious young man taking personal days to play tournaments. Shooting a course-record 61 at the Country Club of Fairfield, en route to winning the New York area's 2016 Met Amateur, brought Oaktree a little notoriety, though nothing like when Hagestad captured the 2016 U.S. Mid-Amateur.
"I can't overstate the impact playing tournaments in the Metropolitan area had on me," Hagestad says. "They're so well run, and the golden-age courses let you know exactly where the holes are in your game."
It also was enlightening. "In California, any given week you're teeing it against five guys who will play on the PGA Tour," he says. In the Met section, he competed against guys who balanced golf with jobs and families. Their lifestyles appealed to him.
This past winter Hagestad skipped a buddies ski trip, as the remote prospect of missing the Masters because of an injury on the slopes was unthinkable. He says his ideal schedule is 10 to 12 tournaments a year. "Figure three rounds per tournament, plus a practice round, plus a day for travel—that's 50 days a year," he says. Add casual rounds and preparation, and that's more than enough golf for Hagestad.
"I'm fortunate I didn't have to make the decision entirely based on potential future earnings," he says about not turning pro. "And I had parents that supported education and looking at other paths."
He feels no urge to conflate money with his passion. He chuckles but doesn't hide his disdain recalling when a sandbagger invited him to partner in a member-guest with a notoriously large calcutta betting pool. Hagestad has a +6.2 Handicap Index, but the "dude says, 'Think you could get your Index up to a 4?' I said, 'You must be kidding if you think I'd let my reputation go just like that.' "
Since Hagestad doesn't currently work with an instructor, we invited Golf Digest Best Young Teacher Jason Birnbaum, director of instruction at Manhattan Woods Golf Club in West Nyack, N.Y., to analyze the swing that caused pros on the range at the U.S. Open to stop and watch.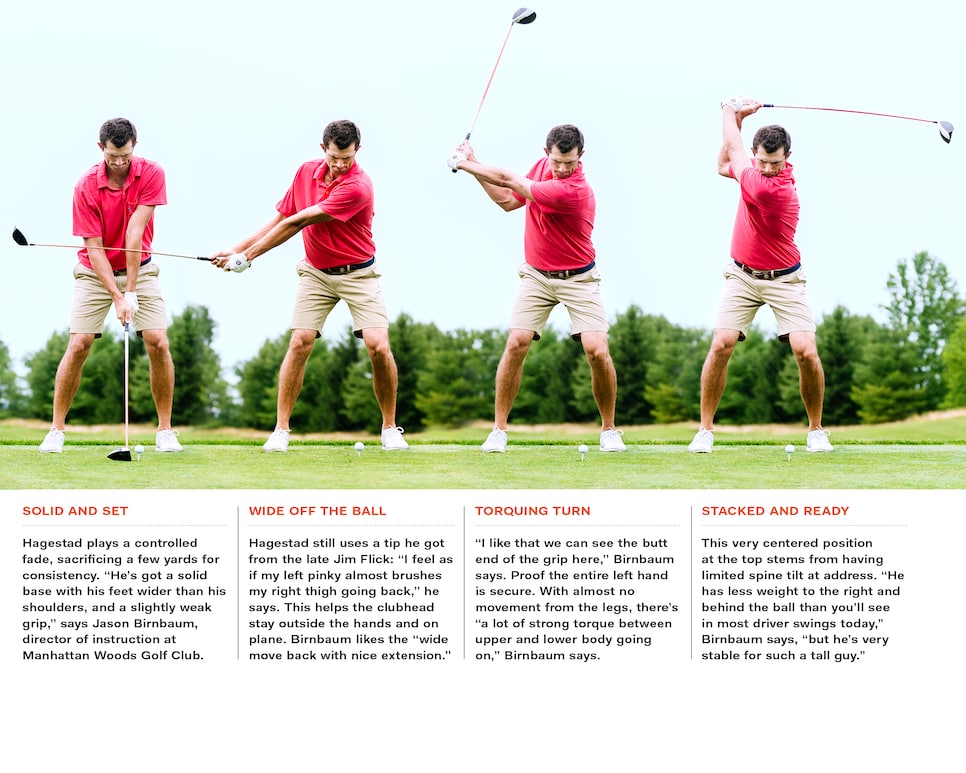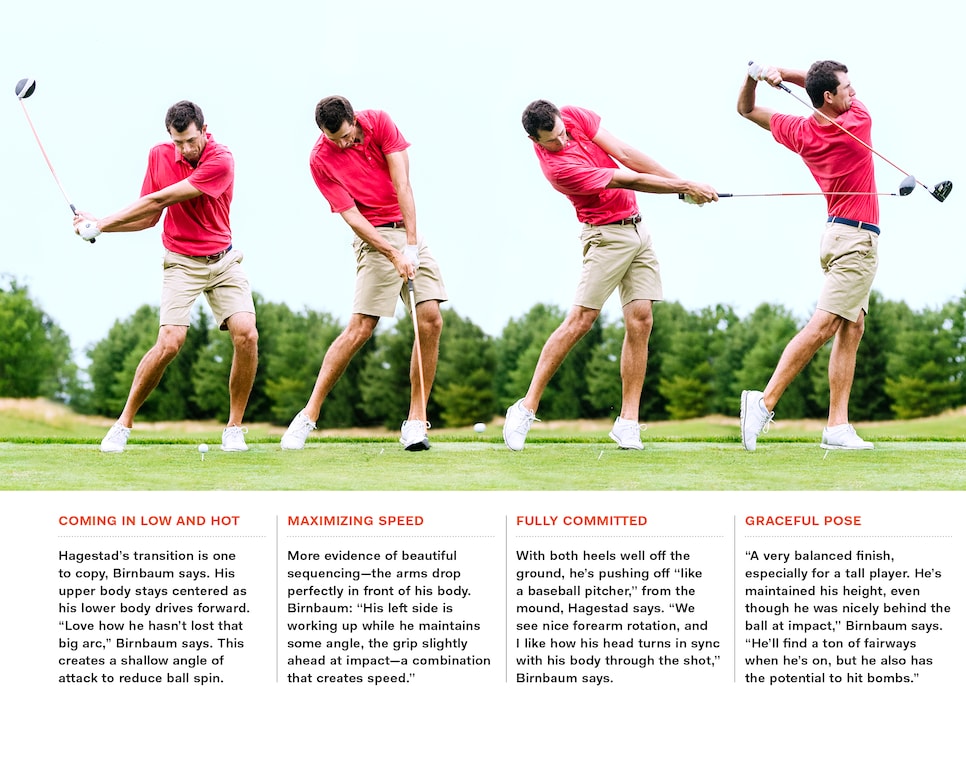 Photos by Jonathan Mehring