News
Stewart Hagestad completes remarkable year, posts deciding point at home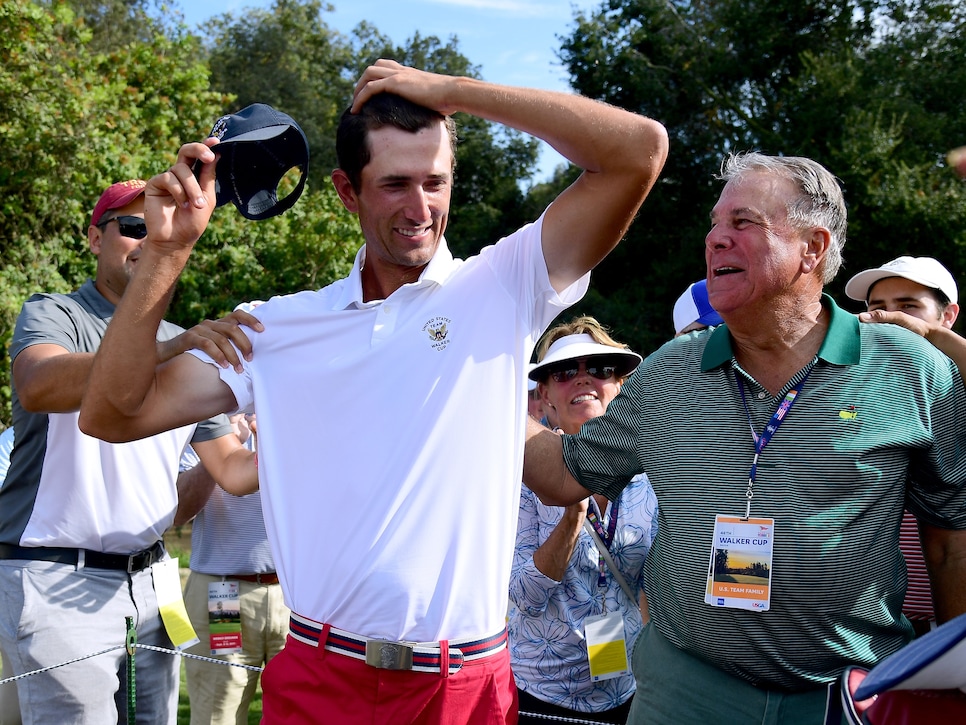 LOS ANGELES — The best year of Stewart Hagestad's life got even better on Sunday afternoon when he delivered the point that essentially guaranteed a U.S. victory in the Walker Cup, played at a club at which he is a member.
Hagestad, 26, won his match with Great Britain & Ireland's Jack Singh Brar, 2 and 1, on the North Course at Los Angeles Country Club that along with teammate Norman Xiong's 2-up lead with two to play guaranteeing him a half point, guaranteed the U.S. the requisite 13½ points necessary to win.
"To have the final point to clinch the Walker Cup, on my home course, in front of all my friends and family, is pretty special," Hagestad said. "I think I'm going to have to take some time and sleep on this and let it marinate.
"But to do it in a team setting, to do it representing the United States, to do it with my friends and family almost having somewhat of a home course disadvantage by the amount of people and expectations that I put on myself, it's just so gratifying and I'm really, really, really proud of myself and I can't wait to celebrate with the guys tonight."
[RELATED: Masters hero Stewart Hagestad throws out first pitch in golf shoes](https://www.golfdigest.com/story/masters-hero-stewart-hagestad-throws-out-first-pitch-at-dodgers-game-wearing-golf-shoes
His thrilling come-from-behind victory at last year's U.S. Mid-Amateur earned him an invitation to the Masters in April. At Augusta National, he was the first Mid-Am champion ever to make the cut and was also the low amateur there. He also qualified to play in the U.S. Open, though he missed the cut.
His Walker Cup experience started poorly, when he played poorly and was defeated by Brar, 3 and 2, in his debut Saturday afternoon. Then on Sunday afternoon he immediately went 2 down to Brar after two holes. But he won the fourth, fifth and sixth holes. When he won the 14th hole he went 1 up.
It ended on the 17th hole when Brar muffed a bunker shot, his ball remaining in the bunker, then tapped the sand a couple of times with his wedge, a rules violation resulting in loss of hole, ending the match.
"It's kind of a bummer," Hagestad said. "It's really unfortunate and it's never the way that you want to end a match, but that aside, it's a win for us and no pictures on the scorecard, as they say, so I'm pretty happy with the win."