News
Stewart Hagestad's wild Masters ride
The U.S. Mid-Amateur champ is still soaking up his Augusta experience—and appreciating those who helped him get there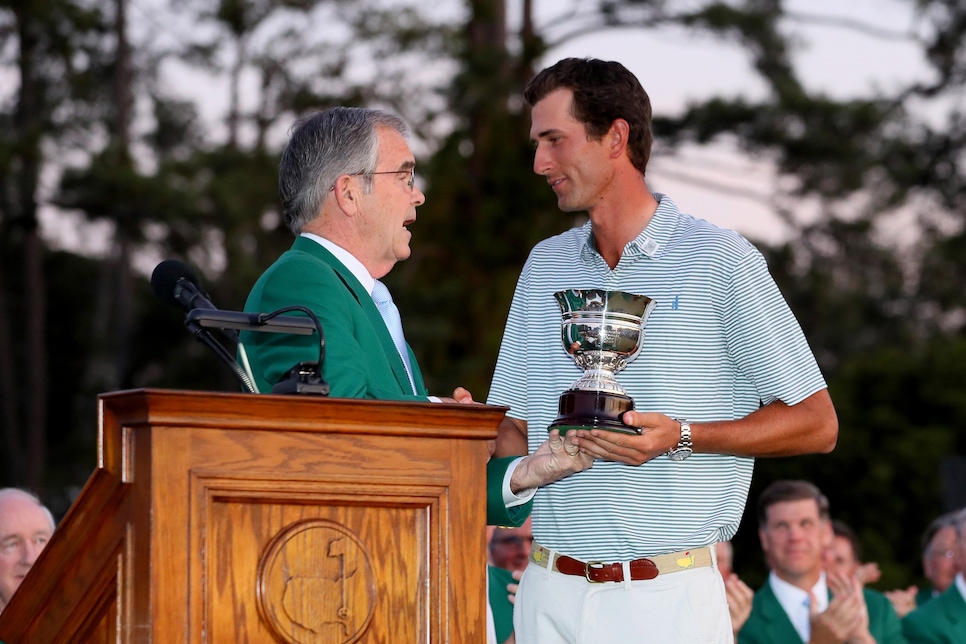 Photo By: Andrew Redington
Jimmy Dunne knew Stewart Hagestad prior to the 81st Masters. They met in Dunne's office in the fall of 2015, before Hagestad memorably won the 2016 U.S. Mid-Amateur, when the then-25-year-old was just another kid on Wall Street with a golf background and not enough game to play professionally.
Dunne gave him some time, talking golf and mutual friends the first 25 minutes of a 40-minute meeting. Hagestad was looking for advice and hoping to impress Dunne into hiring him. As a Notre Dame grad, Dunne teased Hagestad about his USC golf bag being seen at Deepdale, the Wall Street powerbroker club on Long Island where the young man was playing.
Hagestad was petrified. Dunne is club president at Seminole, a member at Augusta National who camps out on the tournament practice area during Masters week, a club champion at Deepdale, Shinnecock Hills and Sebonack, and the senior club champion at National Golf Links. "He's got a lot of intensity, is a no bullshit guy that's an extremely fast player," Hagestad says. "He's kind of the classic investment-banking guy. He's an idol of mine."
Somewhat naively, Hagestad tried to make the point that he didn't want to use his golf career to help his business career. Dunne, as the head of Sandler O'Neill & Partners, and as a man whose opinion is respected in both golf and the investment world, set the kid straight. Of course, as a career amateur, he should use golf to build his business. But as for the golf, even with qualifying for six straight U.S. Amateurs, even after finishing first in the Met Am in 2016 and runner-up in the Ike in 2015, even with some wins in his native California, Hagestad wasn't good enough to be worried. "There are thousands of good golfers in the business world," Dunne said to him.
Last fall, Dunne had another guy in his office who's a good golfer and say, "Do you remember that kid, Stewart Hagestad, who you interviewed?" Dunne replied, "No," and was told, "Well, he just won the semifinals of the U.S. Mid-Amateur."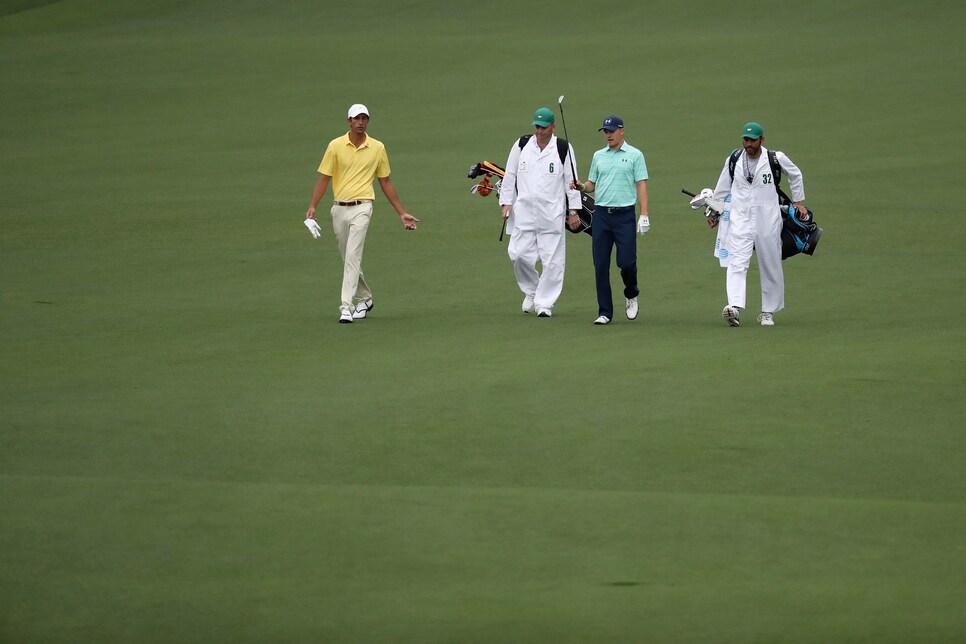 Dunne was happy to hear that. His reaction was, if Hagestad lost the finals, call him up and invite him back over. If he won, don't call because it would look like he was just calling because he was the U.S. Mid-Amateur champion.
Since Hagestad was playing 2014 Mid-Amateur champion Scott Harvey, Dunne didn't expect him to win. But the golf gods are funny. Four down with five holes to play, Hagestad birdied five straight and won on the 37th hole.
A few days later, they met again on the patio at Deepdale, just as Dunne was heading out to win the club championship. Hagestad approached and reintroduced himself. Dunne felt bemused, especially when Hagestand asked, "Are you going to be on the range at Augusta in April?" Dunne told him, "Yeah, I think so. I look forward to seeing you." They both kind of laughed.
During pre-tournament practice at Augusta National, this tale generated plenty of laughs when Justin Thomas told the story to a group Dunne hosted that included Rory McIlroy, Tom Brady and Phil Mickelson. "I'm so glad Jimmy thinks the story is funny," Hagestad says. "For me, I'm nowhere near as scared of him as I was before."
When they reconnected on the practice ground at Augusta National, Hagestad told Dunne that he owed him a thanks.
"What do you mean?" said Dunne.
"Well, you didn't hire me," Hagestad said. "And since I didn't have a job, I worked on my golf and won the Mid-Amateur. Now I'm here, and I really appreciate it."
Hagestad is friends with Jordan Spieth, so before the thunderstorms came in on Wednesday of Masters week, he had a chance to play nine holes with Spieth and Matt Kuchar. His game and practice sessions were horrible but after hearing a patron say, "Hey Stewart, enjoy the ride," he became inspired.
From the most nervous he'd ever been in that practice round with Spieth and Kuchar, to fairly relaxed as a Masters rookie, Hagestad made the cut and turned the competition for low amateur with U.S. Amateur champion Curtis Luck into a story line. After making the turn on Sunday, Hagestad's caddie asked if he wanted to know what Luck posted.
"I told him honestly it's not going to have any effect on how well I want to play on this back nine," Hagestad said. "It's a beautiful Sunday, the day before my birthday, on the most special place on earth. Let's go enjoy the walk and do the best I can."
After his second shot on 18, Hagestad saw that Luck finished at nine-over 297. Hagestad came in with a par to shoot 294 and finish T-36 overall. He already made history as the first Mid-Amateur champion to make the cut since the club started inviting them to play beginning in 1989, and was now the first mid-am golfer to earn low-amateur honors at the Masters since Jay Sigel in 1988.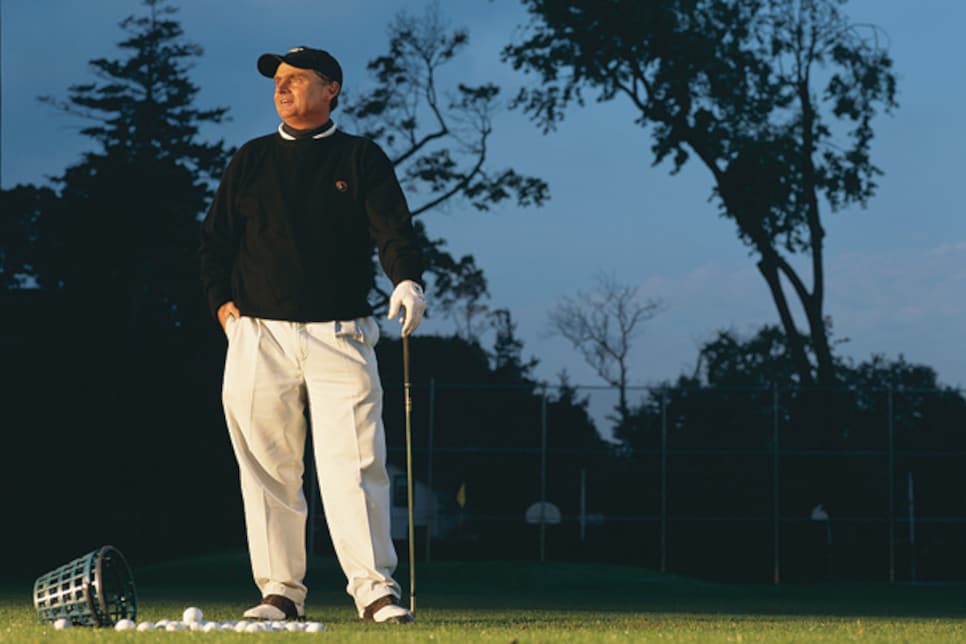 Afterward, Hagestad—whose next golf goal is to play for the U.S. Walker Cup team at Los Angeles C.C. in September—received hand-written notes and text messages from several folks. Humbly, many of them are men he aspires to be, names like Seth Waugh, George Zahringer, Eric Gleacher, Buddy Marucci, former USC athletic director Pat Haden and, of course, Dunne.
Last Monday was his 26th birthday, and on Tuesday he met with the Wall Street Journal and did a couple podcasts. On CNBC, Kevin O'Leary teased him on "Shark Tank," making the point that with all this golf talent, Hagestad should turn pro, saying he knew 50 MBAs that couldn't do the work that Hagestad could do.
Hagestad will soon be one of those MBAs, as he plans on starting business school later this summer. But those other guys coming out of Harvard and Wharton can't boast being the U.S. Mid-Amateur champion who made the cut and finished low amateur at the 2017 Masters. Those are credentials that Hagestad will carry with him forever.